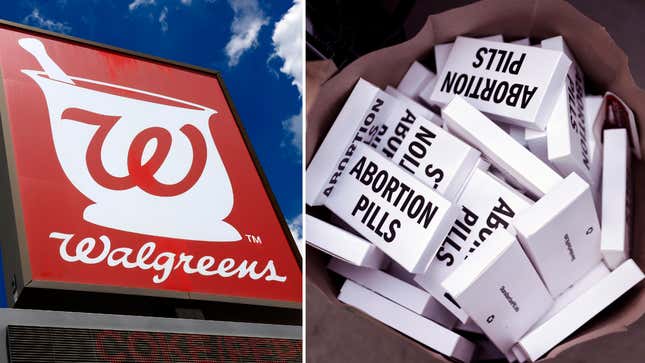 Walgreens will walk back a previous plan to dispense medication abortion at pharmacies in all states where it remains legal to do so, Politico reported on Thursday. In response to a letter from 20 state attorneys general, who cite an inactive law prohibiting dissemination of lewd materials to threaten legal action against Walgreens for offering the abortion pill, the pharmaceutical chain told Politico it "will not dispense abortion pills either by mail or at their brick-and-mortar locations" in states whose attorneys general signed the letter.

These states include Alaska, Iowa, Kansas, and Montana, where abortion—including medication abortion—currently remains legal. Kansas has a law in its books that requires patients seeking abortion pills to get them directly from a physician. But that law is currently blocked in court, allowing Walgreens to legally dispense the medication.
In January, the FDA approved for mifepristone, the first of two pills taken to complete a medication abortion, to be distributed at pharmacies in states where abortion remains legal. The medication is highly safe and effective, and as states across the country rush to ban abortion and shut down clinics—forcing people to cross state lines for health care—expanding abortion access in as many states as possible has become especially vital. A Trump-appointed, federal judge with an anti-abortion record will soon rule on a case that could revoke FDA-approval of mifepristone, leaving the future of access uncertain—but it remains, for the time being, a safe, essential, and legal medication; if anything, as we await a ruling that could decimate access to mifepristone, pharmacies and providers should be trying to help as many people as possible purchase it in advance.
In response to Walgreens' January announcement to offer medication abortion, the pharmacy faced an outpouring of backlash from anti-abortion activists. At a Walgreens investors conference in January, anti-abortion protesters revealed they'd hid in a closet at the convention facility for nine hours in order to rush the stage and berate investors to "stop selling abortions." Top nation-wide anti-abortion groups planned and executed dozens of protests at the headquarters of pharmacies that said they'd offer abortion pills, as well as their varying brick-and-mortar stores. Several groups planned a 40 Days for Life protest set to span from Feb. 22 to April 2.
G/O Media may get a commission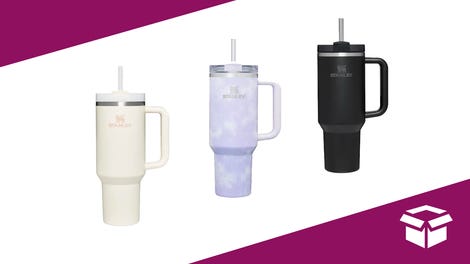 Up to 45% off
Stanley Cup Sale
It sure seems like the corporation is caving to anti-abortion pressure. And this, in turn, has now drawn the backlash of abortion rights supporters, who are threatening to boycott the pharmacy over its decision. As some have already pointed out, a "corporation experienced for 5 minutes what abortion clinics face on the regular and they caved." Sure, the anti-abortion protests Walgreens weathered were aggressive and jarring. But this is just a fraction of the harassment, terror, and violence that abortion clinics—and often independent clinics with nowhere near the resources of a corporation like Walgreens—face on a daily basis.
Here's a small sampling of this: In the last 50 years, abortion clinics have reported at least 11 murders and 26 attempted murders of abortion providers; 42 bombings of clinics and abortion providers' homes; and nearly 200 incidents of arson. Between 2019 and 2020, reported incidents of physical violence targeting abortion providers surged by 125%.
It's frustrating to see Walgreens capitulate to right-wing activists' demands when a clear majority of the country would very much like for abortion to remain legal, safe and accessible.