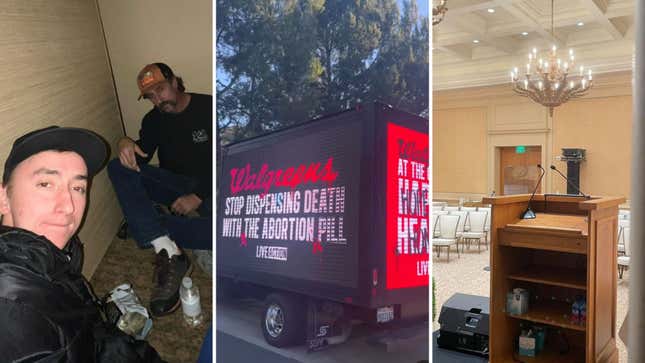 About 50 anti-abortion protesters crashed Walgreens' annual shareholder meeting in Newport Coast, California, on Thursday over the chain's recent announcement that they'll sell abortion pills in states where abortion isn't banned. The protesters, hailing from various anti-abortion organizations—one of which is known for comparing abortion to the Holocaust—went to some pretty eyebrow-raising lengths to get into the meeting.

Self Managed Abortions Explained
Two of the protesters claim they hid in a closet at a nearby resort for nine hours "in order to crash the meeting and let them know blood will be on their hands." Other protesters reportedly chanted, "Walgreens, stop selling abortions," while a truck outside the venue read, "Walgreens, stop dispensing death with the abortion pill." One of these protesters, mind you, was Mr. Pro-Life Spiderman—a man who climbs skyscrapers to protest abortion.

"Today, directly after the close of official business of our annual shareholders meeting, a small group of protesters entered the meeting room without authorization," Fraser Engerman, Walgreens' senior director for external relations, said in a statement to Reuters. One of the attendees described the meeting as "wild" and that "the protesters knew what they were doing because they found a way to enter the room from behind the podium."
The protesters who, I repeat, camped out in a closet for nearly half a day to berate a pharmaceutical company for selling FDA-approved medication appear to be organizers from Live Action and a group called Survivors Los Angeles, who claim to be survivors of the abortion "Holocaust."
On January 3, the FDA ruled that it will allow retail pharmacies to offer abortion pills, or mifepristone, for the first time—a crucial step to increase access to this safe and necessary medication. However, health experts have pointed out that despite the safety of abortion pills, the FDA's policy change doesn't go far enough to make the medication accessible. As Garnet Henderson details in Truthout, the agency "left in place a requirement that physicians be certified to prescribe the drug" and also "created an onerous new pharmacy certification process" that will discourage many pharmacies from actually offering it. And if all of this weren't daunting enough, there's the looming threat of continued protests from anti-abortion activists, who have an entire lineup of pre-planned protests at Walgreens and other pharmacies, like CVS, in the coming month.

Quartz compiled a list of the upcoming protest dates, including a nationwide protest of Walgreens and CVS locations led by the Progressive Anti-Abortion Uprising on Feb. 4; a Students for Life protest of Walgreens' corporate office on Feb. 14; and an ongoing 40-day protest of the pharmacies by 40 Days for Life, from Feb. 22 to April 2.
In his statement, Engerman added that Walgreens is "grateful that none of our shareholders, team members and event staff were harmed during this incident." Given anti-abortion protesters' long, storied history and very ongoing tendency toward extreme acts of physical violence targeting abortion providers, I'd be relieved too.