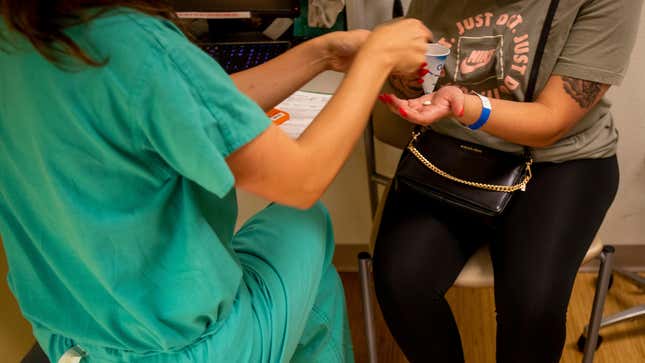 Retail pharmacies—both local and national chains—may legally dispense mifepristone, the first of two drugs in medication abortions, according to a new ruling from the FDA released on Tuesday. The guidance is the latest move by the regulatory agency to increase access to medication abortion.
Self Managed Abortions Explained
However, this doesn't mean you'll be able to find a box of mifepristone in the aisles of CVS anytime soon. Under the new ruling, patients still need a certified provider to write a prescription for mifepristone, and the pharmacy must meet some administrative requirements. It's unclear how many retail chains will go through this extra step without being pushed by consumers. (The second drug commonly used in medication abortion regimens, misoprostol, is used for other medical purposes and already accessible via prescription.)
The FDA has slowly been liberalizing medication abortion regulations, just as conservative state legislatures have looked to curb both medication and procedural abortion. Abortion pills make up more than half of all abortions, compared to only 39 percent just five years ago. The FDA allows medication abortion up to 10 weeks since the last missed period, while the World Health Organization has recommended medication abortion up to 12 weeks.
The news was hailed as a step forward by activists. Kirsten Moore, director of Expanding Medication Abortion Access (EMAA) Project, said this new guidance treats medication abortion " like the safe, effective, time-sensitive care that it is"—but noted that this expansion is not the silver bullet some may have hoped for. Abortion is banned either outright or in some form in nearly half of American states, and the new regulation doesn't change those state-level bans. This could mean a national chain like Walgreens could choose to offer mifepristone at its New York locations, but choose not to offer it at its Texas locations, thereby exacerbating the already stark disparity in abortion access.
As the New York Times reported, the new regulation comes after a year of negotiations between the FDA and companies that manufacture mifepristone. Evan Masingill, CEO of GenBioPro, a manufacturer of generic mifepristone, was cautiously optimistic in a statement to Jezebel. "Today's FDA announcement expands access to medications that are essential for reproductive autonomy and is a step in the right direction that is especially needed to increase access to abortion care," Masingill said. "Despite the FDA's expert judgment, some states have restricted access to medical abortion care, so unfortunately today's announcement will not provide equal access to all people."
Still, Masingill said GenBioPro "looks forward" to working with pharmacies to comply with the new regulation and getting mifepristone to more patients.

One official with Danco, a longtime manufacture of mifepristone, told the Times that multi-state pharmacy chains could find the privacy requirements difficult to implement at first. Pharmacies are required to keep the prescribing doctor's name confidential. "For some people, this is going to be a huge improvement on their ability to access the drug and be able to even consider this as a choice for themselves," the Danco official told the Times. "For other people, not necessarily. Maybe they don't want to go into their small mom-and-pop pharmacy. They'd rather receive it from a mail order where there's just no interaction that way."