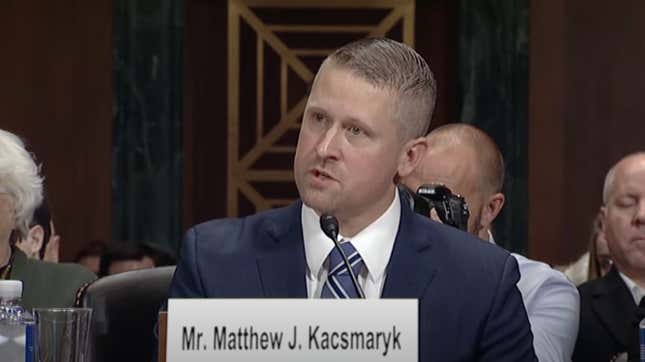 Abortion advocates are waiting for a ruling in a lawsuit filed in Texas that could result in the main abortion drug being pulled from the market nationwide. (Such a ruling wouldn't end all medication abortions, but it would create more confusion and hurdles for patients and providers.) A group of anti-abortion activists filed the suit in a specific federal court district where there is only one judge: Matthew Kacsmaryk. As we learn more about the judge, it's no surprise why the Christian legal movement specifically chose to play this out on his turf.
GOP Congressman Spent His Sunday Daring Biden to 'Come and Get' His Guns
A Washington Post story published Saturday explored the extent of the devout Christian's conservative, anti-abortion beliefs. Kacsmaryk was raised by two born-again Christians near Fort Worth, Texas, and his mother worked with so-called "crisis pregnancy centers." When his sister got pregnant at 17, she went to live at an anti-abortion maternity home until she gave birth and put the baby up for adoption. Kacsmaryk then served on the board of the maternity home from January 2016 until Donald Trump nominated him for a federal judgeship, but he and his wife are still donors, per the Post. At the time of his 2017 nomination, Kacsmaryk worked as deputy general counsel at the First Liberty Institute, a Christian legal organization. He worked there until his Senate confirmation in June 2019.
Kacsmaryk also has deep connections to the conservative Federalist Society, which have not been previously reported. President Donald Trump picked all three of his Supreme Court justices from a Federalist Society-vetted list that was personally curated by the group's former executive vice president and current co-chairman of the board, Leonard Leo. The Post reported that Kacsmaryk attended meetings in law school and remains "affiliated" with the group, but that doesn't adequately describe his ties; Kacsmaryk actually co-founded the Fort Worth, Texas, chapter of the Federalist Society and has spoken at at least 10 of its events, most recently in New Orleans on Friday, February 24—the same day final briefs were due in the abortion pill case.
Leo himself has financial ties to the firm where Kacsmaryk worked immediately before becoming a judge. After Trump first nominated Kacsmaryk in 2017, First Liberty Institute began paying the Leo-aligned firm CRC Advisors over $100,000 a year. At a February 2020 meeting, First Liberty Institute president and CEO Kelly Shackelford bragged about the wide-ranging effort staged by various groups to influence Trump's selections for federal judges. "Some of us literally opened a whole operation on judicial nominations and vetting," he said. "We poured millions of dollars into this to make sure the president has good information, he picks the best judges."
First Liberty Institute paid CRC more than $137,000 in Fiscal Year 2018 per tax filings:

And First Liberty paid CRC more than $139,000 in Fiscal Year 2019:


Politico reported Wednesday that, in 2020 and 2021 alone, Leo's for-profit CRC Advisors has been paid $43 million by various non-profits he created.

Supreme Court Justice Clarence Thomas jokingly referred to Leo as the third "most powerful person in the world" during a FedSoc event in 2018. That's because Leo has dramatically reshaped the federal court system in order to produce conservative outcomes, despite their unpopularity. Tom Carter, who served as Leo's media relations director when he was chairman of the U.S. Commission on International Religious Freedom (USCIRF), told the Daily Beast in 2018 that Leo "figured out twenty years ago that conservatives had lost the culture war. Abortion, gay rights, contraception—conservatives didn't have a chance if public opinion prevailed. So they needed to stack the courts."
The Post also interviewed several of Kacsmaryk's friends and colleagues for the piece, and one such friend was Roger Severino. He is married to Carrie Severino, a close associate of Leo and the president of the Concord Fund (formerly Judicial Crisis Network). Concord/JCN has gotten the vast majority of its funding from groups led by Leo, according to Monitoring Influence, a project of corporate-influence watchdog Accountable.US.
Leo's money is also being used to advance the abortion pill lawsuit specifically. Earlier this month, 22 Republican Attorneys General filed a brief in support of taking the main abortion pill off the market and, wouldn't you know it, the Concord Fund was the top contributor to the Republican Attorneys General Association (RAGA) in 2022, with a $1 million donation.
Kyle Herrig, the president of Accountable.US, told Jezebel in a statement: "Leonard Leo and Judge Kacsmaryk are cut from the same cloth—they both see the court as a place to force an extreme, unpopular agenda on the American people. Leo has helped pack the courts with ultra MAGA judges like Kacsmaryk who are merely pawns in his game to upend precedents and policies he disagrees with. This is just the latest piece of Leo's decades long effort to ban abortion at every level and get rich while doing it." (Politico also noted that since 2016, Leo has bought two multimillion-dollar homes—and paid off the mortgage on one—plus four new cars, paid private school tuition for his children, and pledged more than $1 million to Vatican initiatives.)
If (and more likely when) the abortion pill case makes it to the Supreme Court, it will be heard by five Federalist Society members. All of the conservative justices minus Chief Justice John Roberts are actively involved with the organization, and four justices even attended the group's 40th anniversary dinner in November. The three Trump-appointed and Federalist Society-vetted justices made overturning Roe v. Wade possible, which is what made this lawsuit possible.
Keep all of this in mind when anyone tries to argue that court rulings on abortion—and many other issues—are simply based on the rule of law.