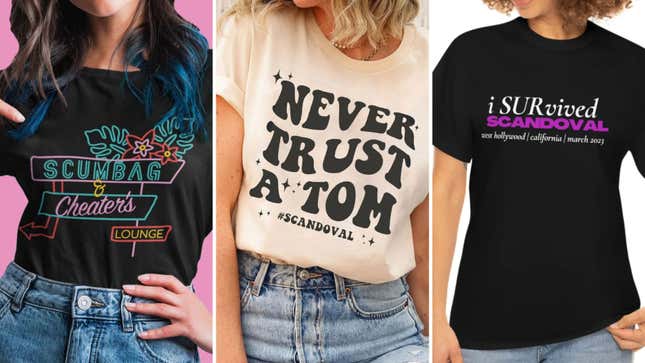 It all began on March 3: the day that life as we knew it changed forever. Alliances were broken. Trust was betrayed. Relationships ended. Pumptinis were thrown (probably). Time itself began to warp as we came to recognize anything that took place in the lead-up to that cursed day as BS (Before Scandoval), and what followed in its wake as AS (After Scandoval).

Raquel Leviss Told Us 'I'm Like, A Good Person' Just 48 Hours Before #Scandoval
March 3—when news broke that Vanderpump Rules' Tom Sandoval had cheated on his longtime partner Ariana Madix with Raquel/Rachel Leviss—was a day that will go on to define an entire generation of reality TV watchers. Centuries from now, documentarians will be delighted to find that Bravo stans weren't satisfied with mere re-watches or TikTok edits or dedicated reddit threads. Somehow perfectly executed in its messiness, Scandoval became a fandom-shattering gossip moment that deserved more…and there was Etsy to meet the merch moment.

As my fellow VPR-obsessive and Kotaku senior editor Alyssa Mercante put it, "The devil works hard, but Etsy creators work harder." That's capitalism, baby!

In the two and a half weeks since Scandoval hit, nearly every day has spawned a new revelation or mini-scandal—and with it, a new set of merch. One Etsy seller redesigned Sandoval and Tom Schwartz's (otherwise known as Dumb and Dumber) restaurant logo—swapping out "Schwartz & Sandy's" for "Scumbags & Cheater's." Proceeds from the shirt's sales are going to Madix's favorite charity, Alexandria House. The shirt is also listed by Etsy as a best seller.

Elsewhere, there's a "Trust No Bitch" shirt that features a photo of Madix and Leviss, whose eyes have been X-ed out by Lala Kent's signature epithet for the latter: "BAMBI EYED." Days after Madix made her first public statement on Instagram, a shirt with her now infamous signoff, "What doesn't kill me better run," hit the online marketplace. There are Team Ariana shirts with Sandoval's face obscured by a clown emoji; "Never Trust a Tom" shirts; and "Don't Be a Raquel" tees. You can sip your morning coffee from a mug that reads "good morning to everyone except Tom Sandoval;" place a "Bambi-Eyed Bitch Repellent" candle outside your door to ward off bad energy; or get your newborn involved in the drama. And, a full nine months out from Christmas, we already have a "Scandoval" ornament adorned with a lightning bolt necklace—the same item Sandoval and Leviss allegedly wore to secretly express their love for each other.

Just as fast as the VPR cast can give us bonkers one-liners or new content to meme, stans can take home their own piece of Lisa Vanderpump's home-made, drama-crusted pie. Sure, Etsy is a well-oiled machine engineered to do exactly this, enabling fans and designers alike to dream up the merch they wish to see in the world. But the Scandoval explosion isn't about a show or a musician or a film with a cult following. Take a step back for a minute and let it sink in that fans of the Bravo-verse are out there, at this very moment, strutting around the streets of Nashville with the proclamation "Don't Be a Raquel" plastered across their chest. This isn't your grandmother's fandom anymore: This is our parasocial relationships with reality television characters immediately manifesting into consumer goods that are available via overnight shipping that we then wear to the bar with the same fervor as an "I VOTED" sticker.

All that to say, we are in deep, folks. It's only fair that we have cheating shirts to wear while we doom-scroll, waiting for the latest Scandoval update to hit. And 20 years from now (quality willing), I'll still have this Etsy shirt to commemorate this decade-defining affair: "I SUR-vived Scandoval."