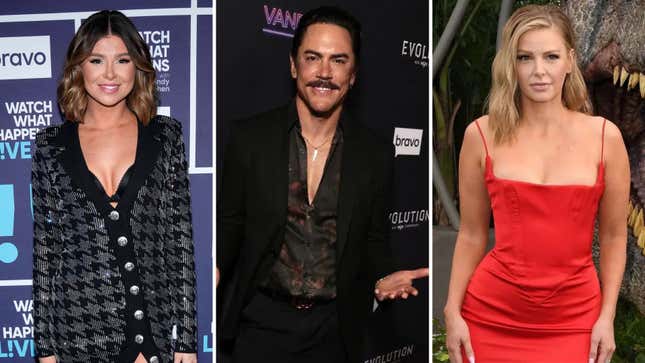 Nearly five days after news of #Scandoval, the reported months-long affair between Bravo costars Tom Sandoval and Raquel Leviss, broke, Sandoval has realized that he should probably apologize to the woman he cheated on: his longtime partner and Vanderpump Rules costar Ariana Madix. Hours later, Leviss also broke her silence, publicly addressing the controversy for the first time...aside from those legal letters to her castmates.
Raquel Leviss Told Us 'I'm Like, A Good Person' Just 48 Hours Before #Scandoval
"I want to first and foremost apologize to everyone I've hurt through this process," Sandoval wrote on Instagram Wednesday. "Most of all, I want to apologize to Ariana. I made mistakes, I was selfish, and made reckless decisions that hurt somebody I love. No one deserves to feel that pain so traumatically and publicly."
Quickly noting here that nothing about this apology is "first and foremost!" Sandoval already posted his first and foremost apology on Saturday—the day after TMZ first reported the news of the cover band singer's affair with pageant queen Leviss. And (shockingly!) the post made no mention of his girlfriend of nine years, favoring, instead, Sandoval's friend and fellow nincompoop Tom Schwartz. Sandoval also awarded shoutouts to the "3 other partners and 20 employees" involved in the Tom-squared restaurant venture, Schwartz & Sandy's. On a personal note, I was deeply offended by the fact that the apology started with "Hey" and also made use of "ur"... as in, "Please direct ur anger towards me." It's giving notes app.
Onwards to more nitpicking.

"My biggest regret is that I dishonored Ariana. I never meant to disappoint so many people, including our loving families and friends," Sandoval wrote Wednesday. "I wish things happened in a different order and our relationship was not severely tarnished, and that it ended with the same respect for her that it began with. I owed Ariana better."
Sandoval's wish that "things happened in a different order" is telling. The retired bartender did not mention Leviss in either apology, but this reads as though he's sorry for the way that things unfolded, and not that he got all doe-eyed for the "Bambi-eyed bitch" herself. Sandoval then concluded the apology—which was on a black background this time, probably to convey regret or sincerity or Being a Flaming Asshole—by stating: "I will continue to reflect and work on myself. I have work to do. I always have, and I always will."

You're telling me the same man who thinks "cis male" is pronounced "cyst male" and who once picked "crushing shit with bulldozers" over spending time with Madix…has work to do? Color me flabbergasted.
Meanwhile, Leviss finally broken her silence, sharing a statement with ET Wednesday morning. Raquel (whose real name is apparently Rachel?) apologized off the bat to Madix. At least someone remembered to mention Madix the first time around!! Leviss said she's seeking counseling, has received death threats, and is reflecting on her "patterns of codependency and addiction to being and feeling loved." Notably, she passive-aggressively refers to her affair with Sandoval as an "intimate" connection that is "not healthy." The statement in full is as follows:
"I want to apologize for my actions and my choices foremost to Ariana, and to my friends and the fans so invested in our relationships. There is no excuse, I am not a victim and I must own my actions and I deeply regret hurting Ariana.

I am reflecting on my choices, speaking to a counselor and I am learning things about myself such as my patterns of codependency and addiction to being and feeling loved. I have sought emotional validation through intimate connections that are not healthy without regard for my own well-being, sometimes negatively affecting others and often prioritizing the intimate connection over my friendships. I am taking steps to understand my behavior and make healthier choices.

Although I chose to be on a reality show accepting the good and bad that comes with it, beyond my own actions I have been physically assaulted, lost friendships, received death threats and hate emails in addition to having had my privacy violated.

I have begun counseling to end my unhealthy behavioral cycle, learn to set stronger emotional boundaries and learn to protect my mental health. I don't expect sympathy, understanding or forgiveness. Right now I must focus on my own health and well-being and as I strive to be a better person moving forward, I will prioritize my mental health and learn from my mistakes."
Here's to hoping the #Scandoval of the century keeps on giving for months to come. Oh, and Sandoval? Can I have an order of the goat cheese balls while I sip my Pumptini? Thanks!

---