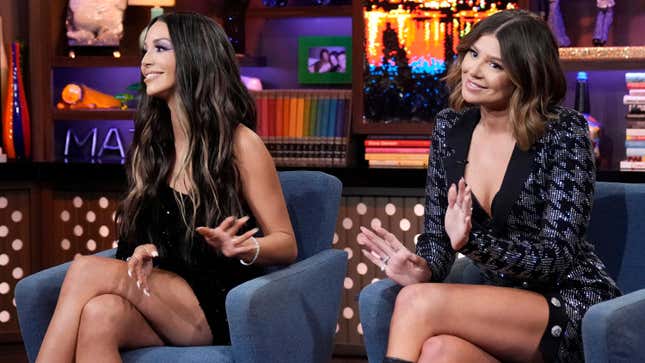 Since #Scandoval broke last week, it's been the rumor that Vanderpump Rules' Scheana Shay punched Rachel "Raquel" Leviss upon discovering her "months-long affair" with castmate Tom Sandoval, in defense of her longtime friend and co-star Ariana Madix. That piece of hot goss was seemingly substantiated via a restraining order against Shay filed by Leviss, this exchange on Twitter, and countless reports from the likes of Page Six and People. Even their onscreen boss, Lisa Vanderpump, told Andy Cohen she thought Shay "slapped her around the chops."
Raquel Leviss Told Us 'I'm Like, A Good Person' Just 48 Hours Before #Scandoval
According to Shay though, the altercation never happened. In a statement to Jezebel, Shay's attorney wrote:
"This case is a fabrication by a known liar and a cheat who has betrayed everyone close to her. Scheana never punched Rachel, period. The supposed dark markings around her left eye have been there for months. Neither Scheana nor other cast members want anything to do with Rachel going forward. The judge has only heard a one-sided account of what happened, and we look forward to presenting the full and true story at the March 29 hearing."
Ope! Consider my March 29 booked.
Notably, the statement arrived just days after Shay's friends questioned the validity of the apparent bruising via Instagram.
Regardless, it's safe to say that Leviss' attorneys have been on the offensive in the last week. On Tuesday, her co-stars were sent letters demanding they promptly delete an explicit video of her from their phones and stop disseminating it—even citing a California "nonconsensual pornography" law, per TMZ. The recording in question is alleged to be from a FaceTime session with Sandoval.
Per TMZ and Page Six, the recording was not only illegally captured without Leviss' knowledge or consent, but was shared amongst the Pump Rules ensemble. The tabloids reported that though the letter doesn't specifically accuse Sandoval of recording the FaceTime, the video apparently shows that he and Leviss were the only two on the call.
Leviss also issued a four-paragraph long apology in an exclusive to Entertainment Tonight and made a notes app statement via her Instagram this week. Apparently, the aforementioned hasn't been sufficient to sow any sympathy amongst her cast mates, who are reportedly "not speaking" to Leviss.
Though she didn't speak about the ongoing legal drama, Shay addressed #Scandoval on her podcast on Friday—more specifically what the upcoming reunion of this season of Vanderpump Rules will look like.
"Yeah, like, we need to have cages," Shay said of the forthcoming filming. "Everyone needs their own personal bodyguard, because oof."
Can't wait!