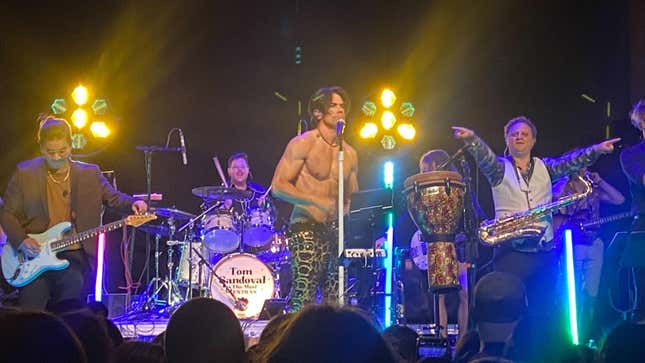 It's an abnormally warm May evening in New York City and the line for Tom Sandoval's concert—the Vanderpump Rules star and #Scandoval key player—at the Gramercy Theater snakes around the block. Taryn Delanie, the famous TikToker and former Miss New York, interviews people for LiveNation. Saturday Night Live cast member Chloe Fineman steps away to take a call. Behind me, two people start chanting "cheater, cheater" at a film crew. A grandmother, who says she stopped watching Saturday Night Live after it got political, wonders aloud if they'll play "Schwartz's Mom," a Sandoval special where he subs in business partner Tom Schwartz's last name for the Fountains of Wayne classic. (He does and changes the lyrics to "Raquel is not for me.")

Raquel Leviss Told Us 'I'm Like, A Good Person' Just 48 Hours Before #Scandoval
I light a joint and duck behind a tall guy in carpenter pants. As a long-time Vanderpump Rules fan (my friends and I did Vanderpump-themed drag during covid lockdown to stay semi-sane), I had to come to (another) Tom Sandoval & The Most Extras (Sandoval's cover band comprised of himself and eight other musicians) show. While his name is now synonymous with "cheater" in the Bravo-verse and beyond after his infamous affair with costar Raquel Leviss (hence, #Scandoval), I couldn't pass up a chance to see the actor/model/singer/bartender/restaurateur in action—even though I'd usually skip a $40-a-ticket show to instead blow hundreds on Lady Gaga and Fall Out Boy concerts.
An older gentleman with shoulder-length gray hair and a Lady Bunny T-shirt asks if I need an extra ticket. He bought them for his friend who's a big Bravo fan, as he felt it was "an exchange for dinner the other night." Everything he knows about Sandoval is from Andy Cohen's Watch What Happens Live. His friend couldn't come. "This is a cover band, you know," I tell him. "The last time I was here I saw Debbie Harry and Cherie Currie," he responds wistfully. The vibes are weird and they only get weirder.
---
Downstairs at the bar, about twenty minutes before showtime, Sandoval emerges from behind a black velvet curtain near the merch table, and people want pictures. He is good-looking and he knows it. The veins on his biceps bulge down onto his forearms. His hair is swept back off of his smooth face, where he has white and blue lines painted in a starburst underneath his right eye. He takes one or two pictures, keenly aware of the positioning of the overhead lighting, before tersely saying he needs to go. I step in for a quick selfie. He doesn't speak to me. (And actually, he barely says a damn thing the whole night.)
I've been to a Most Extras show before: March 2022, here, at the Gramercy Theater, pre-Scandoval. Some of the band members are the same and Sandoval's costumes are similarly garish but the vibe is different—there seem to be fewer Bravo gays, more older couples, and even younger women than there were a year ago. The moms remind me of my own brashly Long Island mother, who couldn't come because she had "shit to do." A bizarre air hangs over the crowd: part revulsion, part attraction. I am straddling the two myself.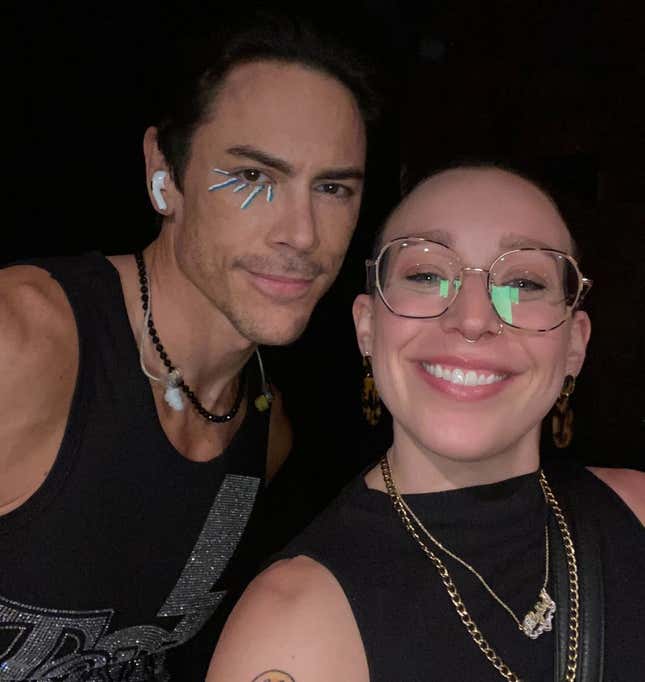 At about 10 past eight, a guy with a rainbow LED strip on his keytar begins playing. Several people start a "Sandoval" chant. Then several people further back start chanting "cheater." The rest of the Most Extras filter in, and the music swells into a cacophony that I think, maybe, perhaps, is a Muse song before Sandoval bounds on stage in a bedazzled TomTom T-shirt under an impeccably tailored lightning-bolt-lapeled blazer, flared pants, patent red leather cowboy boots, and red-tinted aviators. One of his LED lightning bolts isn't working. He starts singing. It is a Muse song. 

There's no denying that The Most Extras are talented and that Sandoval clearly takes voice lessons to help bolster his larger-than-life stage presence. He pounds on bongos with gusto, whips a shroud off of his hidden trumpet to play a few notes of the Pink Panther theme, playfully interacts with his bandmates, and moves his hips in ways that send shrieks up from the crowd. The woman who does his backup vocals is incredibly good. Shit, I'd have them at my wedding.
As they cycle through my high school iPad nano ("Dance Dance" by Fall Out Boy, "25 or 6 to 4" by Chicago, "Your Love" by Outfield), the most bizarre feeling of the night washes over me. It's partially the weed, sure, but I'm also dealing with a deep moral dilemma. Am I attracted to this man? Unfortunately, I think so. He's fascinating in his unabashed self-absorption and unapologetic in his cringy-ness—which is how he's always been portrayed on Vanderpump Rules but, even in the wake of #Scandoval, he's not backing down. That he's covering my Top 25 Most Played from 2008 only makes this attraction harder to fight.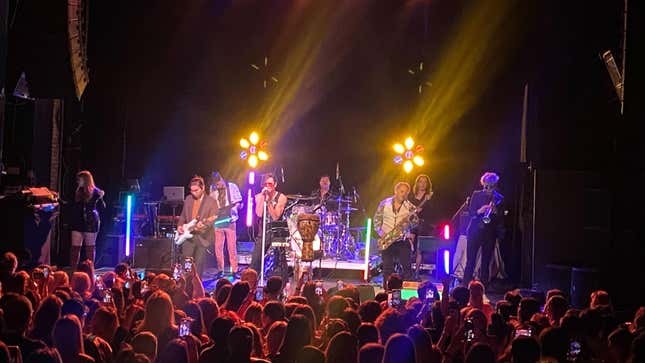 As I mentioned, Sandoval doesn't really speak in-between songs, save for a few "I love yous" to the crowd and several confirmations that everyone wearing the neon orange AGE VERIFIED bracelets has a drink. He occasionally swigs from a non-alcoholic Heineken. Midway through the show, he disappears, and the bassist begins the opening riff of Death Cab For Cutie's "I Will Possess Your Heart." I cried to this song in my teens.

Sandoval soon jumps back on stage, now wearing sequined leopard print flares, a sequined leather jacket with no shirt, and gigantic treaded white shoes that remind me of Max from A Goofy Movie. All of which should have been a sign that things were about to get weirder.
The band covers Outkast's "Bombs Over Baghdad" and "Hey Ya," both of which require Sandoval to rap (poorly); he climbs into a raised area and sings Queen in young women's faces; he takes someone's phone and records himself huskily crooning Kings of Leon (a band my ex-husband loves). I don't know how to feel.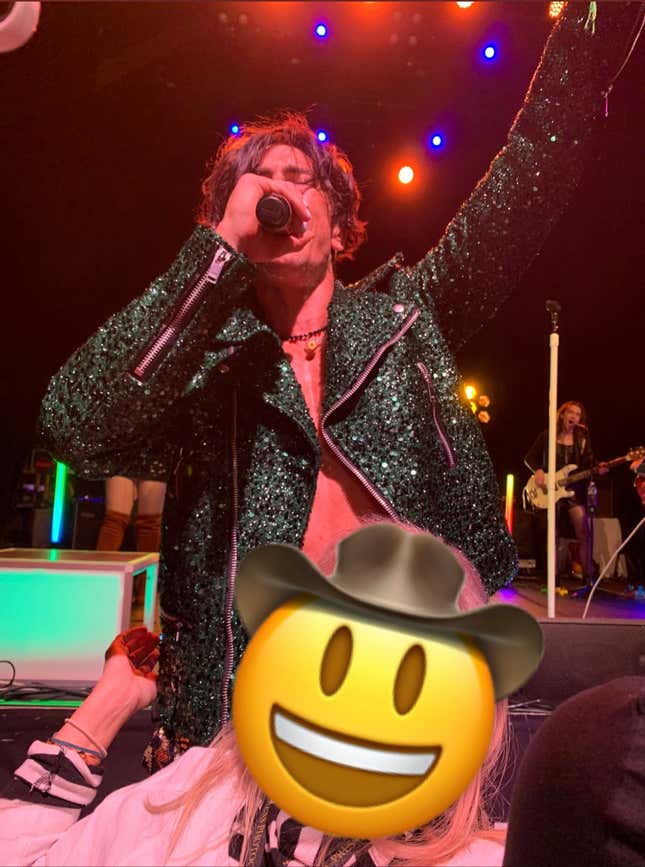 Before he plays his sole original song, "Superstars," a stream of older people vacate their seats. One woman taps my laptop with an almond-shaped nail and asks if I'm writing a review because she wants to read it. "Superstars" is not good. During a cover of the TikTok hit "Lightning in a Bottle," someone AirDrops me three pictures of a woman gleefully posing in front of Sandoval.

"This one, hah," Sandoval says before his next song, the laugh somehow implying both that this is a meaningful one for him and that he's really going through it, guys. The song is Kid Cudi's "Pursuit of Happiness," and I lose it, hysterically laughing in my tucked away seat at the back right corner of the theater, tears streaming down my face. The person passing around the joint skips me, assuming I've had enough.

By the end of the night, the crowd has almost completely turned in his favor. A loud Sandoval chant breaks out and his drummer thumps the bass drum to the beat: "San. Do. Val. San. Do. Val. San. Do. Val." The lights flicker with each syllable. Someone, somewhere, shouts "Send it to Darrell." I get up from my bird's eye view seat to stand amongst the crowd on the floor. A couple gently gyrates to "I Would Walk 500 Miles" next to me, and after he finishes his last song, the floor people beg for more.
Tom Sandoval & The Most Extras end with a carnival-esque cover of Panic! At The Disco's "I Write Sins Not Tragedies." Sandoval is completely shirtless, his superhero body moving in such a hypnotizing way that I realize, after a minute or two, that my mouth is agape. Before the song ends, I stumble through the exit doors and out into the balmy night, the sounds of New York City hitting me harder than Stassi Shroeder backhanding Kristen Doute.

I'm not sure what the fuck I just witnessed, but I know I need to call my therapist back.