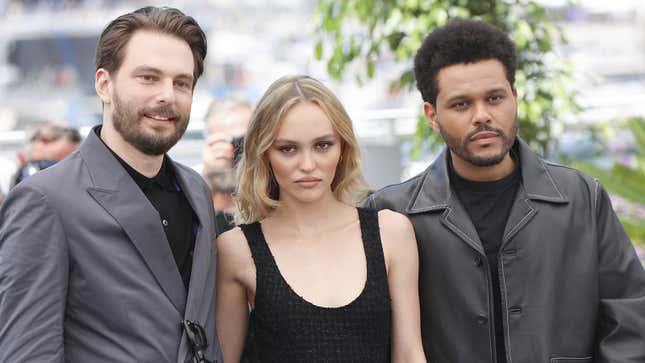 It was presaged that HBO's The Idol wouldn't come back for a second season, and now it's official. The network confirmed Monday that it has canceled the controversial show following its five-episode run earlier this year. "The Idol was one of HBO's most provocative original programs, and we're pleased by the strong audience response," an HBO spokesperson said, according to Variety. "After much thought and consideration, HBO, as well as the creators and producers have decided not to move forward with a second season. We're grateful to the creators, cast, and crew for their incredible work."
It goes to show that not all press is good press, and it would seem that the series' bald-faced provocation backfired. A March Rolling Stone report ahead of the show's debut at this year's Cannes Film Festival and June premiere on HBO recounted the show's original director, Amy Seinmetz, departing the series after completing 80 percent of filming. Directorial duties were then taken over by its creator, Euphoria mastermind Sam Levinson. Sources compared the show about a troubled pop star named Jocelyn (Lily-Rose Depp) who is mentored by a controlling club owner Tedros (the Weeknd) to a "rape fantasy" and "sexual torture porn." In response to the Rolling Stone piece, the Weeknd posted a clip of the show on Twitter with the caption: "@RollingStone did we upset you?"
Doubling down on provocation was not a viable strategy for a show that went on to be panned after its Cannes debut, and then by critics when it finally bowed on television. The headline of Jezebel's Audra Heinrichs' review said it loud and clear: "The Idol Isn't Nearly As Cool As It Thinks It Is." The show, as of the publication of this post, has an anemic 19 percent on Rotten Tomatoes, and according to Wikipedia, the weekly viewership of its HBO broadcasts was in the hundreds of thousands, which makes all the space it took up discursively during its brief run actually kind of impressive.
About two weeks in, on June 15, Page Six reported that the show would not be returning for a second season, which HBO denied on Twitter: "It is being misreported that a decision on a second season of The Idol has been determined. It has not, and we look forward to sharing the next episode with you Sunday night." Its cast stood by the show and defended it, with the Weeknd telling GQ that his character Tedros was supposed to be a douchebag, Depp claiming that Levinson was "the best director I ever worked with" and, "Never have I felt more supported or respected in a creative space, my input and opinions more valued," and Jane Adams, sounding very much like her toxic record exec character, Nikki Katz, responding to the backlash in Vanity Fair by saying: "I especially want to say to all the feminists, 'Go fuck yourself.' All these women that I'm working with are talking about their experience and you're not listening. You're not listening!"
All that talk led to absolutely nothing: A panned show nobody watched that died after its brief first season. But hey, we'll always have "World Class Sinner (I'm a Freak)," the best song ever released by a fake pop star. Actually, that's not nothing—at all.
---
Season 11 Bachelorette contestant Josh Seiter is dead at 36, per an announcement on his Instagram. The cause of death was not specified but the message did mention resources for those struggling with their mental health. [People]
People are mad that Martha Stewart used part of an iceberg to chill her cocktails on a cruise from Greenland to Iceland. In light of climate change, it may seem callous, but Stewart was just being real: We're way too fucked at this point for a small block of ice to make any difference. [Page Six]
Jennifer Love Hewitt changed her hair, trended on Twitter, and made headlines. What year is it again? [E! Online]
The concert attendee that Adele defended from the stage says that the people behind him who were bothered by his standing could have solved the problem by standing as well. Gee, why didn't they think of that? [TMZ]
Oliver Anthony Music's "Rich Men North of Richmond" spends a second week at No. 1 on the Billboard Hot 100, and it feels just as crazy as the first. [Billboard]
Shakira will receive this year's lifetime-achievement Video Vanguard award at the MTV Video Music Awards. Congrats to all who celebrate. [ET]
Update (2:39 p.m.): Seiter appears to be alive, appearing in a video uploaded to his Instagram account. "As you can see, I am alive and well," he says in the video. "My account was hacked. For the last 24 hours I've been trying desperately to get into it. Somebody was playing a cruel joke and mocking my mental illness and the struggles I've gone through with depression and suicide attempts."