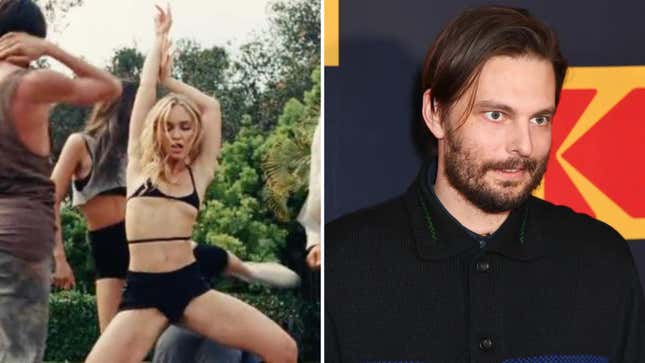 A bombshell report from Rolling Stone has revealed that Euphoria creator Sam Levinson's forthcoming HBO Max drama, The Idol, has become "a shitshow" of rewrites, reshoots, and—from the sounds of it—really disturbing redirection.

Ana Gasteyer Satirizes the Girl Boss in 'American Auto'
Thirteen sources from the production's cast and crew told the outlet that since it was ordered by the network in November 2021, the highly-anticipated series, starring Lily-Rose Depp as a pop star and Abel Tesfaye (better known as The Weeknd) as an L.A. nightclub owner and cult-leader, has been delayed due in part to some...drama behind the scenes.
"What I signed up for was a dark satire of fame and the fame model in the 21st century," one member of production said. "It went from satire to the thing it was satirizing."
According to sources, production on The Idol has suffered since April 2022, when its director, Amy Seinmetz, abruptly exited despite completing "80 percent" of the series. That month, a "creative overhaul" was reported by Deadline, with Levinson's co-creator, Tesfaye, reportedly feeling that the show was leaning too far toward a "female perspective."
G/O Media may get a commission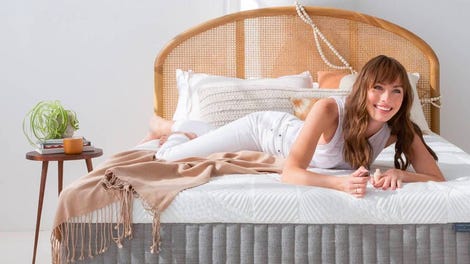 Sleep Sale
Sleep Sale - Brentwood Home
"It was like the Weeknd wanted one show that was all about him—Sam was on board with that," one source told Rolling Stone. But Levinson soon assumed the role of director and proceeded to rewrite and reshoot the $54-75 million project. Under his direction, however, many sources claim the series became something they never anticipated.
Four sources told Rolling Stone that Levinson's take on the story—which was originally reported as a cautionary tale about a starlet struggling to maintain agency in relation to a high-powered industry figure—devolved into a "degrading love story" rife with nudity and head-scratching depictions of a sexual dynamic.
"It was like any rape fantasy that any toxic man would have in the show—and then the woman comes back for more because it makes her music better," one source summarized of the series after Levinson took over for Seinmetz.
"It was a show about a woman who was finding herself sexually, turned into a show about a man who gets to abuse this woman and she loves it," another member of production said.
Levinson's scripts also contained "disturbing sexual and physically violent" scenarios between Depp and Tesfaye's characters that included a rape scene where Depp had to carry an egg in her vagina, and another where she asks Tesfaye to beat her:
In one draft episode, there allegedly was a scene where Tesfaye bashes in Depp's face, and her character smiles and asks to be beaten more, giving Tesfaye an erection. (This scene was never shot, the source says.) Another proposed scenario was for Depp to carry an egg in her vagina and if she dropped or cracked the egg, Tesfaye's character would refuse to "rape" her — which sent Depp's character into a spiral, begging him to "rape" her because she believed he was the key to her success. (This scene also was not filmed because production couldn't find a way to realistically shoot the scene without having Depp physically insert the egg, another source explains.)
"It was like, 'What is this? What am I reading here?'" one source recalled. "It was like sexual torture porn."

Levinson has garnered a reputation for gratuitous—and many would argue unnecessary—nudity and graphic sex scenes. In a January 2022 interview, Sydney Sweeney revealed to The Independent that she's previously told Levinson she was uncomfortable with certain nude scenes.
"There are moments where Cassie was supposed to be shirtless and I would tell Sam, 'I don't really think that's necessary here.' He was like, 'OK, we don't need it,'" she explained.
Levinson has also been alleged to foster chaotic work environments wherein entire episodes would be suddenly tossed out and rewritten. After the second season of Euphoria premiered in 2022, several sources told the Daily Beast the production was "hellish" and "toxic." One breakout star of the series, Barbie Ferreira, left the show amid reports of "tension" between her and Levinson. Sources that worked on The Idol offered similar concerns, claiming Levinson would make swift script changes that would prolong and intensify the production.
"I got the vibe that the mood on set was, 'What's HBO gonna do, pull the plug? Yeah, right. If they want a third season of Euphoria, they'll give me what I want…We're just gonna shoot what we want and if [HBO execs] have a problem with it, that's their problem,'" one source described to Rolling Stone.
Many sources who spoke to the outlet say they have no idea when The Idol will premiere, nor what the final cut will actually look like.
"This was such a strong example of just how far [Levinson] can really push HBO and they will continue to cover [him] because he brings in money," a source said. "He's able to walk away unscathed and everybody still wants to work with him…People ignore the red flags and follow him regardless."
Neither Levinson, Tesfaye, nor an HBO representative provided comment on the story. Hours after the story broke, however, Tesfaye posted a clip from the series in which his character deems the magazine "irrelevant" along with a question: "@RollingStone did we upset you?"
Other sources denied the claims in a counter-report published by TMZ on Wednesday afternoon.