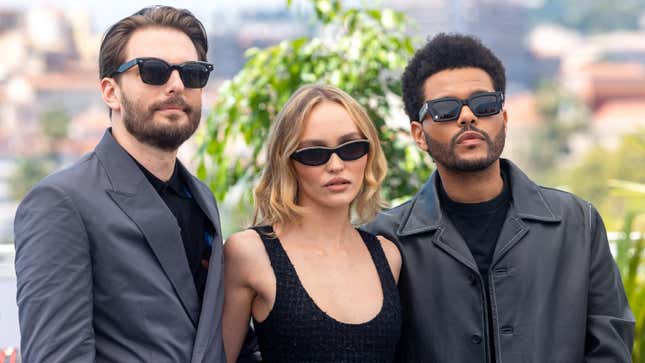 On Thursday, just hours after Page Six reported that Sam Levinson and Abel "The Weeknd" Tesfaye's abomination of an HBO series, The Idol, would not see a Season 2, HBO's PR Twitter account denied the good news.
The Housewives Have Kept Mum About NeNe Leakes' Lawsuit
"It is being misreported that a decision on a second season of The Idol has been determined," the streaming giant said in a statement. "It has not, and we look forward to sharing the next episode with you Sunday night."
That's right, we just might be due for more duplicitousness and douchebaggery from the disgusting brothers (Levinson and Tesfaye). How nice.
In case you missed the Page Six report, a source told the tabloid that The Idol was intended to be a limited series from the beginning: "This was never meant to be a long-running show." Apparently, network executives were also anticipating the kind of blowback and bad reviews we've all come to know and giggle at.
"It's a Sam Levinson show, and you know what you're getting with a Sam Levinson show," the source said of the show's co-creator and director.
Another "highly placed industry insider" claimed that while The Idol was supposed to be a marquee show for Max—the first major series, in fact—it's long been known within the network that it, well, wasn't good: "It was a big, big show for them with big talent and a lot of buzz," the source said. "But from what I heard, HBO knew it was a bit of a turkey as soon as they saw it." A turkey? I'd argue it's the whole damn Thanksgiving meal.
Tesfaye, too, was blamed for the show's supposed short run. In one source's words, working with the singer and co-creator whilst he was in character as Tedros was "not an ideal experience…and not one I am eager to repeat." Another deemed him "egomaniacal."

All of the aforementioned should arrive as little surprise to anyone who's been paying attention since a bombshell Rolling Stone report likened the series to "sexual torture porn," and multiple sources revealed some less than safe-sounding set dynamics.
To be fair, the show did bless us with this absolute banger. I'm no longer tuning in—nor are scores of others—but I could be persuaded to return should a theory about Showgirls' Elizabeth Berkley's forthcoming story arc turn out to be true.