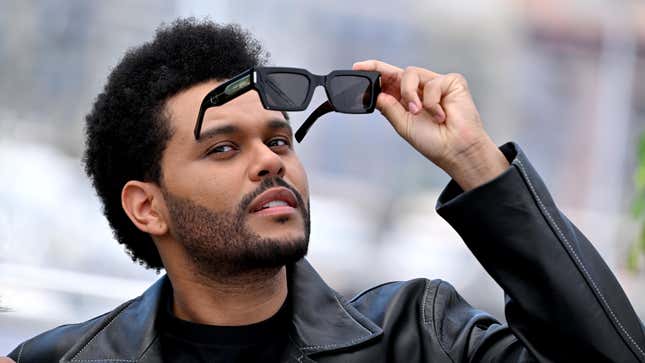 For those who're still tuning into HBO's The Idol, Abel "The Weeknd" Tesfaye wants you to know that he's not a despicable douchebag psychopath. That's just his character, he insists in a new interview with GQ. See, guys! Contrary to popular belief, Tesfaye isn't a bad actor. He's just that good.
Mica Burton's Rebellion Against Her Dad, LeVar Burton, Was Being a 'Star Wars' Fan
Throughout the Q&A, Tesfaye takes on critics of the series, tries to explain what exactly its tone is supposed to be, and tells viewers not to get "too comfortable" watching. That warning is confounding considering it implies any of us were comfortable watching it in the first place. The lion's share of the interview, however, consists of Tesfaye putting a suspicious amount of distance between himself and his character, Tedros Tedros.
An example:
The reality is, there's nothing really mysterious or hypnotizing about him. And we did that on purpose with his look, his outfits, his hair—the guy's a douchebag. You can tell he cares so much about what he looks like, and he thinks he looks good. But then you see these weird moments of him alone—he rehearses, he's calculated. And he needs to do that, or he has nothing, he's pathetic. Which is true of a lot of people who are a fish out of water, put into these scenarios.
Huh. A douchebag trying—and failing—to be perceived as mysterious and hypnotizing? I feel like I've seen that before...
Later, Tesfaye is prompted about a "gluttonous" sex scene in the series' second episode. I'll note that in a separate article, GQ declared it "the worst sex scene in history." In it, Tesfaye's character instructs Lily Rose Depp's to masturbate as he watches, and delivers some—frankly uninspired—directives (see above.) Don't worry, though: Tesfaye was just borrowing from Paul Verhoeven (the mastermind behind Basic Instinct and Showgirls)—not his verse on this song:
There's nothing sexy about it. When we use Basic Instinct as a reference, we're using Verhoeven. Verhoeven is the king of '90s satire thriller—yes, there's moments of "sexy" in his films but there are other moments that are very cheesy and hilarious. How ever you're feeling watching that scene, whether it's discomfort, or you feel gross, or you feel embarrassed for the characters. It's all those emotions adding up to: This guy is in way over his head, this situation is one where he is not supposed to be here.
Finally, Tesfaye tells us that, though he co-wrote the series; reportedly issued a "creative overhaul" when it leaned too female; and filmed it at his home, he never pictured himself for the role of Tedros:

With Idol, it's a little trickier for me because I initially never wrote it with me in mind. That's just the truth. But as the years went by, Sam [Levinson] convinced me and had some really great ideas for the show. And it got to a place where the only way I could play this role was if it's something completely different from who I am. And I can distance myself from that character. I wanted to make sure he looked nothing like me, acted nothing like me, just a totally different person.
Yeah...if "totally different person" was literally just him with a rattail.
---