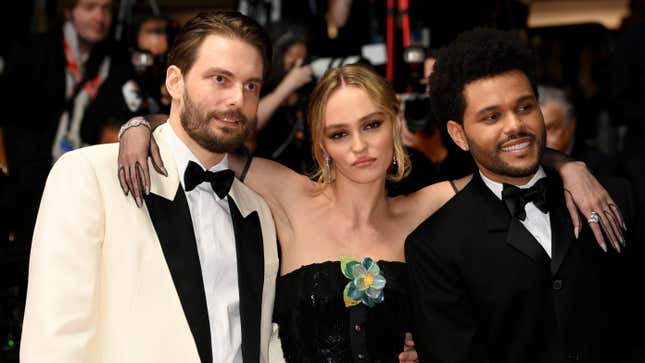 If you read Rolling Stone's 13-source investigation—or Abel "The Weeknd" Tesfaye's rebuttal in the form of a Vanity Fair profile—you're likely to be unsurprised by the following information: Tesfaye and Sam Levinson's forthcoming series, The Idol, was not well received by critics at the Cannes Film Festival.
Is Emmy Rossum Old Enough To Play Tom Holland's Mom?
The New York Times' Kyle Buchanan likened the first two episodes of the supposed satire on fame and celebrity culture, which also stars Lily-Rose Depp, to a "Pornhub-homepage odyssey starring [her] areolas and The Weeknd's greasy rat tail." Collider said it "lacks depth and subtlety." And Variety's Peter Debruge delivered perhaps the most personal dismissal: "Levinson's worldview seems corrupt. It shouldn't take degradation and suffering to make Jocelyn stronger. Euphoria audiences won't be too surprised by the shameful way he treats Depp's character, as both she and the show appear trapped under The Weeknd's thumb."
There's plenty more where that sentiment comes from but you get it. The lion's share of critics hated what they saw. A generous outlier, however? Deadline, which praised Depp as a plausible pop star under the predation of Tesfaye's Tedros:
Until we know more, it's hard to make value judgments about morality and ethics, or, more substantively, the arguments about the male gaze and female body rights that are coming in the water like a stealth torpedo. However it turns out, Depp is quite rivetingly game with, to put it mildly, a highly sexualized performance that also is grounded and often vulnerable, discomfitingly addressing the fine lines between porn and art, power and exploitation that have faced young women in the music industry for years.
Well, alrighty then! Of course, in classic Cannes fashion, the premiere garnered some lengthy applause—five whole minutes to be exact. (Notably, not as much as Depp's father's return to the silver screen last week.) During that ovation, Sam Levinson wept as if he'd just debuted Schindler's List and not a show with dialogue like this, published last week by Vanity Fair:
In The Idol's first episode, Jocelyn wrestles, barely, with whether to see Tedros at all. She's sitting on her couch—Tesfaye's couch—and worrying with her assistant about how her upcoming single will land. Leia (Rachel Sennott) reassures her.

"I think I'm gonna invite Tedros over," Jocelyn says.

Leia balks, but over wine, they're both smiling and rolling their eyes.

"He's so rape-y."

"Yeah, I kind of like that about him."

"Joc, no, gross. So disturbing."
Levinson also defended the show at a press conference, assuring reporters that "we know we're making a show that is provocative. It's not lost on us." He also addressed the Rolling Stone investigation: "When my wife read me the article, I looked at her and I said, 'I think we're about to have the biggest show of the summer.'" Levinson then added that the allegations in the piece "felt completely foreign" to him.
Whether Levinson and Tesfaye have the biggest show of the summer or a complete shitshow on their hands...well, I guess we'll see when it hits HBO MAX (er, I guess it's just MAX now) on June 4.