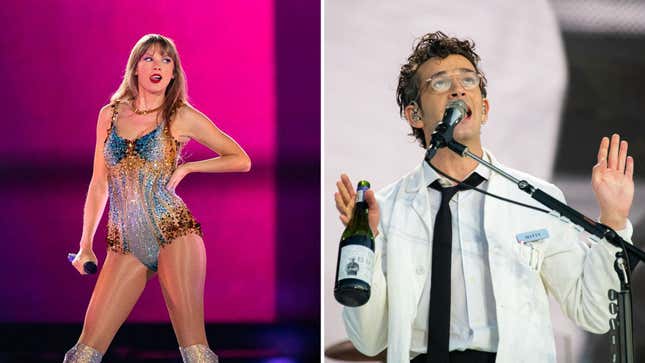 For certain Swifties, a brief national nightmare is over: TMZ reported on Monday that Taylor Swift and Matty Healy are no longer an item.
Taylor Swift's Rep Thinks You Need to Calm Down About Her Private Jet
The two were romantically linked for a little bit more than a month, but what a month it was. (News first broke in early April that Swift and her boyfriend of six years, Joe Alwyn, had broken up.) At one concert in Nashville on May 5, Swift looked into the camera that was broadcasting on the massive screens behind her and mouthed, "This is about you, you know who you are. I love you." Healy had done the same thing two nights before. Later in May, the two were spotted leaving Electric Lady Studios in the wee hours of the morning. They also publicly held hands (though photos of said intimacy have since been removed from Twitter) and reportedly kissed at a members' only club.
Seems like fairly typical rebound behavior—and a fairly typical rebound timeline: hot and heavy for a few heady spring weeks, cutting each other loose before summer really kicks off. But, of course, this is Taylor Swift, so nothing is fairly typical here.
Almost immediately after dating rumors began swirling around the two, fans of Swift's—particularly those who had previously not been all that aware of Healy's a) existence and/or b) general edgelord vibe—began to voice their opposition to her choice in rebounds. As my colleague Kady Ruth Ashcraft described him, "Healy tends to take up a lot of space along the fine line of 'just joking' and being offensive," which includes "instances of ironic Nazi salutes, making out with fans, and humping an unsuspecting camera person."
The discourse around Healy's racism grew so loud that it was skewered in a viral Onion headline:
Fans' backlash came to a head at the end of May, when Swift released a version of her song "Karma" featuring the rapper Ice Spice, whose ethnicity had been grossly mocked by the hosts of a podcast Healy appeared on in February. A few months later, Healy apologized to Ice Spice while on tour in New Zealand, but the incident added fuel to Swifties' fire. This was largely due to the fact that "their queen, who's built her lucrative empire on promoting good vibes and acceptance, is not well matched, they feel, with this dude," my colleague wrote.
At least for now, those Swifties have won.
Aside from whomever she may date next (the clamor you hear is thousands of Gaylors getting their hopes up again), I personally love this latest development in her (public) romantic life: It's giving me flashbacks to the brief but wonderful Hiddleswift era, calling up fond memories of Tom Hiddleston frolicking on a Rhode Island beach wearing a soaking wet "I <3 T.S." tank top during Swift's infamous July Fourth party, only for them to split two months later.
Speaking of, Swift does appear to have a wide open tour schedule between her July 1 show in Cincinnati, Ohio, and her July 7 concert in Kansas City, Missouri. That's plenty of time to return to her old ways and host a heavily photographed, star-studded long-weekend bash. After all, she went out with the Haim sisters, Gigi Hadid, and Blake Lively immediately after her breakup with Alwyn, evoking real 2016 Squad vibes. If we're getting a "please welcome to the stage" Taylor renaissance, I'm very here for it.