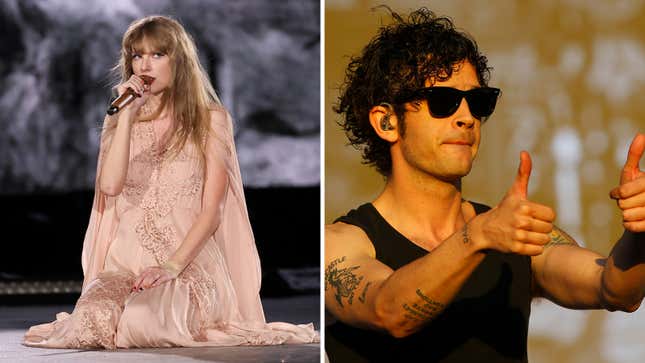 Well, they sure aren't denying those rumors. Last week, England's The Sun published a story suggesting that Taylor Swift and Matty Healy, the 1975 frontman Swift was briefly linked to in 2014 and who subsequently said that dating Swift would be "emasculating," were ready to come out as a couple "in Nashville, Tennessee, where the US singer ­performs this weekend." Well, would you look at that? Swift and Healy were spotted together in Nashville this weekend. They didn't announce to the world that they're together, but they seemed to be hinting at it.
Taylor Swift's Rep Thinks You Need to Calm Down About Her Private Jet
Most notably, Swift and Healy were photographed, in Daily Mail parlance, "for the FIRST TIME TOGETHER," after her Saturday show in Nashville. The pic of them in the back of a car is grainy. Swift appears to be closing her eyes and tensing her face, mid-gesture, and as Healy watches her do that, his head is turned away from the window. We are assured in the Mail's item that: "The rumored couple were pictured arriving to Taylor's condo at around 12:30AM following her Eras concert in Nashville, Tennessee on Saturday evening."
That night, Healy preceded Swift onstage, guesting during the Eras Tour opener Phoebe Bridgers' set. Healy attended Friday night's show, as well, where Swift looked into the camera filming her onstage and mouthed, "This is about you, you know who you are. I love you." Healy did the same thing onstage May 3 in the Philippines.
You know Swift: She loves her Easter Eggs. This seems like promo to me: Whether it's for an upcoming project, an actual romance, or just the performance of living remains to be seen. Kinda fun tho!
---
New conspiracy theory dropped!!
The official story is that Meghan Markle skipped this weekend's Coronation of her father in law and went hiking instead. Hmmm.
---
Ready for an old guy to say some dumb shit? (Of course you are, you are reading a Dirt Bag written by me.) In a recent interview for PBS's Firing Line, Richard Dreyfuss, 75, had a lot to say about the representation and inclusion standards the Academy is requiring for eligibility for the Best Picture Oscar. (These require a percentage of inclusion of an underrepresented group—i.e. not just straight white men. Given the state of things, the bar is relatively low.) Regarding them, Dreyfuss said, "They make me vomit."
"This is an art form," he continued. "It's also a form of commerce, and it makes money, but it's an art. And no one should be telling me as an artist that I have to give in to the latest, most current idea of what morality is."
Baby, no one's telling you what you have to include in your art. They're telling you what the requirements are to be eligible to pick up a trophy.
So that was dumb, but what came next was dumber:
"You know, Laurence Olivier was the last white actor to play Othello and he did it in 1965. And he did it in blackface. And he played a Black man brilliantly. Am I being told that I will never have a chance to play a Black man?"
I'm gonna stop you right there, Dick. Yeah, you are! Or, I don't know, go ahead and fuck around. You'll find out!
---