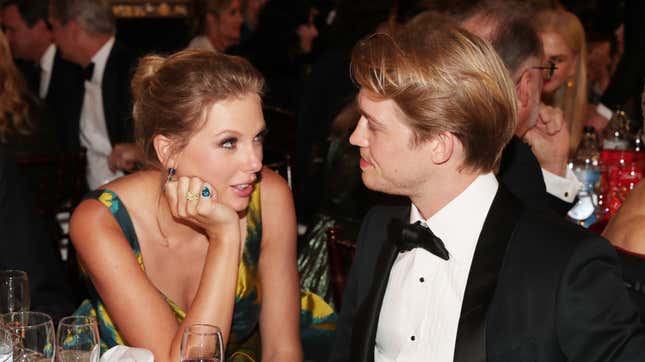 Taylor Swift, a global superstar, record-breaking songwriter, and cat mom, and Joe Alwyn, an actor, are no more.
Taylor Swift's Rep Thinks You Need to Calm Down About Her Private Jet
Apparently (unfortunately, heartbreakingly, etc, etc.), the pair just fizzled. "It was not dramatic," a source told Entertainment Tonight. The break-up also reportedly happened weeks ago—which would explain a lot. "The relationship had just run its course. It's why [Alwyn] hasn't been spotted at any shows."
Swift is currently on her sold-out The Eras tour, which opened in Glendale, Arizona, on March 17—she's played seven shows since and Alwyn has been absent at all of them. In March, People gave a rare update on the pair: "Joe will travel with her when he can. They are great together. Joe is super supportive of her career." This is all sad :(

Swift and Alwyn have been dating since 2016, after meeting each other at the 2016 Met Gala (the same night Swift also met Tom Hiddleston lol), which Swift hosted. Their relationship inspired Swift to write countless songs, including a whole damn album, Lover. The couple also won a Grammy together for Swift's folklore. "Joe, who is the first person that I play every single song that I write, I had the best time writing songs with you in quarantine," Swift said while accepting the Grammy for Album of the Year in 2021.
More recently, Swift said "Lavender Haze," from her 10th studio album, Midnights, was about Alwyn."We've had to dodge weird rumors, tabloid stuff and we just ignore it," she told ET about their six-year relationship. "This song is sort of about the act of ignoring that stuff to protect the real stuff."
Alwyn has been famously tight-lipped about their relationship. When engagement rumors swirled about the pair—seriously someone tried to make us believe they got engaged in Cornwall in winter—Alwyn told the Wall Street Journal in April 2022 that he will probably never admit to anything like that publicly. "If I had a pound for every time I think I've been told I've been engaged, then I'd have a lot of pound coins," Alwyn said. "I mean, the truth is, if the answer was yes, I wouldn't say, and if the answer was no, I wouldn't say."

So don't expect any confirmation or denial from Alwyn, I guess. But at least we'll probably, definitely be getting some absolute break-up bangers from Swift, whenever she decides to return to the studio. Even her most well-meaning relationships end with beautiful songs—specifically, I'm thinking of "Back to December," her 2010 song about Taylor Lautner.
But if I can be casually cruel in the name of being honest for just one quick second, I definitely wouldn't mind another 10-minute ballad about losing someone who you thought was the love of your life, either.

"Would I not be able to write break-up songs anymore?" Swift said during her NPR Tiny Desk Concert in 2020, before playing Death by a Thousand Cuts (one of her more brutal break-up ballads), and explaining how that song proved to her that she didn't need to be miserable to write a perfect heartbreak hit. "I love break-up songs. They're so fun to write."
We wish Swift all the healing and time and compassion she needs. But also, this is your time to shine girl. We'll be here, wallets open, savings accounts emptied, when you're ready.