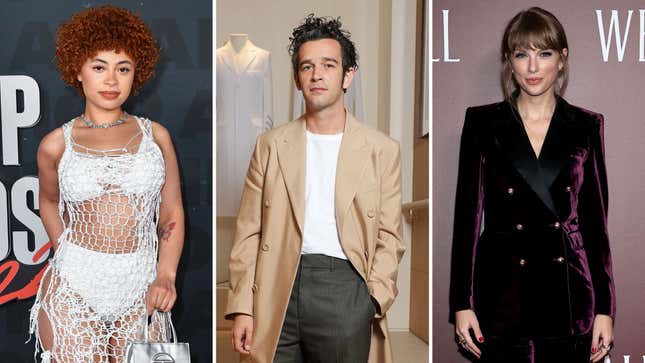 In the middle of a U.S. tour that's generated enough buzz to stake out permanent residence in pop culture headlines, Taylor Swift announced Wednesday (and released Friday) a remix of her song "Karma" featuring the rapper Ice Spice.
Taylor Swift's Rep Thinks You Need to Calm Down About Her Private Jet
People were stoked. A mainstay pop star headliner collaborating with rap's revered It Girl of the moment—very fun! But amidst the clamor, folks' short-term memories kicked in, and past racist conversation about Ice Spice that Matty Healy, Swift's rumored beau and frontman of The 1975, partook in is being recirculated.
In February, Healy was on comedian Adam Friedland's podcast and laughed along with Friedland and co-host Nick Mullen when they called Ice Spice "Inuit Spice Girl," a "chubby Chinese lady," and a "fucking Eskimo," as well as imitated Chinese and Hawaiian accents. (For the record, Ice Spice has tweeted that she is Nigerian and Dominican.) The podcast episode was removed from Spotify and Apple Music.
About a month ago, Healy apologized to Ice Spice for the comments, but not in person and not even in America. On tour in Auckland, New Zealand, he announced to the crowd that he "felt a bit bad" and was "kind of a bit sorry if I've offended you." He then explained his reasoning: "It's not because I'm annoyed that me joking got misconstrued. It's because I don't want Ice Spice to think that I'm a dick. I love you, Ice Spice. I'm so sorry."
In general, however, Healy tends to take up a lot of space along the fine line of "just joking" and being offensive. Instances of ironic Nazi salutes, making out with fans, and humping an unsuspecting camera person have all landed him in purgatory with a lot of die-hard Swifties. Their queen, who's built her lucrative empire on promoting good vibes and acceptance, is not well matched, they feel, with this dude.
Wednesday evening, right after Swift announced her remix with Ice Spice, she and Healy were spotted packing on the PDA at a New York City club. In true Taylor form, she has not confirmed that she is dating Healy, nor has she denied it. But she never once confirmed she was dating boyfriend of six years Joe Alwyn, so I don't particularly take her secrecy as indicative of any lack of seriousness between the two. Of course, none of us know the true nature of their relationship.
Where this all comes to a head is that some fans (and agnostics and haters alike) feel like Swift's "Karma" collaboration with Ice Spice is a sly, indirect way of righting Healy's wrongs. By working with Ice Spice and lauding her as a "brilliant artist" (which she is), Swift can sort of publicly position herself as a fan and an ally without doing the more difficult work of calling out (or even addressing) someone she is close to who participated in pretty foul banter.
On the other hand, some folks are hesitant to reprimand Swift for the sins of a guy she's just making out with. Lord knows, I've swapped spit with people I would not endorse on LinkedIn. But of course, Swift has power and influence and isn't randomly kissing questionable dudes in bar bathrooms—she's bringing Healy to shows, dropping easter eggs, and spending time with him in public, in view of the paparazzi she surely knows follow her around. She is associating herself with someone who, along with being a risk to her meticulously crafted brand, seems like he's a not-so-great dude to hang around with. This criticism differs from the tired jokes about her dating resume; she's been unfairly panned for moving too quickly through romances, but rarely is she reprimanded by the public for who the romance is with.
Uproar about Swift and Healy's romance predates her collab with Ice Spice, but the announcement has certainly fanned the flames. I think part of the reason their supposed pairing has produced the backlash that it has is that it suggests Swift does not personally align 100% with the values she projects. For a lot of Swifties, that feels like a betrayal. Though, I would argue, it could be reframed as a necessary reckoning for these fans: Demanding Swift or any celebrity whom you are parasocially obsessed with live up to the ideals you have of them in your head is a losing game.
It's also important to note that Ice Spice has been outwardly very enthusiastic about the collab, calling Swift the "coolest person on earth." Is that a genuine sentiment or just her being a professional? We can't know and will have to take it at face value. She's decided it's worth it to work with Swift. Love that.
Personally, knowing how calculated and ironclad Swift's brand is, I don't believe there's a world wherein she and her team weren't aware of Healy's actions or the stain he's leaving on her reputation—as well as the release of this remix—regardless of where they stand romantically. At best, she collaborated with Ice Spice genuinely because she wants to, and Healy's podcast appearance is an unfortunate coincidence she doesn't want to address. At worst, she doesn't find what he did offensive and is using Ice Spice as a pawn to further profit off her own public image of inclusivity. Somewhere in the middle is the possibility that the collab is a deliberate PR move as penance for Healy. Like most things with Swift, we aren't going to be told forthright, but I'm sure karma will sort it all out in the end.