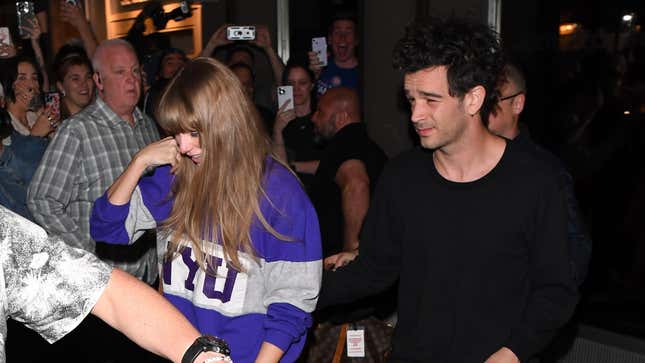 In the wee hours of Tuesday morning, Taylor Swift and her apparent new beau, Matty Healy, put on quite a show as they left Electric Lady Studios together—that is, a very famous recording studio. That's right, folks. These two might just be making sweet, sweet music in more than the metaphorical sense.
Taylor Swift's Rep Thinks You Need to Calm Down About Her Private Jet
The pair appear to have ramped up their public infatuation, and are no longer sticking with the cryptic-and-cute-on-The-Eras-Tour script. No, now they are very unambiguously carousing around the Big Apple. First, Healy was spotted leaving Swift's apartment, carrying with what's clearly an overnight bag and wearing a "Lover" baseball cap. Subtle!
Then, Swift and Healy hit the studio. While I'd like to imagine the lovebirds logged some work time and recorded a duet I can psychoanalyze for years, they also might've just had a little party with their close friends—many of who also happen to be musicians.
Jack Antonoff and girlfriend Margaret Qualley, Florence Welch, and Kendrick Lamar were all photographed leaving the venue around the same time as Swift—doing her best school girl cosplay in an NYU sweatshirt and mini skirt—and Healy. It's likely that they were just hanging out, enjoying a tipple or two, but I prefer to believe that they were having a jam sesh or something. I wouldn't say no to an Antonoff x Welch x Lamar x Swift x Healy collab.
That aside, it's been a big month for the new couple. Healy has practically become a fixture on Swift's tour—even sitting with her dad, Scott, and chatting with BFF Blake Lively in Philadelphia over the weekend. He also recently borrowed Swift's stage and performed with opener and pal, Phoebe Bridgers. The latter, of course, has had herself a little backstage romance too with none other than Bo Burnham. Is The Eras Tour the place to hard launch your new boo? Perhaps! Just ask Keith Urban.
It'll be sweet to see what Swift and Healy get up to next in the greatest city in the world. The High Line? Bowery? Cornelia Street?
---