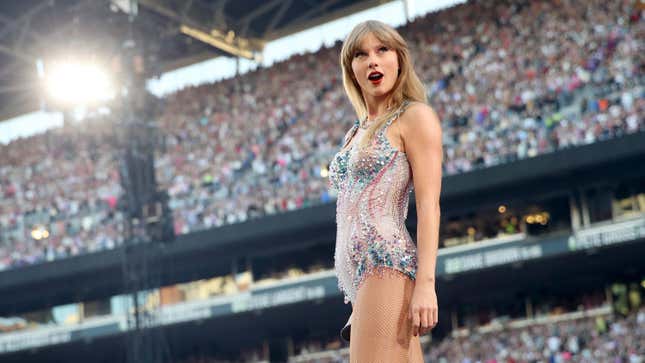 No visible wealth hoarding here, folks.
In a year marked by increasingly tense labor relations and strikes across industries, Taylor Swift appears to be positioning herself on the side of workers, which is the only correct stance to take in this economy, if you ask me.

Taylor Swift's Rep Thinks You Need to Calm Down About Her Private Jet
According to TMZ, ticket sales from Swift's wildly popular Eras Tour (which sparked a Congressional investigation into Ticketmaster's monopoly on the live events industry) are nearing $1 billion. Surely she's pocketing a good portion of that revenue as any modern capitalist pop star would, but she's also reportedly sharing six-figure bonuses with the truckers who've been schlepping her concert equipment across the country. Given that the shows have regularly been lasting over three hours, with Taylor singing around 44 songs at each stop of the high-intensity and high-tech tour, it's difficult to imagine the sheer amount of labor and heavy lifting required to get this show on the road.

TMZ claims Swift is giving $100,000 to each trucker, and reportedly handed out bonus checks before her show Saturday in Santa Clara, California. There are said to be about 50 workers who've been driving Taylor's glittery props and giant sets around the U.S. over the last five months, which equates to $5 million in "end of the tour" trucker bonuses alone. Sources working for Swift's production team told TMZ that band members, dancers, lighting and sound technicians, caterers, and other workers on hand also received "very generous" bonus checks. After kicking off in March, the U.S. leg of the tour will come to a close on August 9th, after Taylor plays six shows at SoFi Stadium (and shuts down the entire Santa Monica freeway, probably).

While Swift deserves to be lauded for honoring her workers, this sort of exchange shouldn't be extraordinary for a touring musician of her caliber and status, but standard—if not the bare minimum. Physical labor in the entertainment industry has long been downplayed and undervalued, despite the fact that stars wouldn't get the chance to produce fantastical fever dream shows were it not for the grit and tenacity of the workers behind the scenes, lugging their shit in and out and in and out of trucks and stadiums all over the United States.

So, yes, thank you, Taylor, for setting the bar for how to compensate your workers, but let's see you and other stars continue to top it.