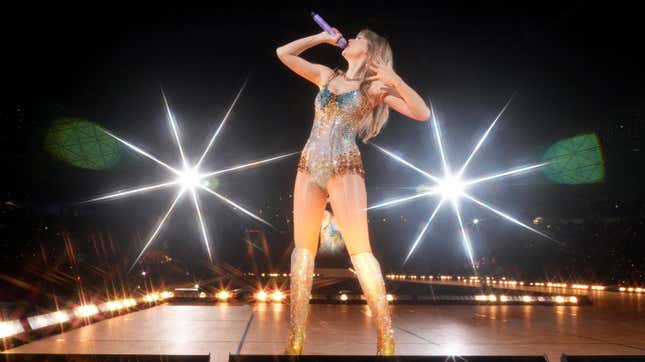 Before Taylor Swift even took the stage at State Farm Stadium in Arizona ("Era-zona") on Friday night, a giant Midnights-style clock counted down from 2 minutes. While the seconds ticked, Dusty Springfield's cover of Lesley Gore's "You Don't Own Me" blared through the speakers. The pointed, biting anthem rang out like a giant, sweet, celebratory cherry from a musician who fought to bring us on this victory lap of her entire career.
Taylor Swift's Rep Thinks You Need to Calm Down About Her Private Jet
Time flies when you're having fun, which is probably why it's felt like a century since I last saw Swift live. It's been five years since the Reputation tour and it'd be an understatement to say that a lot of shit has happened since. Global pandemic and the general state of the world aside, Taylor lost her masters to the Tiny-Two-Wheeled-Vehicle-Who-We-Do-Not-Name and covid forced her to cancel the Lover Fest tour. But she also recorded four new albums, began re-recording her first six (and released two), went #1 with a 10-minute version of a 10-year-old song, and won Grammy Album of the Year for a third time. The Eras Tour felt like, more than anything else, watching an artist finally getting to bask in her well-deserved triumphs.
"If you're here tonight, there's a pretty good chance you went to a considerable amount of effort to be here," Taylor said, opening the first night of the tour. (She was right. TikTok was filled with Swifties documenting their cross-country journeys to Era-zona.) And damn, if she didn't take that effort into account. In November, I wrote that I wanted The Eras Tour to include 33 songs, and for Taylor to play for at least three hours. She played 44 fucking songs and played for three hours and 13 minutes. "I'm trying to understand who does that," our Uber driver said to our friends after the concert. "She puts on a show, she gives you blood, sweat, and tears on the stage." (Correct, sir!)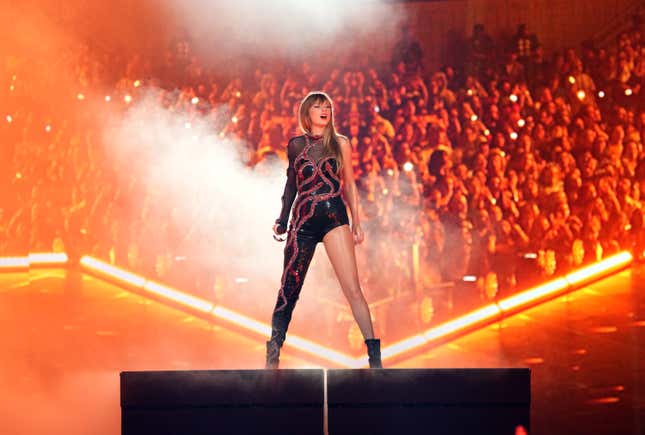 Swift opened the show with a few quick lyrics from "Miss Americana and the Heartbreak Prince" which made for both a gorgeous entrance and a shocking, unexpected first song. But then, the arena filled with the distorted vocals and synth-y drum beats of "Cruel Summer": the song that should have been been a single, that should have been the song of summer 2020, the song that I've been waiting to lose my voice singing since August 23, 2019, at 12:05 a.m. when I first heard it. I'll never be able to accurately describe the absolute euphoria of finally getting to scream "I don't wanna keep secrets just to keep you" with 70,000 fellow Swifties, but it felt close to being able to exhale after years of not even realizing you were holding your breath.

Live music is often transformative, but Swift's journey—or "adventure" as she introduced it—through her 17-year career felt like twirling around inside a galactic snowglobe of all the wonders of the world. The graphics—the fire-engulfed Lover house, the watercolor oceans, the enchanted forests—were mesmerizing. The colors—burning reds, dreamy purples, holographic rainbows—were electrified. Swift swore, chair danced, led a sacrificial circle, and, at one point, dove into the stage. (And her vocals were the best they've ever been.) We got the 10-minute version of "All Too Well"; we got the bridge of "Champagne Problems"; we got her to say whether or not she likes Evermore: "An album I absolutely love despite what some of you say on TikTok," Swift teased. "Oh I've seen it, I've seen all of it." And we got plenty of her fun Swift-isms: "A running theme in my music is that I love to explain to men how to apologize."
Beyond the setlist and duration, I wrote that I didn't "want a chronological setlist of Swift's career. I want to be surprised by every era" and, to my absolute delight, it was just that. She bobbed in and out of her catalog and I found myself surprised at each whiplash-inducing turn. Transitioning from the aching era of Evermore to the murderess era of reputation was precisely the kind of emotional stroke I was hoping for.
There were a couple of curious omissions: I was shocked she didn't play "Out of the Woods," and even more shocked she only played one song from Speak Now—which makes me wonder if the release of Speak Now (Taylor's Version) is closer than we think. (Or if there are some type of issues—legal or otherwise—around the rerecordings.) The one song she did perform from the album, "Enchanted," was big and beautiful and made me completely forget about the stunning "Wildest Dreams" mashup version from the 1989 tour. "Enchanted" deserves to stand on its own.
Of course, not every Taylor Swift song can get its moment in the sun (she has over 229), but I'm so happy for the ones that did. It was thrilling to hear "My Tears Ricochet" and "August." And it was beyond thrilling to get to relive songs like "22," "Don't Blame Me," and "Fearless." The stadium shook when she played "Blank Space." And I nearly drowned myself in tears when she played "Tim McGraw" on the piano.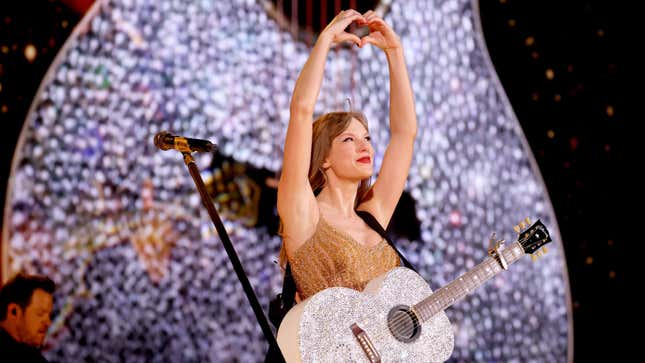 "I don't know if I would have been able to make it without someone like Taylor being a beacon of hope and imagination and creativity," Hayley Williams, the lead singer of Paramore, one of the opening acts, said during the band's second-night set—which was so phenomenal it's truly a shame they won't be opening for the entire tour. (On the first night, Williams said that Swift's mom gave her Taylor's number at a Grammys party in 2008 but Williams didn't text her until the infamous VMA incident a year later, because "this person is really cool and did not deserve that.")
"She's injected so much good into, not only the world, but the industry, and she fights for other artists," Williams continued. "We're just very thankful to be here celebrating her with you."
Taylor closed the show with "Karma," a bright, catchy bop from Midnights for which she threw on a colorful, fringe tassel jacket for before shimmying around the stage while singing "me and karma vibe like that." It's a cheeky dramedy of a song with a Taylor-Swift-made happily ever after. I wouldn't expect anything less from her than closing out her towering, dazzling 1/8th-of-a-day extravaganza by dancing on the metaphorical graves of everything (and everyone) that tried to stop her from getting there.