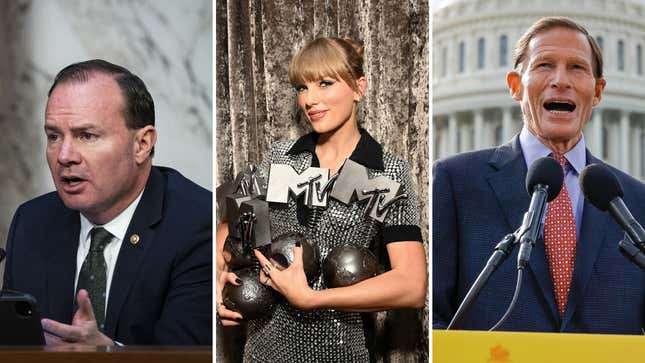 A bipartisan group of senators did something incredible on Tuesday: They gave us hope that maybe, someday, the government will break up Ticketmaster/Live Nation, a merger that created the monopoly that eventually led to the Taylor Swift Eras Tour ticketing fiasco. The Senate Judiciary Committee heard testimony from artist Clyde Lawrence (you've definitely heard his band on TikTok or a Microsoft commercial), an anti-trust expert and, of course, leaders from the ticketing industry on Tuesday to get the bottom of why paying for live events sucks so much these days.

Taylor Swift's Rep Thinks You Need to Calm Down About Her Private Jet
Multiple senators, unfortunately, also took this opportunity to quote Swift's lyrics for the cameras, pretty much just showing how hard their staffs are working to get them to be meme'd/NowThis'd. Sen. Amy Klobuchar (D-MN) started us off with what will be a lyric in Swift's obit, but with a pro-capitalism twist. "I believe in capitalism, and to have a strong capitalist system, you have to have competition. You can't have too much consolidation. Something that, unfortunately for this country, as an ode to Taylor Swift, we know all too well." Great lyric choice, but absolutely not in this context!
Sen. Richard Blumenthal (D-CT) who's been all over the Ticketmaster fiasco since last November, also piped in with a beloved Swift lyric: "May I suggest, respectfully, Ticketmaster ought to look in the mirror and say, 'I'm the problem, it's me,'" quoting the longtime #1 hit "Anti-Hero."
And it wasn't only Democrats in on the quoting Swift game. Mike Lee (R-UT), who has a Swiftie in his own house (his daughter), apparently, invoked "1989" while discussing if limiting ticket resales was a viable solution. "A lot of people seem to think that's somehow a solution," he said. "I think it's a 'nightmare dressed like a daydream.'" Oof.
Lee helped wrap up the hearing with one more mention of his daughter and Swift. "I have to throw out, in deference to my daughter Eliza, one more Taylor Swift quote: 'Karma's a relaxing thought / aren't you envious that for you it's not?'"
U.S. Senators: All they do is try, try, try.