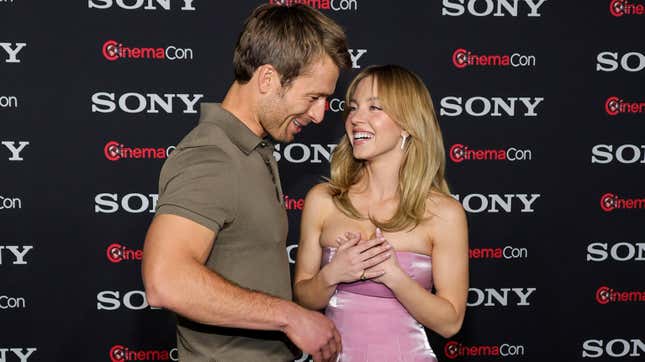 For weeks now, Sydney Sweeney and Glen Powell's apparent closeness while filming their forthcoming romantic comedy Anyone but You has fueled persistent infidelity rumors, especially after Powell and his ex-girlfriend Gigi Paris broke up last month amid the glaring chemistry between Sweeney and Powell. Well, now we know that Sweeney is still (publicly, at least) intending to marry another, as she wore her engagement ring in public for the first time since those rumors at the Cannes Film Festival over the weekend.

Infamously Thin-Skinned Man Joins Twitter's Board
Sweeney reportedly got engaged to her fiancé, entrepreneur Jonathan Davino, last year, but they've kept their years-long relationship fairly under wraps. And the couple's privacy about their engagement has allowed the public imagination to run wild, as she and Powell have shared a torrent of very affectionate, very believable—too believable—photos and videos of themselves over the last month to promote their movie. For instance: a behind-the-scenes glimpse at the two having a grand old time in a clip brimming with chemistry; a snap of the two kissing passionately whilst filming a scene at the beach; and literally every BTS shot of this movie.
That level of chemistry—including, more recently, on red carpets and posts to the ol' Instagram grid—only raised more eyebrows as the co-stars rolled out their affectionate nicknames for each other (she calls him Top Gun, of course). And Paris not-so-subtly made her thoughts about Powell post-break-up known, while appearing to unfollow Sweeney on Instagram. Over the course of several days last month, even before TMZ reported Paris and Powell's split, Paris on Instagram shared numerous iconic break-up songs and other cryptic, loaded posts to her story, throwing gasoline on the flames of the infidelity rumors.
Neither Sweeney nor Powell has dignified the rumors with any comment or denial, but it's hard not to interpret Sweeney wearing her engagement ring publicly for the first time as a response on some level. Very few of the loudest gossip mongers about Sweeney and Powell's supposed on-set romance on social media have even acknowledged that Sweeney's fiancé exists, so wearing her ring out of her house for the first time seems like a bold-ish message to them.
As many have pointed out, this will-they-won't-they intrigue could just be pretty standard PR for Anyone but You—it's certainly generated a lot of attention for the movie. Still, I'll say it: The tabloid fodder is serving up piping hot nostalgia, a la Angelina Jolie and Brad Pitt as Mr. and Mrs. Smith, and hinting at the return of real cinema—or, at the very least, the return of a watchable rom-com with believable love interests, given what we've recently been dealt.
Who knows how good this movie will actually be? What is it even about? I'd argue that it doesn't really matter at this point, we're all gonna go see it. Well-played you two.