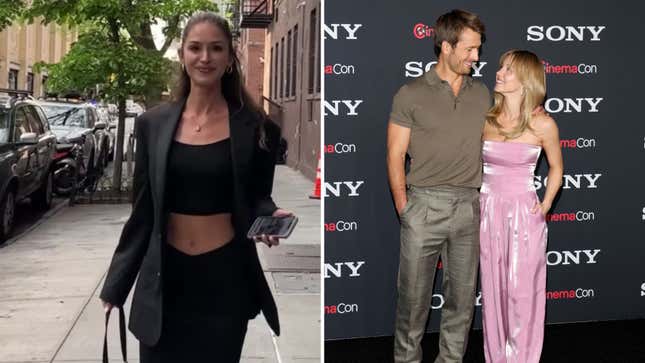 As if in answer to intensifying internet speculation—and Wednesday's Dirt Bag—that co-stars Glen Powell and Sydney Sweeney are bumping uglies off camera, Powell's girlfriend—er, ex-girlfriend—has entered the chat.
Oscars Biggest Snub in 2022? Behind The Scenes Crew Members
Gigi Paris did as the girlies tend to do upon a particularly vicious break-up and Instagrammed herself strutting down a New York City sidewalk. The model—befit in an all-black ensemble—peeks over her shoulder, offers a satisfied smirk, and does a little turn. It's giving: I'm leaving Hangman—or, as Sweeney calls him, "Top Gun"—hanging. The art direction? Well, it's a tad uninspired but effective nonetheless!
Now, lest there be any lingering confusion as to whether the post is confirmation of her newfound singledom, look no further than Paris' caption: "know your worth & onto the next." Alright then!
The timing couldn't be more opportune, folks. Paris' post arrives as the online discourse surrounding Powell and Sweeney's chemistry—as seen most recently on the red carpet at CinemaCon—continues to ramp up. Powell's camp has remained mum on the break-up thus far, while "sources" have just insisted to TMZ that Sweeney is "still engaged" to entrepreneur Jonathan Davino.
Given that two co-stars fucking is practically cinematic tradition (especially romantic leads as conventionally hot as these two), it wouldn't be that hard to believe Powell and Sweeney had some fun down under as they filmed their forthcoming romantic comedy, Anyone But You, in Australia. However, per a new report from People, Powell and Paris' relationship has hit some turbulence since the release of Top Gun.
"Gigi and Glen had broken up several times," a source told the magazine. "They had been on the rocks since Top Gun came out. Gigi was never happy with the long distance filming and when she came to Australia [where Powell was filming Anyone But You] they both decided to break up for good."

But what about the fact that Paris recently unfollowed Sweeney on Instagram, you might interject! Apparently, Sweeney never followed her in the first place and not because she played with Powell's joystick.
"This had nothing to do with Glen and Sydney. Gigi is aware that Glen and Sydney never hooked up," the source maintained. "He takes his work very seriously and it was tough on the relationship." Yes, because an enemies-to-lovers rom-com historically requires the utmost dedication...
"It's like when people say about movie stars, 'Oh, they have such good chemistry.' It's just their job. They're friends that met on set. They're costars," the source added. They're both solid actors so, sure, fair enough. Nonetheless, I will now be examining every last one of Paris' posts for more cryptic crumbs that I can take out of context.
Go on, girl! Give us nothing!
---