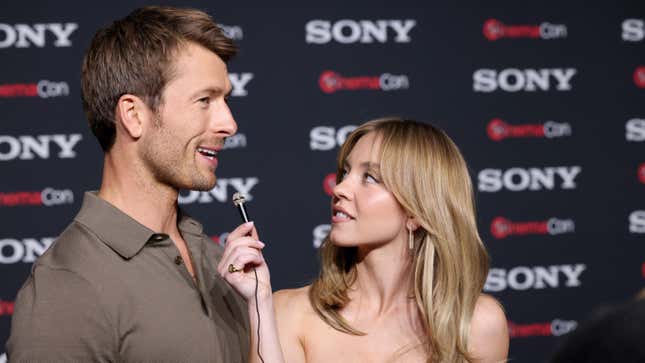 It's been A Week™ for co-stars, Sydney Sweeney and Glen Powell, who have only just begun promoting, Anyone But You, their forthcoming romantic comedy—or, as the latter bafflingly categorized it, "a hard R rom-com"—yet all the internet seems to give a shit about these days is whether a different letter of the alphabet has been hard throughout production.
Taylor Lautner Doesn't Even Remember Saying 'Bella! Where the Hell Have You Been Loca?'
Speculation regarding the potential on-set sexploits of these two was already at an all time high, but Sweeney—who, may I say has the glow of a woman who's getting dicked down—and Powell's recent appearance on the CinemaCon red carpet has sent Twitter even further into a tizzy.
In a series of brief interview clips, the pair discuss their *shared* social calendars as they shot in Australia, their "steamy" film, and their perfect date—the latter of which was never actually answered because Powell preferred to brag on his not-girlfriend instead.
"I'll tell you what was really interesting was watching Sydney visit the rugby locker room in Australia," he begins, as she giggles all moon-eyed at him. "An entire rugby team slid into her DMs in record time." There's a certain type of dude that thoroughly enjoys informing people how hot his partner is, as if their hotness was somehow unbeknownst to anyone at all. We get it. You pulled the pick-me girl from Euphoria. Here's a free fist bump or whatever straight men do to celebrate a conquest.
Now, as if tongues weren't already wagging, as the pair presented the first footage of their film later in the evening, Sweeney revealed a silly little nickname for her costar: "Top Gun." Hmm.
"I love when she calls me that," he poked back. Listen, I don't know about you all but I don't have nicknames for coworkers that could be a thinly veiled euphemism for their anatomy...
It's quite possible these two are simply pulling a Bradley Cooper and Lady Gaga during their publicity tour for A Star Is Born, and if that's the case, well, then that's just plain cruel to those who relish in someone else's mess. However, the signs—Powell's breakup buzz, his maybe-ex's unfollowing of Sweeney on Instagram, and all of those behind the scenes clips—are certainly cause for suspicion. Even more so? A new—and very curiously-timed—TMZ report wherein sources insist Sweeney is "still engaged" to entrepreneur Johathan Davino.
Rest assured, we'll be watching this space...along with everyone else.
---