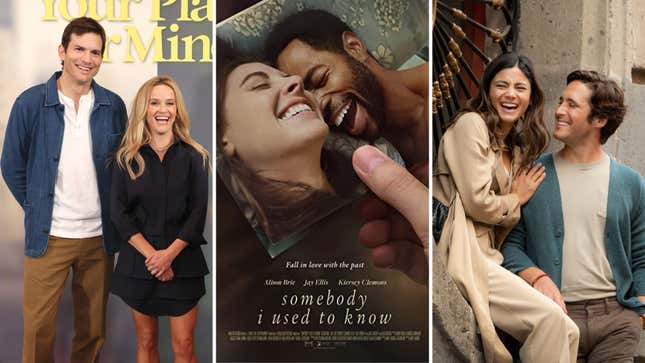 If your social media pages haven't already been clogged with reminders of the dreaded Hallmark holiday that is Valentine's Day, then prepare for a weekend of ads for some of the latest additions to your metaphorical (or literal) romcom DVD collections. Right in time for society's alleged ~Romcom Renaissance~, Amazon, Netflix, and Paramount+ have all released romcoms today in an attempt to win the trophy for creating the genre's newest classic.

Out of love, and the less romantic motivation of fulfilling my capitalistic duties, I've watched all three films so that you won't have to find out the long, hard, and torturous way that only Harry and Sally can do When Harry Met Sally. The films below have stretched, twisted, and revered the definition of a romantic comedy, but to keep things simple, I've ranked them by standard romcom metrics: plot originality, couple's chemistry, cheesiness, overall enjoyment, and chances of becoming a classic.
If you spend Tuesday evening (or any evening of your life) watching any of these films instead of doing literally anything else, don't say I didn't warn you.
Amazon: Somebody That I Used to Know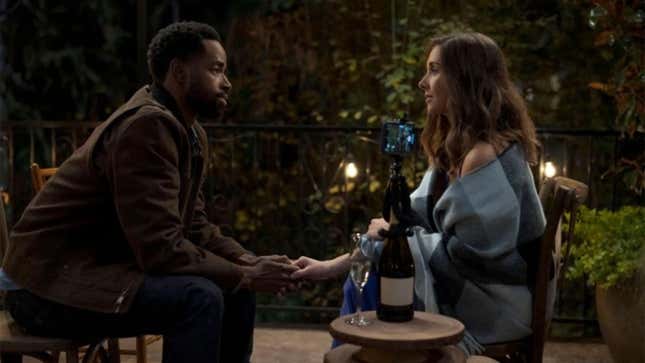 I am generally of the belief that couples' pandemic projects should remain within the confines of lockdown, and even husband and wife celebrity duo Dave Franco and Alison Brie aren't exceptions to that. The two took a stab at the romcom genre with Somebody that I Used to Know—the second film they've written together—which channels the 80s romcom vibe and pairs it with more recent titles like The Big Sick (2017) and Palm Springs (2020). 
G/O Media may get a commission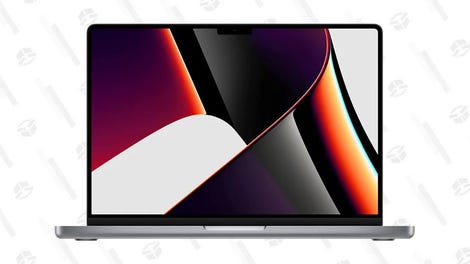 Save $300
2021 14" 1TB MacBook Pro
Upon returning to her Washington hometown after her TV show gets axed, a work-obsessed Ally (Brie) runs into her ex Sean (Jay Ellis), whom she dumped almost a decade prior in order to pursue her dreams in Los Angeles. But after a night of reliving the best their hometown has to offer, she starts to think that choosing her career over love might've been the wrong move. The only problem is that this weekend happens to be Sean's wedding to a cool, hot younger woman named Cassidy. As Ally gets roped into being the weekend's photographer, jealous, sabotage-ridden antics ensue—but so does form an unlikely friendship.
Plot Originality: 7/10 Light Bulbs
While the homecoming of a girlboss who's lost her way is part and parcel to most romcoms, getting sucked into filming your ex's entire wedding weekend is a bit harder to come by. What I loved and hated most about this film is how little of Ally and Sean you actually get to see—and how an unexpected bond between Ally and Sean's bride-to-be, Cassidy (Kiersey Clemons), blossoms in its place. While Ally was obviously channeling Julia Roberts in My Best Friend's Wedding (1997) with her conniving plans, I couldn't bring myself to buy into her schemes, because I was never convinced that she belonged with Sean in the first place.
Couple's Chemistry: 3/10 Off-the-Cuff Ditties 
Feminist sisterhood aside, it was pretty painful to have to pick up the scraps of Ally and Sean's chemistry through an awkward (but funny) reunion scene at the beginning of the film, one hometown montage, and the doubts that each espoused on their mutual friend, Benny (Danny Pudi), over the wedding weekend. The one thing that really did tug at my heartstrings was an old video recording (again, heavily relying on the archives here) of when the two were dating and Ally sang Sean a ditty.
Cheesiness: 2/10 Beer Cheese Pretzels
Save for a montage of Ally and Shawn frolicking around their old stomping grounds in Leaventown, the movie escapes the gooey trap of cheesiness, which I do have to give them credit for. Eating giant hot pretzels and taking selfies with reindeer does sound like lots of fun, even if it wasn't also supplemented with secretly falling back in love with your ex.
Overall Enjoyment: 4/10
If you're craving a feminist kick™ to your romcom consumption, this is fine to put on in the background as you clean on a Sunday afternoon.
Chances of Being a Classic: About as likely as a girlboss having a non-romantically-induced Come to Jesus moment: I wouldn't count on it!
Netflix: Your Place or Mine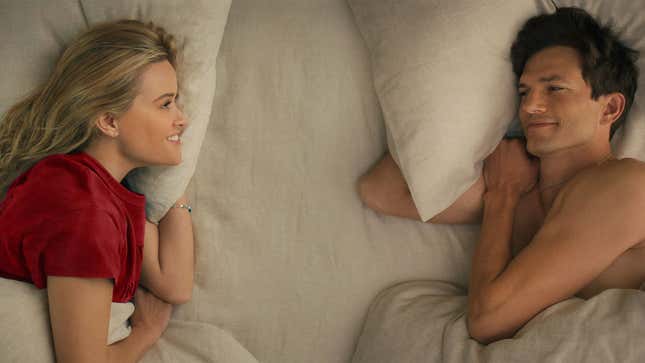 Even though it just came out today, Ashton Kutcher and Reese Witherspoon's Your Place or Mine has already attracted loads of press, and for all the wrong reasons. While promoting the movie, Kutcher and Witherspoon just couldn't seem to convince anyone that they liked each other—to the point that Kutcher's wife, Mila Kunis, had to step in. And while they attempted to blame their aloofness on trying to dodge cheating rumors, nothing could cover up the fact that they just don't have the "it factor"—not even their damage control selfies.
The romcom giants star as long-distance besties in a bi-coastal romcom spanning one week, wherein they trade lives for a bit: Big shot consultant Peter (Kutcher) takes care of Debbie's hyper-allergic and coddled son, Jack (Wesley Kimmel), in LA while earth mama Debbie (Witherspoon) crashes at Peter's NYC apartment to finish a ~practical~ degree in accounting, despite her love for literature. During these breaks in their routines, the two have major breakthroughs about what they really want in life, including (you guessed it), each other.
Plot Originality: 5/10 Wheels Turning
Though it did nothing to help Kutcher and Witherspoon's already non-existent chemistry, having a romcom take place almost entirely in two different cities—with the main leads hardly seeing each other—is somewhat a fresh feat. If only Debbie and Peter's physical distance wasn't solely bridged by the most forced dialogue spelling out their personalities (which was supposedly meant to convince the audience to root for them), the whole LDR stunt might've actually worked.
Couple's Chemistry: 1/10 Fireworks
It feels like a shock and a horror that two stars whose fame is practically built on the success of their prior romcoms have absolutely zero chemistry. Your Place or Mine is often a pretty hot proposition, but there's nothing but friend vibes (if that) between these two. Thankfully, they were brave enough to kiss each other for a total of two scenes (one from the early aughts and another in an airport reunion), which is apparently a lot to ask of romcom leads nowadays. Pairs that had more chemistry than Peter and Debbie: Debbie and Theo (Jesse Williams), her hot NYC fling; Debbie and Minka (Zoe Chao), Peter's old hookup and Debbie's NYC millennial sidekick; Peter and Jack, who shared a lovely hockey-filled week in LA together.
Cheesiness: 8/10 Mousetraps
There's a lot of fun in channeling the romcom classics of decades past, but the 2003 flashback—wherein young Peter and Debbie hook up—that kicked off the film, filled me with complete dread. As the two strip off their clothes, various parts of their outfits are labeled in animated chalk to "prove" that it's 2003. The leads' character development also felt largely unimaginative: As romcom couples are wont to be, Debbie and Peter are polar opposites, but in a way that felt lazily superficial. Peter's intimacy allergy was reminiscent of Dylan's ~whole deal~ in Friends with Benefits (2011), and not in a good way. Oh, and the two reunite in an airport scene after fighting on the moving walkways. Because of course, they do.
Overall Enjoyment: 3/10
It's the perfect movie to gossip loudly over at your coworker's Galentine's Party that you got guilted into attending. You can even mute it if you want.
Chances of Being a Classic: If reputations alone could push a movie into Classics status, then this film might have a chance. Otherwise, just revisit their better romcoms like No Strings Attached (2011) and Sweet Home Alabama (2002).
Paramount+: At Midnight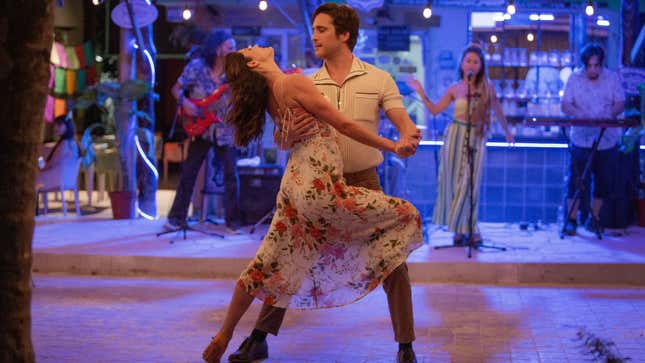 Taylor Swift may have patented the phrase "meet me at midnight" with her latest album Midnights, but that didn't stop lovers Sophie (Monica Barbaro) and Alejandro (Diego Boneta) from doing the same—and sensually so! After her douchebag costar and boyfriend of five years, Adam (Anders Holm), cheats on her, Sophie is stuck at a Mexican resort to finish six weeks of filming with him and the rest of the cast and crew. But then she meets Alejandro, the junior manager of the resort, who walks in on her completely naked while delivering towels for the room (hello, The Proposal!). While faking a relationship with Adam for publicity purposes, Sophie falls in love with Alejandro (and vice versa), only to be later faced with the realities of a short-term, vacation romance and what that could mean for their rapidly splitting future plans.
Plot Originality: 4/10 Exciting Scripts
Famous actresses falling in love with regular randos has obviously been done before, but I still felt enticed to go on this bilingual vacation romance with Sophie and Alejandro even though I, for the most part, knew where it was going. The hybrid of Alejandro showing Sophie the sights around the island and bringing her to Mexico City also felt reminiscent of the we-live-in-two-different-worlds trope, but the vulnerability that the two shared during their many conversations (a bare minimum for romantic leads) made for a breezy and captivating watch.
Couple's Chemistry: 6/10 Midnight Rendezvous
After suffering through films with leads who didn't seem to want to spend any time together, it was refreshing to watch two people play characters who obviously possessed, at the very least, the intention of jumping each other's bones. I wouldn't say that there were fireworks everywhere on the Mexican island, but Sophie wasn't afraid to flirt, nor was she afraid to make the first move! Their dance scene (which obviously took place at midnight) was as hot as any of these movies got, with enough leg kicks and spins to sweep you off your feet.
Cheesiness: 3/10 Cocktail Umbrellas
I did cringe at the few scenes where Sophie talks to her movie character Firephina in the mirror to give herself a pep talk, but I guess you take motivation where you can get it after being cheated on. The scene wherein Alejandro sneaks onto the set to confess his love for Sophie falls squarely within what I'm looking for in a romcom: bold, dramatic, and embarrassingly confessional. It certainly doesn't sound as cheesy coming from someone who looks like a Mexican Ryan Gosling, either.
Overall Enjoyment: 7/10
Granted I'll have to relearn my high school Spanish so that I won't be stuck speed-reading all of the subtitles, but I would definitely rewatch on a night with nothing else to do. ¡Viva!
Chances of Being a Classic: I honestly wouldn't be surprised! It was nice to see a cast of newer names tell an enjoyable story without trying to live past their glory days.