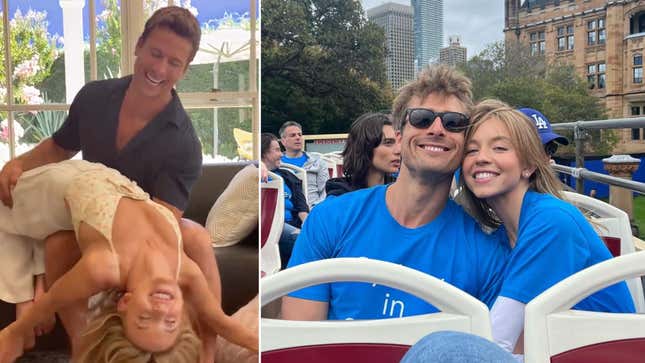 Over the weekend, this one behind-the-scenes clip of co-stars Glen Powell and Sydney Sweeney—who play love interests in a forthcoming, still-unnamed, William Puck-directed rom-com—having a silly little time, with Powell dipping Sweeney from a couch, essentially took over my Twitter feed. Notably, the clip comes amid highly unsubstantiated rumors that the co-stars cheated on their respective long-term partners while filming their rom-com, as they share BTS photo after BTS photo in which they appear to share just astronomical amounts of chemistry. Have a look:

Alison Brie on Sex Scenes: 'We Are Actors, This Is Our Job'
This kiss on the beach:
I mean, look at them in the rain:
Not to mention these photos of them looking in each other's eyes and face-eating.

Clips and photos like this that have fueled rumors that this level of on-camera chemistry can only be obtained via, err, method acting. The affair rumors surrounding Powell and Sydney have only become louder amid tabloid gossip that Powell and his long-time girlfriend Gigi Paris recently split—rumors that Paris' recent Instagram activities, which include sharing numerous iconic break-up songs and other cryptic, loaded posts on her story last week, seemed to support. Fans also observed that Paris appeared to unfollow Sweeney on Instagram at around the same time that Sweeney began posting BTS photos of herself and Powell. Sweeney, for her part, reportedly got engaged to her fiancé, entrepreneur Jonathan Davino, last year.
Look, I'll say it: On the one hand, it's fairly irresponsible to throw around wild, damaging claims about celebrities' intimate lives. Actors are actors, and intimate scenes are, well, acting. Mind you, Penn Badgley quite literally quit filming intimacy scenes to avoid the internet frenzy that Powell and Sweeney now find themselves ensconced in.
On the other hand, it's 2023, and we are hurting for a good rom-com of late, people—perhaps one featuring leads with the sort of real, palpable chemistry that often only comes from sharing a good amount of real-life sexual tension. Look at what we've been suffering through lately, between Reese Witherspoon and Ashton Kutcher holding each other at arm's length at every Your Place or Mine red carpet earlier this year, or Chris Evans and Ana de Armas looking like cousins in every scene in Ghosted. Powell and Sweeney are a biting antidote to the utter drought of hot or at least believable rom-com fare—by, in fact, appearing too believable.
And… I don't hate it? Cheating is bad. Obviously. But there's something almost nostalgic about Powell and Sweeney whipping the internet into a feral, horny frenzy. "he has a gf i have a stomach ache for her," reads one quote-tweet attached to the weekend clip of Sweeney and Powell together. Another: "how is his gf holding up?" And: "affair allegations, give me that early 2000's hollywood."
It's serving up 2000s era, Angelina Jolie and Brad Pitt as Mr. and Mrs. Smith vibes (or at least Margot Robbie and Will Smith in Focus), teasing us with the return of real cinema—or, at least, the return of an excellent, watchable rom-com. As Hugh Grant inelegantly put it earlier this month, movie sets "are so weird now," as actors no longer get drunk and fall "in love with each other" because of iPhones. "It's so sad," Grant mused.
Now, a lot of that sounds like a recipe for sexual harassment, but I (maybe?) get the spirit of what he's trying to say—that co-stars used to have actual sexual chemistry, and that made watching their movies so fun.