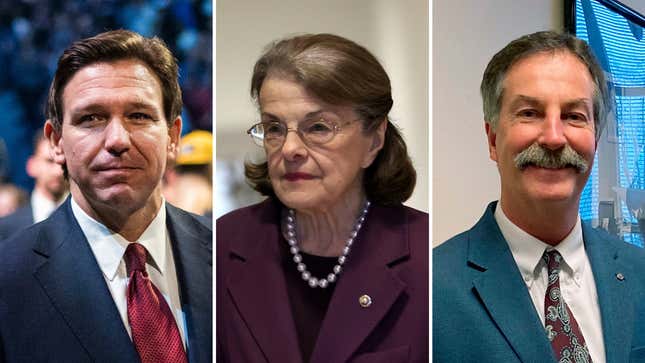 Friends, it's been another terrible week in which conservative lawmakers, desperate to cling to power, attacked our basic freedoms and civil rights. There are also, as always, a few Democrats who deserve to be publicly tarred and feathered for letting Republicans walk all over them. Thankfully, I am a never-ending fountain of rage here to tell you where to direct yours at all times.
Pro-Abortion Protesters in NYC Have Two Words for SCOTUS
Here is a non-exhaustive list of Sue's Fuck Yous. I'm sure I missed a few bad people doing bad things, so please address them in the comments!
---
Fuck you to Missouri Attorney General Andrew Bailey (R) for attempting to ban gender-affirming care for all trans people, including adults, via an emergency rule, not a bill passed through the state house.

Fuck you to Elon Musk for filming an interview with Tucker Carson and for being a genocidal ghoul who's also intent on destroying public trust in real journalism.
Fuck you to Texas Gov. Greg Abbott (R), who announced he'd pardon a man convicted of murdering a Black Lives Matter protester in 2020.
Fuck you to Supreme Court Justice Clarence Thomas for not reporting that his Nazi-loving, billionaire sugar daddy Harlan Crow bought property from him at inflated prices, including the house where Thomas' mother still lives.
Fuck you to Senate Judiciary Chair Dick Durbin (D-Ill.) for saying Chief Justice John Roberts needs to handle these ethics scandals and that Congress will only do something about it if Roberts doesn't.
Fuck you to Missouri state Sen. Mike Moon (R) who said it's totally fine for 12-year-olds to get married. The comment came when a Democratic lawmaker pointed out that Moon voted against a child marriage ban but wants to ban gender-affirming care to "protect children."
Fuck you to Tennessee Republicans who were caught on tape being mad that people think they're racist for voting to expel two Black state representatives, but not a white woman. All three Democrats led protests in the chamber calling for gun control after a mass shooting at an elementary school.
Fuck you to SBA Pro-Life America president Marjorie Dannenfelser for this sentence: "[South Carolina Sen. Tim] Scott knows personally what each child is capable of, if only they have the same opportunities and essential protections those of us who are born take for granted."
Fuck you to Florida Gov. Ron DeSantis (R) for signing a six-week abortion ban behind closed doors at 11pm.
Fuck you to the three appeals court judges who want people to make not one, not two, but three trips to a clinic to get abortion pills when they can safely get this care via telehealth and the mail.
Fuck you again to those same judges for saying that a 19th century law banning abortion, which was pushed by a sex-obsessed freak, is still in effect today.
And, finally, a very hearty fuck you to Sen. Dianne Feinstein (D-Calif.) for not resigning when her extended absence from the Senate has been holding up the approval of judges. Instead, the 89-year-old is doing a little dance in "asking" Chuck Schumer to appoint a temporary judiciary committee replacement, when she could resign from the committee or simply step down altogether so a state of 39 million people could have adequate representation.
---
To everyone else, I hope you can find some peace this weekend.