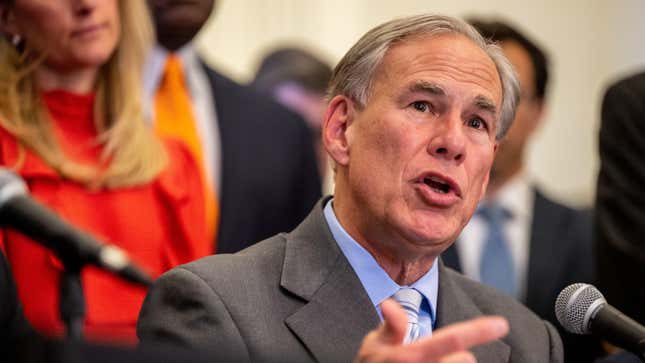 Texas Gov. Greg Abbott (R), who talks a big game about being tough on crime and valuing the sanctity of "life," declared over the weekend that he will pardon a man who was convicted last week of killing a Black Lives Matter protester in July 2020. The man, 37-year-old army sergeant and Uber driver Daniel Perry, was first indicted with murder in 2021 for shooting and killing the protester, Garrett Foster, at a gathering in Austin protesting police violence toward Black communities.

Taylor Lautner Doesn't Even Remember Saying 'Bella! Where the Hell Have You Been Loca?'
"I am working as swiftly as Texas law allows regarding the pardon of Sgt. Perry," Abbott wrote in a Saturday night tweet. In a statement, Abbott said that he's requested the state's Board of Pardon and Parole to determine if a pardon should be granted for Perry, and "instructed the Board to expedite its review."
"I look forward to approving the board's pardon recommendation as soon as it hits my desk," the governor wrote.
At this point, there's nothing particularly novel or useful about pointing out Republican hypocrisy. But amid all of their bitching about our supposedly increasingly "lawless" nation, it's almost comical how brazen Abbott is in showing the world that he actually gives zero fucks about public safety, so long as it involves a white man literally killing someone and committing violence in line with his own racist politics. Certainly, something to think about next time Abbott spews his usual "pro-life" idiocy about the value of all human life—which, apparently, only includes fetuses and not Black Lives Matter protesters.
Abbott's statement further cited the same Stand Your Ground laws that ultimately allowed Kyle Rittenhouse to walk free after killing three Black Lives Matter protesters in Wisconsin in August 2020. "Texas has one of the strongest 'Stand Your Ground' laws of self-defense that cannot be nullified by a jury or a progressive District Attorney," Abbott said.
Stand Your Ground Laws are widely criticized by gun safety advocates who point out that they allow people to legally shoot and kill someone in public, ostensibly in "self-defense"—even when they can safely walk away from the confrontation. These laws also inevitably have a racist impact: In a country in which Black individuals are routinely shot and killed by police who merely suspect they may be armed, Abbott's planned pardon for Perry would mark yet another high-profile case of a white man facing no consequences for killing racial justice protesters.
According to Southern Poverty Law Center, Stand Your Ground Laws "allow for highly uneven application by law enforcement and the legal system" and "race and gender are significant factors" in who is and isn't punished for supposed self-defense.
Perry's attorneys claim that he shot Foster in self-defense as Foster approached his car armed with an assault rifle. In contrast, prosecutors said Perry could have safely driven away without any need to fire at Foster. Witnesses also testified that Foster hadn't pointed or even raised his rifle at Perry and that Perry was in no real danger. Meanwhile, before Foster even approached Perry's car, prosecutors argued that Perry had initiated the confrontation by purposefully running a red light and driving into a crowd of Black Lives Matter protesters. And while Perry's lawyers claim he wasn't aware a protest was taking place around him, prosecutors pointed out he posted earlier on social media and sent text messages to friends about shooting BLM protesters.
Travis County District Attorney José Garza, who led the prosecution's case against Perry, called Abbott's pledge to pardon Perry "deeply troubling," and expressed sympathy for Foster's family. "I know how long they have waited for justice for Garrett and their family," Garza said. "I can imagine that justice must feel so elusive for them and right now, and for that, I am more sorry than words can express."
Perry's sentencing is scheduled for Tuesday morning. He faces life in prison.