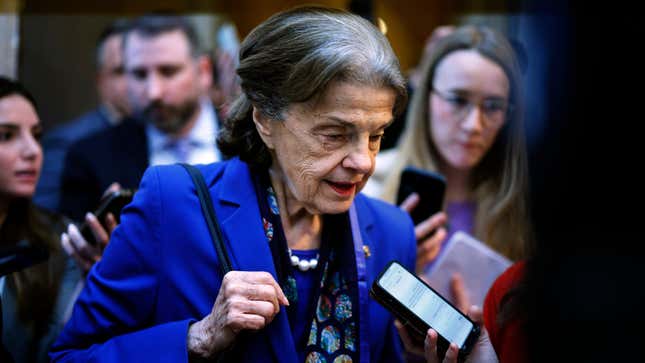 Sen. Dianne Feinstein (D-Calif.) said Tuesday that she won't seek re-election in 2024. CNN reported that Feinstein, 89, shared her decision with her colleagues at the Democratic caucus lunch. The state's first woman Senator has faced questions in recent years about her mental fitness to serve, most prominently in stories in the New Yorker and the San Francisco Chronicle from 2020 and 2022, respectively. Both stories discussed her reported cognitive decline and the Chronicle story had four Senators and three former staffers (all anonymous) say her memory was "rapidly deteriorating." She even stepped down as chair of the Judiciary committee in November 2020 after strange behavior during the Amy Coney Barrett hearings.
The Filibuster is Standing in the Way of Abortion Access
Back to today's events: "I am announcing today I will not run for reelection in 2024 but intend to accomplish as much for California as I can through the end of next year when my term ends," Feinstein, 89, said in a statement. "Even with a divided Congress, we can still pass bills that will improve lives. Each of us was sent here to solve problems. That's what I've done for the last 30 years, and that's what I plan to do for the next two years."
We thank her for her decades of service and also want to remind her that she can, in fact, simply retire now.
On today of all days, Feinstein seemed confused about what was happening and when. Her Senate Twitter account shared the retirement news at 1:50pm Eastern. Just before 2:30 p.m., Sen. Majority Leader Chuck Schumer talked about her announcement with reporters and called her a legend—but shortly before 3, she told reporters she didn't know the statement had even been released.
Christian Hall, national politics reporter for Bloomberg, tweeted that reporters asked Feinstein about her announcement to retire, and she responded, "If I haven't made that decision, I haven't released anything." A Feinstein staffer had to tell the Senator that a statement was released, and she said, "I didn't know they put it out."
A different reporter tweeted that Feinstein said to a staffer: "You put out the statement? I didn't know they put it out." (That reporter, Savannah Behrmann of the National Journal, said after listening to the audio again that she thought it sounded like, "I should have known they put it out;" but the audio clip still sounds to me like Feinstein said, "I didn't know.")
This is a person who's going to serve nearly 40 million constituents and serve on four committees for the next two years? Not great!
Anyway, people hadn't been holding their breath for this announcement, and Democrats declared their candidacy already, including Reps. Katie Porter and Adam Schiff. Rep. Barbara Lee also reportedly plans to run. It's time for some fresh ideas in the Senate Democratic caucus.