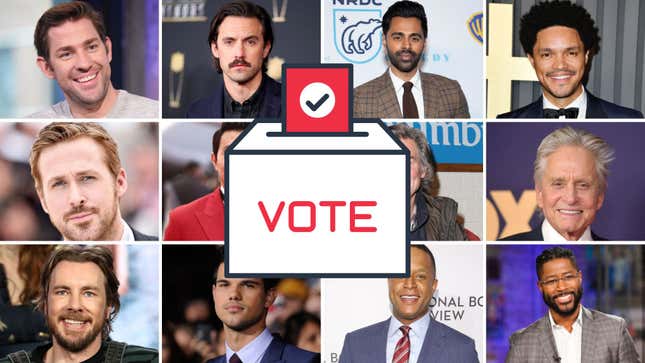 It's no secret that voter turnout is much higher in years when there are presidential elections. But that doesn't mean off-year elections aren't incredibly important to a functioning democracy. And more so, off-year elections that are inherently apolitical and have zero impact on our day-to-day lives are critical, too. That's why Jezebel is providing our cherished readers with a voting guide for the People's Sexiest Man Alive ballot, so you can go into the voting booth confident that you're making the right decision for you and your family.

While readers do not have direct say in who is named the Sexiest Man Alive on November 8, we are able to vote right now in polls for niche sexy categories like Sexiest Grandpa and Sexiest Blockbuster Star. Our voting guide will help familiarize you with some of the esteemed candidates in each category and suggest things that make them hot (pros) and things that detract from said hotness (cons). Physical attributes won't be taken into consideration because, as we all know, beauty is in the eye of the beholder and "sexiness" actually extends way beyond the furrow of a man's brow. Chiseled abs become a lot less hot when the man possessing them is rude to his wife!
There are years when the People Magazine staff chose correctly (Paul Rudd, George Clooney, Idris Elba) and years when the reigning Sexy Man was so upsettingly un-sexy (Blake Shelton, Johnny Depp) that it destabilized the sex-onomy (sexy economy). So think long and hard about who you're casting your vote for, because it could inform the decision of the elite voting body. For example, electing that guy from The Bachelor/The Bachelorette/Bachelor in Paradise, Nick Viall, as Sexiest Podcaster might have long-lasting ramifications for those who think they deserve to give advice into a microphone for an hour and could sway the ultimate title.
Godspeed, intrepid voters.