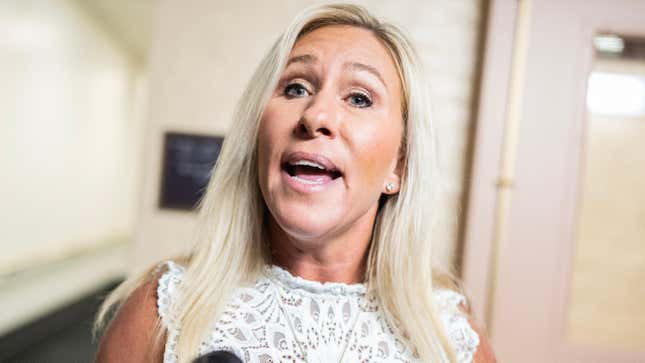 Republicans love to hate Sen. John Fetterman (D-Pa.), the absolute unit of a lawmaker who beat Dr. Mehmet Oz in the 2022 midterms and constantly calls out the party's faux-populist bullshit. Fetterman isn't the typical politician, as he wears Carhartt work shirts, hoodies, and shorts to official events and while roaming the Senate office buildings—but he did wear a suit and tie on the Senate floor because of the chamber's informal dress code that called for business attire. So when Sen. Majority Leader Chuck Schumer (D-N.Y.) said Monday that the Senate would no longer enforce the dress code, some Republicans lost their minds, claiming it was to appease Fetterman.

America's Favorite Pasttime: Dunking On Dr. Oz
Rep. Marjorie Taylor Greene (R-Ga.) cited that claim, even though Schumer didn't mention Big John in his statement, then attempted to invoke decorum. Greene wrote on Twitter: "The Senate no longer enforcing a dress code for Senators to appease Fetterman is disgraceful. Dress code is one of society's standards that set etiquette and respect for our institutions. Stop lowering the bar!"
It's ridiculous for Greene to claim she cares about respect and etiquette when she is the same person who showed stolen nude photos of Hunter Biden in a Congressional hearing in July. One of her House colleagues took a jab at her for claiming she cares about decorum in the days after the dick pic incident. Greene also shouted during the 2023 State of the Union that President Joe Biden was a "liar." Yes, the princess of propriety.
Fetterman, an expert in dunks, saw his opening to reference the Congresswoman showing illicit photos. "Thankfully, the nation's lower chamber lives by a higher code of conduct: displaying ding-a-ling pics in public hearings," he responded.
The Associated Press explained the arcane nature of the Senate's prior dress code rule and how it was enforced: "It's unclear if the rules for more formal attire were actually written down anywhere, but Schumer's directive means that [Sergeant-at-Arms] staff will no longer scold senators for their choice of clothing or ask them to vote from the doorway."
Fetterman didn't even take advantage of the rule change on Monday—he voted from a doorway. And it turns out some Republicans like the rule change! Here's Sen. Josh Hawley (R-Mo.) saying he's glad he can vote from the floor now on the days he travels to Washington D.C.:
Not all Republicans were upset about the change. Missouri Sen. Josh Hawley was wearing jeans, boots and no tie on Monday evening, an outfit he says he normally wears when he flies in from his home state for the first votes of the week.

"Now I can vote from the Senate floor on Mondays," Hawley said, noting that he usually wears a suit and tie every other day.
Still, criticism is coming from multiple factions of the GOP—including Sen. Susan Collins (R-Maine), who joked that she'd start wearing a bikini, and Karl Rove, who claimed Fetterman must be "fragile." And Fetterman appears to be having a little fun with it. When sad presidential candidate and Florida Gov. Ron DeSantis (R) took a shot at him, Fetter responded, "I dress like he campaigns."
Get their asses, John.