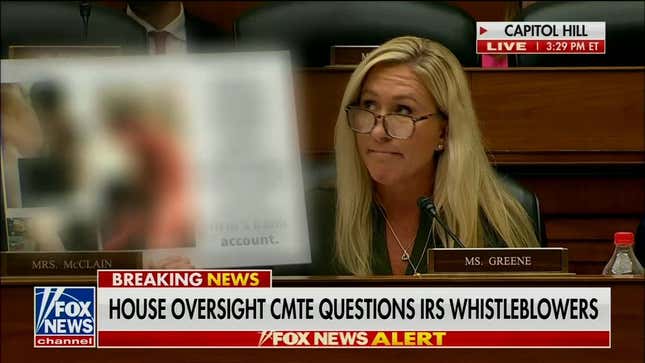 The Filibuster is Standing in the Way of Abortion Access
On Wednesday, the House Oversight Committee convened a hearing on alleged meddling by the Department of Justice in its investigation of Hunter Biden, who pleaded guilty in June to two federal misdemeanor charges related to failing to pay his taxes. The hearing seemed to stem from Republicans' ongoing obsession with the president's son, even as he's stayed far away from politics—and things took a deeply disturbing turn when Rep. Marjorie Taylor Greene (R-Ga.) held up nude photos of Hunter before the entire committee.
"Before we begin, I would like to let the committee and everyone watching at home know that parental discretion is advised," Greene says before questioning an IRS whistleblower—without any evidence—about whether Hunter perpetrated sex trafficking crimes and whether the president's son improperly used his company to write off payments to sex workers.
When Green held up the photos—which were likely pulled from the content that was leaked from Hunter's laptop—Fox News and other platforms streaming the hearing had to rush to blur them out.
"This is evidence of Hunter Biden making sex tapes—excuse me, this is my time—making pornography," Greene said, as someone off-camera insists her time is up. Another person off-camera identified as Rep. Jamie Raskin (D-Md.) asks, "Should we be displaying this?" It's unclear what, exactly, Greene was trying to argue in displaying the highly graphic photos. It's also a move that very much seems to break Washington, D.C.'s revenge porn laws.
Amid the chaos, Rep. James Comer (R-Ky.), chairman of the House Oversight Committee, appeared to hold back laughter. After Greene's time was up, Rep. Alexandria Ocasio-Cortez (D-N.Y.) used some of her time to point out the hypocrisy of Greene's deranged conspiracy theories about Hunter while ignoring the human trafficking investigation into Greene's Republican colleague, Rep. Matt Gaetz (R-Fla.): "If the gentlelady from Georgia wanted to follow evidence, we should also take a look at, hypothetically... sex trafficking charges against a 17-year-old girl," she said.
Greene has since reposted the video of her presenting the photos and pushing her entirely unfounded conspiracy theory on her Congressional Twitter account.
It was a disturbing, shocking move even from a woman who's proudly embraced white nationalism and physically attacked a gun safety activist. But in a Republican-controlled House, it's unlikely Greene will face any consequences for her actions—especially when the chairman of her committee seemed entertained by the utterly disgusting, possibly criminal stunt.