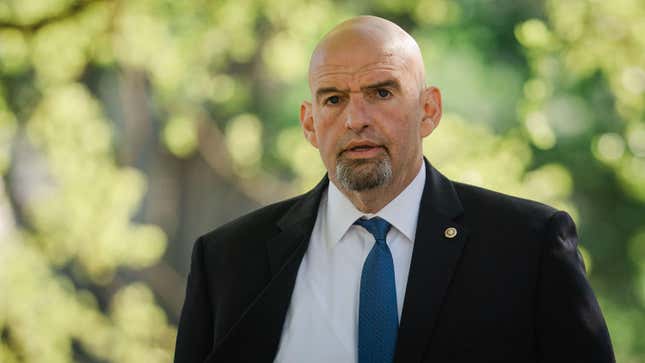 Sen. John Fetterman (D-Penn.), who returned to Congress after in-patient treatment for clinical depression on Monday, said that when he finally beat his Republican opponent, Mamet Oz, in November was when the depression he'd experienced all his life was at its worst. "I literally stopped eating and drinking and I wasn't functional," Fetterman told People in his first interview since returning from medical leave.
Fetterman said he started missing doses of his heart medication, which further impacted his recovery from a stroke he experienced last May. "There wasn't one person in my life that said, 'Yeah, you really seem great. You sound fine here,'" he said of his life post-victory. "And at that point I realized that there's no good possible outcome. ...I decided that I had one chance to address this."
He told People that all of his three children were aware of the change in his behavior, saying, through tears: "When an eight year-old can realize that something's really wrong..."
Fetterman ended up checking into Walter Reed Medical Center's neuropsychiatry unit on his oldest's son 14th birthday. He spent more than six weeks in treatment.
His wife, Gisele Fetterman, visited at least once a week during his stay, and, during one visit, his kids found a pile of Post-It notes and plastered his room with encouraging notes like "STAY STRONG" with a flexing bicep; "I am so proud of you"; and "You are any dad I could ask for"; and "WE LOVE U."
Fetterman's depression was something Gisele Fetterman had always been aware of. "In the beginning of our relationship, it was like, 'Why is he so sad all the time? I'm amazing!'" she said. "I think that's what people do: They blame themselves, but the reality is not one person should be who makes someone better. We should not carry that weight and the responsibility."

But it became especially worrisome after Election Day, following the long campaign that included her husband's stroke and attacks on his recovery process. "After he won, you expect someone to be at their highest and really happy and celebratory," she told the magazine. "And after winning, he seemed to be at the lowest. That was, for me, the moment of concern."
The senator said he wasn't even excited by his new role, and described showing up for his swearing in ceremony in January as a chore: "My depression was in full force."
A month later, Fetterman decided to enter treatment and his office announced his treatment plans on Feb. 16. "The conversation I had with my team and my family is that I've got to do something or it could end in the most awful way," Fetterman said. "I realized that that could be an option. I wasn't thinking about self-harm, but I was firmly indifferent to living."
Gisele Fetterman said offering support is important, but she learned that, ultimately, getting help is up to the patient. "You could do everything to support someone, but you can't get them through the door," she said. "He had to do that hard part himself."