What's offensive about Michaele and Tareq Salahi is that they think they can snow over the public into believing they are who they say they are. Here, we break down each of their outrageous lies, lawsuits, and bankruptcies.
By now, it's obvious to most that Michaele and Tareq Salahi are not who they say they are—successful, philanthropic socialites who run a winery. None of that is true. What's fascinating, though, is that the fame they so desperately wanted to achieve seems to be the very thing that makes their claims so easy to disprove. This couple is either very stupid or trapped in some sort of folie à deux, sharing—and believing in—the same delusions. The couple has been caught in so many lies that some are even questioning the authenticity of Michaele's recent claim that she has multiple sclerosis.
The Lies
1.) They run the family winery.
The Salahis have had no affiliation with Oasis Winery since February 2008, despite the fact that Tareq has been billing himself as the company's "president and owner." In fact, he was never the president of the winery. In 1994, he was named "general manager," and has never held more than 5% minority interest. In 2006, his mother fired him. The winery hasn't been operational for years. When the couple was featured having a grape stomp on an episode of their reality show, they used store-bought table grapes.
2.) They own a home.
On The Real Housewives of D.C., the Salahis are mostly shown staying in various hotels around the city. This might be because they don't actually live in the small house on the winery's property. A former employee of Oasis stated in 2009 that the couple does not live there, although they might occasionally squat there, which could be the reason that, on one episode of the show, Tareq's mother called the police when she learned they were filming on the property.
G/O Media may get a commission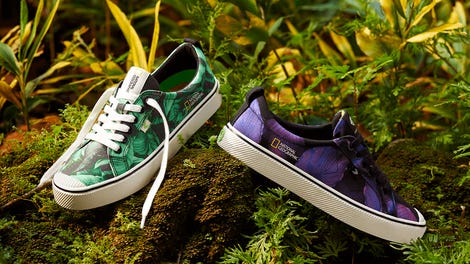 New New New
Cariuma + National Geographic
3.) America's Polo Cup played India.
India wanted nothing to do with the couple, so instead of canceling the event, they recruited players from Pakistan to pretend to be Indian.
4.) Michaele was a Washington Redskins cheerleader.
Michaele made this claim—and actually performed some routines—with the Redskins on an episode of Real Housewives. However, it was one of the easier lies to dispel, as the Washington Post interviewed the Washington Redskins' alumni group president, Terry Lamb, who said, "We have no record that she ever was a Redskins cheerleader. She was listed on our 1991 roster at Ms. Salahi's request and based on her misrepresentation to us." Apparently, if you pay a fee, you can be listed on the roster, without really being investigated on it. (Unless of course, you become infamous, and then raise suspicions.)
5.) Whoopi Goldberg physically abused Michaele.
This is probably when the general public began to question the Salahis' sanity, as the alleged incident not only occurred in front of a studio audience, but was aired on live TV. There are no "two sides" to this story. When the cast of RHODC appeared on The View, Michaele tried to tap-dance around questions about The White House gate-crashing incident, when Whoopi—who was not appearing on the couch during that segment—came onto the set, gently touched Michaele's arm, and urged her to stay on topic. After the appearance, the Salahis lawyered up (with media whore Lisa Bloom) and claimed that Whoopi hit Michaele. She didn't.
6.) They were invited to The White House.
It's unclear as to why this is even still questionable, nearly a year after the scandal. Initially, the Salahis said that they were invited via email. Sometimes they said it was through a phone call. But on last week's episode of RHODC, the couple clearly states that they received a printed invite, that they couldn't "find" to show cameras. Last year—before that footage was ever made public—the couple claimed that they couldn't retrieve a voice mail from Pentagon aide Michele Jones because their cellphone battery died. But, again, on last week's episode of the show, they were filmed excitedly talking on their phone as they were driving to The White House.




7.) They give money to charity.
Tareq supposedly founded America's Polo Cup as a fundraising tool. However, recent inquiries have uncovered a misappropriation of funds. While Tareq told the Washington Post in 2008 that he raised $250,000 for his charity Journey for the Cure, he actually pulled in $19,098 in donations, but only disbursed $690 to the Leukemia and Lymphoma Society and $20 to the U.S. Navy Memorial Fund. It was announced over the weekend that America's Polo Cup—which has a long history of non-payment to vendors—has filed for bankruptcy.
The Lawsuits
1.) Tareq's mother
In 2006, Tareq's father stepped down from his position at the family winery, and his mother Corrine—founder and director of the Montessori School of Alexandria, Virginia—took a more active role. She quickly fired her son (after it was discovered that he was funneling funds from the winery into another company that he created) and the two ended up suing each other over the control of the business. The legal dispute led the company to file for bankruptcy in 2007. In January, 2008, Michaele filed a complaint with the Department of Labor and sued her mother-in-law for lost wages, after she was fired from working the bar at the winery. Interestingly, Michaele was awarded $14,000, but told the Labor board "it wasn't worth it" and walked away from the case.
2.) Wedding vendors
The Salahis wed in 2003 with an extravagant celebration that included 1,836 guests. Michaele's dress cost $6,000, but Tareq filed federal fraud charges against the bridal shop when it attempted to process his credit card. The store eventually was paid, but only after spending $9,000 on legal fees. Michaele also reportedly ran up a tab into the thousands for her hair and makeup for the day, which was never paid.
3.) Hair
In 2007, Michaele was sued for $4000 by a different stylist for an "urgent" appointment to update her blond hair extensions, for which human hair was ordered and overnighted to the salon. A judge found in favor of the stylist, but the money is still unpaid.
4.) Plastic surgery
Last month, Dr. Navin Singh of Ivy Plastic Surgery in Maryland filed a lawsuit against Michaele for $500 for "unnamed procedures."
5.) The cast of Real Housewives of D.C.
The Salahis' lawyer recently contacted the other cast members of the show, threatening lawsuits, if the cast members continue to "defame" the couple over whether or not they were invited to The White House. Nothing has been filed as of yet, but it would seem that at least one cast member, Lynda, isn't going to back down.
6.) Everybody else
As of November 2009, the Salahis were named in 16 civil suits, by vendors, former employees, neighbors, and at least three couples who held their weddings at Oasis Winery. (Tareq was even arrested and charged with petty larceny after an incident occurred involving the attempted repossession of his car for nonpayment, that ended in Tareq threatening the tow truck driver with a gun.) Since then, more vendors have come out of the woodwork, seeking payment for services rendered for America's Polo Cup (like an Uncle Sam impersonator and a PR firm), many of them featured on a recent episode of HBO's Real Sports.
Perhaps the best lawsuit was back in December 2009, when the Salahis were being sued for nonpayment by their landscaper. The judge on the case ordered Tareq to give the watch off his wrist—allegedly worth $325,000—to the plaintiff to cover his debt of $2000. It turned out that the watch didn't work, and was actually a fake, worth less than $100.