The more Michaele and Tareq Salahi try to tell their story of how they were "invited" to the White House, the more it looks like Swiss cheese. After the jump, we take apart some of their most ridiculous assertions.
1. They were invited to the White House.
This is the most basic of the Salahis' bullshit claims, founded on an email exchange they had with Pentagon aide Michele Jones. As the AP's Julie Pace and Eileen Sullivan reported last night, the crashers "asked a national television audience to take their word that the e-mail exchange would show that they were invited to the dinner for the visiting Indian prime minister." In fact, Jones emailed the day before the dinner to say "it doesn't seem likely" the Salahis could attend. The morning of the dinner, Jones wrote that she would "call or e-mail as soon as I get word one way or another." She later left a voicemail stating that they weren't invited. The Secret Service confirms the couple weren't on the guest list, and that the guard who admitted them "was persuaded by the couple's manner and insistence as well as the pressure of keeping lines moving on a rainy evening." In other words, he was had.
2. Their phone died.
The Salahis claim their cell phone battery died just in time for them to miss Ms. Jones's voicemail message saying they couldn't get an invitation to the White House. But since they explicitly told Jones to reach them by phone, and they were waiting to hear about an event that was extremely important to them, wouldn't they go to the trouble of keeping their phone charged? And don't these polo-playing socialites each have a cell phone?

3. They decided to show up at the White House "to just check" if they were invited.
G/O Media may get a commission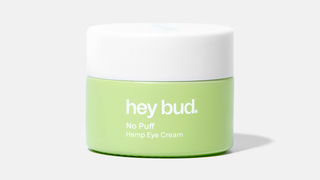 15% off
Hey Bud - No Puff Hemp Eye Cream
Tareq and Michaele Salahi say they went to the White House at 6:30 on the night of the dinner "to just check in, in case it got approved since we didn't know, and our name was indeed on the list!" First of all, they weren't on the list. Second of all, if they were really planning to just drop by and see, would Michaele Salahi have invested in a sari (assuming she didn't just have one lying around)? Would she have spent seven hours getting ready in a Georgetown hair salon, with a camera crew from The Real Housewives of DC taping all the while? Also, who shows up at a party to check if they're invited? Note to the Salahis: if you're not sure, that's a good sign the answer is "no".
4. They were keeping tabs on Harry Reid's holiday plans.
This is less bullshit and more just plain creepy. According to the AP, Tareq Salahi wrote to Michele Jones "with a list of people he said were invited to the dinner but unable to make it, including Sen. Harry Reid, D-Nev., and his wife." How on earth did he get this list? Why was he snooping into Harry Reid's party plans? The same question comes up again and again in relation to the Salahis: who does this?
5. They run a major nonprofit.
The web site of America's Polo Cup, the Salahis' yearly event, says it is "patroned every year by the President of the United States." And Tareq Salahi claims the 2007 event raised $250,000 for the charity Journey for the Cure. But it appears no president has ever attended the Polo Cup. And Journey for the Cure only donated $15,000 in 2007 — an amount dwarfed by the more than $100,000 the Salahis owe vendors and service providers they never paid for their work at the event. Also, "patroned?"
6. This is "the most devastating thing that has ever happened" to them.
Tareq Salahi claims the fallout from the crashing has been "the most devastating thing that has ever happened" to his wife, and that "our lives have really been destroyed." But what about when they were escorted out of the Congressional Black Caucus Foundation Dinner in September after they were found sitting in someone else's seats? They seem to have recovered from that mortification enough to crash another party just a few months later. And concerning their general devastation, Lisa de Moraes of the Washington Post says it well:
Michaele is ready for her close-up:

"It's been really unbearable to go through," she wailed from the Four Seasons hotel in Georgetown, where she had arrived nearly two hours earlier so people could put on her perfect makeup and dress her spectacular hair.

"Our lives have been destroyed," she added blondly.
The Salahis have received the fame and attention they so brazenly sought. It's hard to believe that's "unbearable."
WH Gate-Crashers Went Without Confirmed Invitation [AP]
Gatecrashers' E-mail Shows No Confirmed Invitation [Washington Post]
Who's Sari Now? [NYT]
Salahis Insist They Didn't Crash White House Dinner [LA Times]
A New Field Of Inquiry: Salahis' Polo Cup [MSNBC]
Who Are These People? The Climbers At The Gate [Washington Post]
The Salahis Get A Taste Of Reality TV: An NBC Interview [Washington Post]