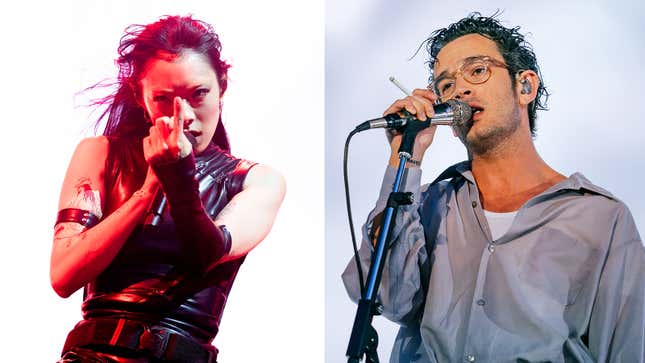 Matty Healy, the 1975 frontman whose years-ago publicly stated fears that dating Taylor Swift would define his public profile have kind of come true in recent months, has another part of his past he's yet to live down. It involves comments made on a February episode of The Adam Friedland Show about watching extreme, degrading porn, and his laughing along during a conversation in which Ice Spice was mocked and Chinese and Hawaiian accents were imitated. The podcast was widely discussed in the weeks after the Swift-Healy relationship went public and the weeks before their split (in truth, it was the same group of weeks—they weren't together for long, as far as we know).
The latest highly public mention of that pod came via pop singer Rina Sawayama during her set at the U.K. music festival Glastonbury on Saturday. As the intro to her song "STFU" played, Sawayama announced, "Tonight, this goes out to a white man that watches Ghetto Gaggers and mocks Asian people on a podcast." After a beat: "He also owns my masters." And then after another she howled, "I've had enough!!!"
Regarding the masters comment, Pitchfork helpfully points out that Healy was once on the board of directors for Dirty Hit Limited, "the private limited company behind the independent British record label Dirty Hit, where Sawayama and the 1975 are signed as artists." Healy, however, was removed about two months after the Friedland episode aired. As of now, it's whether there's some kind of weird backend machination that would allow Healy to retain any ownership of Sawayama's music, or if she was just exaggerating in a bit of poetic license, but either way, we love a stunt.
---
Speaking of performances, Patti LaBelle did one during the effective "in memoriam" section of Sunday's BET Awards (our red carpet roundup here!), paying tribute to Tina Turner by singing the late performer's 1989 hit "The Best." LaBelle, however, stumbled a few times during the verses and at one point called out, "I get…what if I can't see the words, I don't know!"
For anyone familiar with LaBelle's infamously disastrous (and immeasurably hilarious) performance at the 1996 National Tree Lighting ceremony, which also involved several cue card snafus, her showing at BET stoked nostalgia. LaBelle herself referenced the decades-old clip, a viral chestnut to be cherished every year like Home Alone and ugly Christmas sweaters, by quoting it ("Where's my background singers?") during the climactic chorus of "The Best."
The Hollywood Reporter reached out for comment during the mishap, and a spokesperson for BET explained: "Due to the crowd's enthusiasm, the teleprompter was obstructed, obscuring Ms. LaBelle's view of the lyrics." So now you know.
---
Finally, yet another notable performance: Cate Blanchett joined the band Sparks onstage during their Glastonbury set to wave about her limbs to the song "The Girl Is Crying in Her Latte," whose video she appeared in.
I love this Cate era. She seems so free.
---