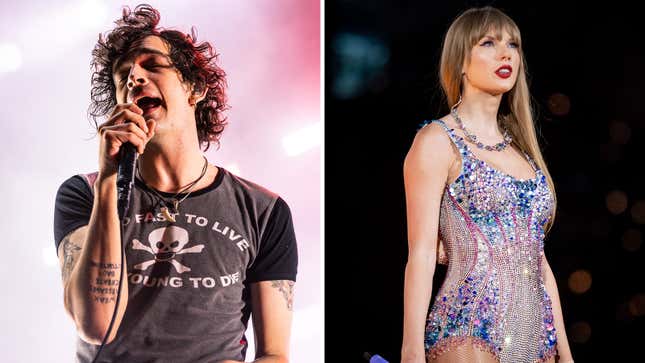 Forgive me for not knowing this, but is there a Taylor Swift song about your old interview quotes coming back to bite you in the ass? There should be, and now maybe there will be. According to an as-yet unsubstantiated report in the tabloidest of tabloids, the UK's The Sun, Swift is dating The 1975 frontman Matty Healy (what's his deal?) following her "not dramatic" split with actor Joe Alwyn, the news of which broke last month. According to the Sun's anonymous source, Swift and Healy are "madly in love," FaceTiming a lot because they're both on tour, and could go public with their pairing as soon as this weekend. Also: "Taylor and Joe actually split up back in February, so there was absolutely no crossover." Good to know!
Taylor Swift's Rep Thinks You Need to Calm Down About Her Private Jet
Obviously, we take all such anonymously sourced rumors with a grain of salt (though Page Six picking up the story makes me believe it at least a little bit more, as Page Six doesn't often miss). What would be merely interesting news fluff, however, is innnnnnteresting in light of resurfaced quotes from an interview with Healy that was published in the March 2016 issue of the British magazine Q. Apparently responding to rumors linking Swift and Healy back in 2014, the singer described their association as a "flirtation." Via NME:
"So the one time I did have a flirtation with a girl it ends up going everywhere.... I mean, I got on E! News and people were like, 'Who's Matt Healy?' so that was cool."

"But I didn't make a big deal out of it myself," Healy continued. "It's not really anything to talk about, because if she wasn't Taylor Swift we wouldn't be talking about her. She wasn't a big impact on my life. It's just interesting to me how interested the world is about Taylor Swift."

Asked whether he has a fear of losing himself when he enters into a relationship, Healy replied: "Yeah. Absolutely. And the reason I mention that is because if I had gone out with Taylor Swift I would've been, 'Fucking hell! I am NOT being Taylor Swift's boyfriend.' You know, 'FUCK. THAT.' That's also a man thing, a de-masculinating, emasculating thing."
The quote caused considerable controversy in its day for its misogyny—so much so that a Guardian writer published a backlash-to-the-backlash essay titled "Matt Healy's comments about Taylor Swift were not the words of a misogynist." Healy, who has a long history of talking shit and recently apologized for comments he made about Ice Spice's race on a podcast, himself responded to the backlash in a now-deleted March 16, 2016, tweet whose essay-in-image text you can still mostly read via the Wayback Machine (Elle printed what is purportedly the full text). Spoiler alert: Healy claimed his words were taken out of context while not denying them.
"I am not a misogynist," Healy proclaimed, adding: "I was for a very short time immersed in a celebrity world that I found confusing and scary. At that time, I had fears of being 'somebody's boyfriend' (remember this is all speculation as we never dated!) before even being recognized for my music or presence as a person in my own right."
He wrote that at the time, "90 percent" of journalists interviewing him had asked him about Swift after she attended a show of his in December 2014. "I didn't even date Taylor, but the media's incessant and brutal obsession with her has meant that even a guy who DIDN'T DATE HER has been so battered by their never-ending questions that he's inevitably said something that can be lifted and molded into something that resembles 'shade'. It's really sad," he wrote.
Well, here we go all over again! On one hand, Healy by now has been recognized for his music or presence as a person in his own right, so perhaps now's the the time to get Swifty. On the other, if he remains a guy who DIDN'T DATE HER or ISN'T DATING HER, he should brace for more battering.
Related or perhaps not, Healy, whose live shtick often involves kissing people in his audience, refused to lock lips with a stranger when Swift attended a 1975 show this past January. "I'm not kissing anybody in front of Taylor Swift, have some respect," he said. "In front of the queen, it's not happening."
Sounds like somebody's boyfriend to me!
---
Here's something nice: Missy Elliott acknowledged her milestone achievement of being the first woman in rap to be inducted into the Rock & Roll Hall of Fame (along with the likes of Kate Bush, George Michael, Sheryl Crow, and Willie Nelson, Elliott's November induction was announced yesterday).
What's good for Missy is good for all of us.
---
Meanwhile, Bush has also responded to the news, calling herself "completely shocked," and adding, "Now as part of the initiation ceremony I get to find out about the secret handshake... there is one, right?" [Pitchfork]
The Kid Laroi, who had one of the biggest hits of 2021 alongside Justin Bieber with "Stay," reportedly dined and dashed on a $134 check at a restaurant in Springfield, Missouri. Cheap! [TMZ]
Wow, Beetlejuice 2 is set to start filming this summer with Michael Keaton and Winona Ryder returning, and Jenna Ortega signing on to play Ryder's character's daughter. Say that three times fast! [Deadline]
There is drama happening amongst Carrie Fisher's surviving children with Billie Lourd openly admitting that she left her siblings out of her mother's Hollywood Walk of Fame induction ceremony, scheduled for Thursday: "The truth is I did not invite them to this ceremony," said Lourd in a statement. "They know why." Cold! [E! Online]
Snoop Dogg shows solidarity, or something like it, with the Writers Guild of America currently on strike. [Variety]
The tenant of the most expensive rental in Brooklyn? Why it's no other than our good friend Ed Sheeran. Welcome to the neighborhood, buddy! [Curbed]