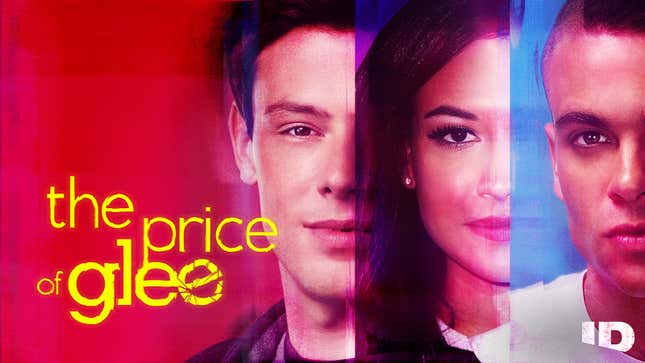 The outcry over Investigation Discovery's The Price of Glee may have been the best thing to happen to the three-part documentary, streaming on Discovery+ on Monday night. Multiple Glee cast members denounced the docuseries, which focuses on the dark side of the sunny teen musical series, whose six seasons on Fox spanned 2009 to 2015. Perhaps the most pointed words came from Becca Tobin, who, during an August episode of the Everything Iconic With Danny Pellegrino podcast, said that "somebody" was "desperately" trying to "put together a documentary or a tell-all or something" and contacting the cast "relentlessly." Tobin said it would "never happen" because the surviving cast is "like a big dysfunctional family and there is a loyalty there—like mob mentality."
Lucien Laviscount Dishes on Red Flags and Romantic Deal Breakers
"There's something that runs so deep in my blood that I could hate you so much, but I don't hate you enough. I don't hate us enough to go do that," she continued.
This backlash brought attention to the rather rote series and made it out to be way more dishy than it actually is. Indeed, none of the principal cast members turned up for the doc. Instead, the producers had to settle for accounts from those on the periphery—stand-ins, background dancers, crew members, friends, family, and journalists. As the series shuffles through nearly two dozen talking heads, you get the sense that the show's IMDb was combed with the finest of teeth. A gaffer is interviewed. Amber Riley's first casting director shows up, as does Cory Monteith's publicist. By the time Stephen Kramer Glickman says, "I was one of the stars of Big Time Rush on Nickelodeon, which shot at Paramount studios about 50 feet away from the TV show Glee," his far-flungness lands like a punchline. He goes onto explain that he and Monteith were friends; for proof, we see some footage of them standing next to each other and read a terse, vague email Monteith sent him one time.
The impulse for this reassessment of Glee is spot-on—not only have three of the show's young stars died (Monteith in 2013, before the show's fifth season; Mark Salling in 2018; and Naya Rivera in 2020), but a host of those behind the scenes did as well, including a prop guy, a production assistant, and a PA. The whole thing seems cursed in retrospect. Creator Ryan Murphy has at least acknowledged the shadow that's increasingly spread over Glee's legacy. Though he was not involved in The Price of Glee either, the first episode opens with a quote from him: "What started off as being such a great celebration of love and acceptance ultimately became about darkness and death."
What all this really points to is that the story of Glee has been told before, and so have the stories within the story. There is something powerful about collecting all the bad fortune in one package, but that gesture alone does not a riveting documentary make. Most of the archival imagery comes from stills and interviews, and a lot of the action here is just entertainment journalists telling viewers what they're seeing or have already experienced ("Everyone was singing that damn song by Journey," says one, referring to "Don't Stop Believin'"). The kind of reassessment that The Price of Glee attempts is contemporary, but things like Lea Michele's reputation for being a toxic diva and the grueling schedule foisted on the show's performers (who often put in 70-hour weeks and were sent on tour between seasons) have long been established. There's an attempt toward the end of the last episode to dig into the exact cause of Rivera's watery death, the precise details of which were never uncovered. Was it vertigo? Carbon monoxide poisoning? The speculative segment naturally draws no solid conclusions.
Insight here often comes in the form of conjecture or subjective opinion. Dugg Kirkpatrick, the show's hair department head during season 3, says that Monteith was "confused" before relapsing because an unnamed person told the then-sober actor that he should have a drink if he wanted to drink. Kirkpatrick resolves that this gave Monteith "permission" to start using again. Salling, who was arrested in 2015 for possessing reportedly several thousand pieces of child sex abuse imagery, was "a bit off," according to Barbara Munch, set decorator during seasons 1 and 2. An actor who goes only by Dabier, who appeared in the background during the Gwyneth Paltrow-featuring episode of season 5, describes a "pretty negative experience" with Michele: After being invited to a cast lunch by Darren Criss, "somebody on set" pulled him aside and told him that someone else didn't want him eating there. "The person there doesn't feel like you belong with the rest of the group," Dabier says he was told. When he guessed that the culprit was Michele, the unnamed messenger nodded. His story ends without any direct contact from Michele. That's the best they could do regarding the alleged bigoted tyrant?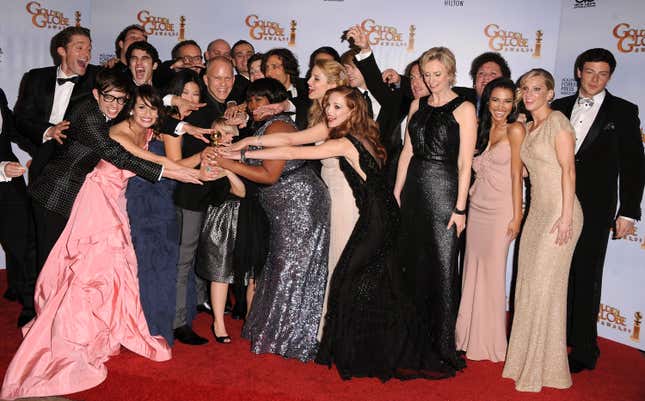 There are pithy cliches flung about, which is hardly surprising in a talking-head doc, but they start to feel tedious in the absence of any real dirt. "Fame can be poisonous," says George Rivera, Naya's father. "Fame is more difficult and your life gets more complicated and you start insulating yourself," says Glickman. "If you take someone who is a sexual deviant and you put fame into the mix, it can be a perfect storm," says Stacy Kaiser, a psychologist who didn't treat anyone on the show and is just there for background, about Salling.
But then, it's hard to pull off what The Price of Glee is going for without any major players. Instead of making good with what it had and focusing on the little-known stories of key Glee figures who never found their way to the spotlight, The Price of Glee is dead set on being the definitive look back at the series. This is where it flounders. The stories of the crew members' demises are rattled off briefly during one segment, whereas Monteith's death takes up more than half of the second hourlong episode. Now, nearly 10 years later, there's little to add to the story, but no one seems concerned about that. A "celebrity researcher" who goes by the name Scott on Tape attempts to piece together Monteith's final days leading up to being discovered dead and alone in his Vancouver hotel room. Days before, for example, the actor who battled addiction was photographed on the street talking to someone holding beers. Scintillating stuff.
You get the sense that a reunion with the show's heavyweights will come at some point and be that much more impactful when it does. As it stands, The Price of Glee is just the karaoke version of a serious project.