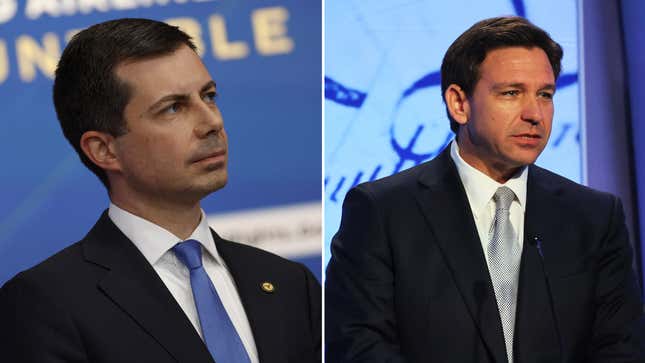 Florida Gov. Ron DeSantis—Republican presidential candidate and alleged human—has attempted to inject life into his floundering campaign with a new anti-LGBTQ ad that will leave anyone who isn't terminally online wildly confused. The ad contrasts clips of former President Donald Trump vocalizing tepid support for LGBTQ people at the 2016 Republican National Convention and standing by loud-and-proud transphobe Caitlyn Jenner, with clips of DeSantis being panned for the fascist anti-LGBTQ laws in Florida. And all of this is overlaid with TikTok jingles and internet memes—including clips that appear to glamorize American Psycho's Patrick Bateman and compare him to DeSantis.

In a Sunday appearance on CNN's Face the Nation, transportation secretary Pete Buttigieg ultimately found himself fielding questions about the ad. And it turns out, like the rest of us, it really only left Buttigieg with questions himself—specifically about its innately homoerotic components, despite very gleefully boasting about DeSantis' anti-LGBTQ policies.
"I'm going to choose my words carefully—partly because I'm appearing as secretary—so I can't talk about campaigns," Buttigieg, who is one of the most visible openly gay politicians in the U.S., began. "I'm going to leave aside the strangeness of trying to prove your manhood by putting up a video that splices images of you in between oiled-up, shirtless bodybuilders, and just get to the bigger issue that is on my mind whenever I see this stuff in the policy space, which is, again, who are you trying to help?"
He continued, "Who are you trying to make better off? And what public policy problems do you get up in the morning thinking about how to solve?"
In DeSantis' ad, spliced with said "oiled-up, shirtless bodybuilders," the governor positions himself alongside the world's most famous fictional serial killer—ostensibly to demonstrate how "based" he is—and celebrates headlines about DeSantis canceling a local school's "donuts and drag event," as well as cable news hosts calling him "more dangerous" than Trump and a pull quote that reads, "DeSantis does not care." These, of course, are all things you want to hear about a potential future president!
In his own state of Florida, it's well-known that DeSantis' only real policy "achievements" almost exclusively center around bullying schoolchildren by denying queer and trans kids life-saving resources and, contrary to his pro-free speech posturing, eliminating books and movies that include so much as a passing reference to queer existence.
On the campaign trail, he's earned a reputation as something of a complete weirdo, unable to laugh or hold someone's baby without making an entire room deeply uncomfortable. His entire campaign was launched via Twitter Spaces in one of the most cringe-inducing, internet-pilled moves in modern American politics. It now appears that instead of trying to correct any of these well-established ideas of him, DeSantis is doubling down with an ad that certainly makes me wonder why his campaign has access to so many readily available photos of mostly-naked muscular men.