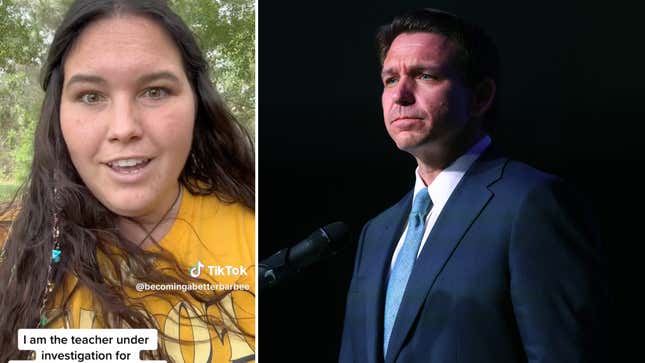 The Florida Education Department is investigating fifth grade teacher Jenna Barbee for showing her class Strange World, an animated Disney film released last year that includes a character who makes a passing reference to being attracted to another male character, NPR reported on Tuesday. A spokesperson for the Hernando County School District in Florida confirmed to the outlet that both the district and the state are investigating Barbee, though a spokesperson for the Ed Department said they could not confirm or deny whether Barbee is under investigation.

Barbee's colleagues first shared photos of the letter she received from the Department of Education informing her of the investigation last week. The letter tells Barbee that she's being investigated to "determine if disciplinary actions should be pursued."
Over the weekend, Barbee shared a TikTok in which she identifies herself as a first-year teacher and explains her decision to show her kids the movie after a morning of standardized testing for a "brain break." Strange World, she says, "related to what we were learning about in school," as it zeroes in on humans' relationship with the environment, while Barbee was teaching her students about ecosystems. "What a better way to showcase all of these standards along with huge lessons of overcoming differences, spreading kindness, communication, and chasing your dreams?"
"I was told by every teacher and mentor at the school that our method for approval for showing movies was to have a signed parent permission slip for PG movies. I had that from the beginning of the year," Barbee says. The permission slips specify "no objections to specific content." The reason Barbee was "turned in," she says, is that one of the fifth grade students from another class who was in her class that afternoon was the child of a school board member who's "currently on a rampage to get rid of every form of representation out of our schools." That school board member then went on to report Barbee to the Education Department for "indoctrination," Barbee claims.
"Is a character in the movie LGBTQ? Absolutely. Is that why I showed it? No," Barbee says in the TikTok. "I have a lot of fifth grade students who have come to me this year long before showing this movie, talking about how they're part of that community as well. And it's not a big deal to me, so I just said 'that's awesome, do you,' not pushing anything, just being accepting." She continued, "That's what I do. Does that have anything to do with why I showed it? Not in the slightest."
The Hernando County School District told NPR it shared a letter with parents of students who were shown the film. Part of the letter states, "While not the main plot of the movie, parts of the story involves a male character having and expressing feelings for another male character. In the future, this movie will not be shown." The district specified in the letter that Strange World violates Florida's "Parental Bill of Rights," which blocks the discussion of LGBTQ identity "in a manner that is not age appropriate or developmentally appropriate for students in accordance with state standards." Back in March, Florida Gov. Ron DeSantis (R) expanded the scope of the law to apply to grades 4 through 12.
The Hernando County School District and Barbee did not immediately respond to requests for comment from Jezebel.
The investigation into Barbee adds to a number of concerning reports about state surveillance and censorship of LGBTQ people and educators in Florida. Just last year, one middle school teacher in the state alleged she was fired for answering her students' questions about LGBTQ sexuality, and earlier this year, reports surfaced that the state had sent undercover agents to a holiday drag show to try to collect evidence to shut the show down. These moves, like the investigation into Barbee, all reflect a clear effort to erase LGBTQ identity by baselessly equating it with perversion and child predation.