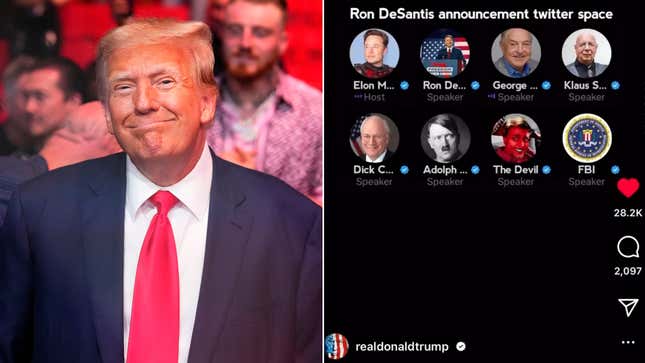 The 2024 presidential campaign trail is in full swing, and we are all in hell—literally: On Wednesday evening, in response to Ron DeSantis' disastrous announcement of his presidential bid via Twitter Spaces, former President Donald Trump (also a candidate for the Republican nomination) shared an AI-generated, deepfake version of the Twitter Space, featuring DeSantis, Elon Musk, and a clearly queer-coded Satan, along with the late Adolf Hitler, George Soros, Dick Cheney, and others.

Infamously Thin-Skinned Man Joins Twitter's Board
The two-minute deepfake is… something you just have to see for yourself. Unless you have literally anything better to do, in which case do that instead.
No one in the clip, which Trump shared to Truth Social and Instagram, really says or does much. True to the real-life version of DeSantis' rollout, there's a lot of coughing, awkward mumbling from Musk about people turning their mics on, and flamboyantly voiced contributions from AI-Satan. "Can I please make my big announcement now?" AI-DeSantis asks, at some point, as Soros tries to get his mic to work. "Shut up George!" AI-Hitler interjects. "Can someone just mute George?" AI-Musk says, brusquely. Eventually, amid a throng of coughs and arguments about whose mic should be on, an exasperated, AI-DeSantis says, "I'm running for fucking president, OK?"
"You go girl!" AI-Satan interjects, at some point. "Wait, the devil is gay?" AI-Hitler gasps.
By the end, an AI-Trump shows up and... says some things:
The real president is gonna say a few words. The devil, I'm gonna kick your ass very soon. Hitler, you're already dead. Dick Cheney, sounds like you'll be joining Hitler very soon. ... Klaus Schwab [chairman of the World Economic Forum], George Soros, I'm putting both your asses in jail. And Ron DeSanctimonious can kiss my big, beautiful 2024 presidential ass. Trump 2024, baby. Let's go.
I'll go ahead and let that speak for itself.
The clip is an interpretive recreation of possibly the world's stupidest presidential announcement ever, which saw the Twitter Space crash no fewer than three times despite supporting a relatively meager 300,000 users at its peak. As Rep. Alexandria Ocasio-Cortez (D-NY) tweeted on Wednesday, more users than this joined her Among Us stream back in 2020. The following morning, MSNBC's Morning Joe show further contextualized DeSantis' abysmal numbers: BuzzFeed exploding a watermelon drew over 800,000 users to its livestream. Drake playing Fornite attracted 628,000 users. And footballer Cristiano Ronaldo accidentally recording himself in a sauna attracted 700,000.
DeSantis mumbled his way through the entire announcement, interspersed with mic troubles, system glitches, and Musk mumbles. It was, as Fox News' homepage has characterized it, an unmitigated disaster.
As for Trump's recreation of the Twitter Spaces announcement, it's hard to believe that in 2023, these are the historical documents we'll someday have to look back upon and remember the 2024 presidential election: an artificial intelligence-generated Twitter Space, live from Hell.
The Satanic Twitter Space was by no means Trump's only response to DeSantis' announcement. He's clearly zeroed in on the Florida governor as his primary rival for the nomination, cattily praising Sen. Tim Scott (R-S.C.)—who also announced his candidacy this week—for having "by far the best Presidential launch of the week." Amid DeSantis' technical difficulties, Trump shared a video of a failed rocket launch captioned "Ron! 2024." And in a separate post, he dismissively wrote off DeSantis as "Rob," adding, "My Red Button is bigger, better, stronger, and is working (TRUTH!), yours does not! (per my conversation with Kim Jung Un, of North Korea, soon to become my friend!)."
We are truly watching history in the making via two bonafide fascists—one of whom is a catty diva, and the other, a socially awkward robot with a chillingly mechanical laugh—fight it out for the White House. I wish them both the worst.