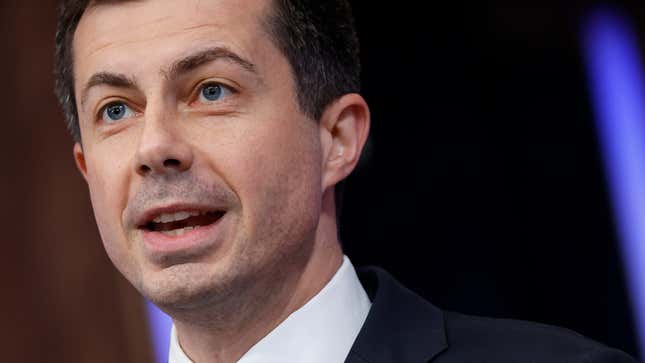 Let me assure you that Pete Buttigieg had a really good point about masculinity before he tripped all over it in a comment that's currently being lightly roasted on social media. In a Q&A for Wired, interviewer Virginia Heffernan asked the U.S. Transportation Secretary/past (and future?) presidential candidate if he has followed the "masculinity crusade of former TV personality Tucker Carlson—testicle warming and the rest," in the context of the right's allergy to "wokeness." In response, Buttigieg thoughtfully equated anxiety over the erosion of masculinity as "a way into the fear of displacement."
He continued: "Masculinity establishes a default place, and that place is being shifted and threatened by modernity. A man as the head of the household. The only one who earns income. The default leader in any social or political organization."

In other words, our culture is so entrenched in patriarchy that any deviation from it represents the terror of progress, which is something conservatives want to avoid as a matter of course. The ever travel-minded Buttigieg sharply invoked the fear of electric cars to further prove his point. "This is true with the realities of climate change," he said. "If you can't face that change, you might retreat to the default place of masculinity. Maybe that's why someone characterized electric vehicles as emasculating. I think it was Marjorie Taylor Greene."
(She did, as Buttigieg pointed out last year in another interview.)
OK, so Buttigieg, a smart guy, said a smart thing. What's the problem? Well, he went on to slightly belabor the point about his own use of an electric vehicle and his mixing of meat with vegan cuisine ("The Burger King Impossible Whopper with bacon is not a bad combo"), only to land on the greater point of shaking things up by living your own life against the grain. Said the artist formerly known as Mayor Pete:
Clearly, we have a chance to rewrite some of these easy gender tropes. My life happens to cut across them. I like drinking beer, lifting weights, splitting wood. I'm also gay and I like playing piano. I do a lot of the caregiving for our toddlers and other things that supposedly aren't masculine.
And here's where the argument plays itself off with the most distracting tune possible. Buttigieg, whom I've never felt more justified in describing his persona as consisting of an "uncanny patchwork of vaguely human qualities," seems to be presenting these traits at odds with each other. Maybe they are to people who haven't paid attention to the ways of gays in the first place, but anyone who's been to the Eagle's beer blast, a single gym in literally any U.S. city, or who has gazed upon the work of Tom of Finland (like, say, "Lumberjack") knows that Buttigieg is not some kind of maverick for lifting weights, playing the piano, caregiving toddlers, and being gay. The gender tropes have been rewritten and are further being rewritten by iconoclasts far more daring than Buttigieg. It's called existing! We all contain multitudes! Doing it on a public stage so consciously by enumerating your masc qualities isn't activism! If Buttigieg learned that some drag queens top, might he simply keel over from the shock of it all?
The much-reviled words of writer Dale Peck's 2019 essay for The New Republic, "My Mayor Pete Problem," come to mind: "gay parody of heteronormative bourgeois domesticity." The issue isn't Buttigieg's identity or that his life could contain the space to play piano and fondle another man's penis; it's that his relentless marketing of his identity causes him to say dumb, shortsighted stuff that makes him sound like his exposure to other gays only comes in the form of what he's heard coming from the TV in the other room that Chasten's watching (Pete famously doesn't watch Drag Race).
Buttigieg's parading of his supposed normalcy in unspoken opposition to those deviant queers creates a blind spot—this kind of not-that-kind-of-gay-ism is highly typical. Insisting that you're not a stereotype is actually a very stereotypically gay thing to do. It's as if he's devoted to living up to the (perhaps shady) words TIME's Charlotte Alter used to describe his marriage in a 2019 cover story: "banal and extraordinary." Nailed it!