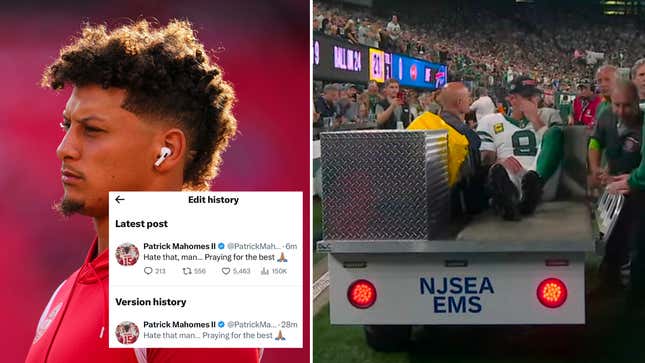 Monday night was simultaneously every New York Jets fan's worst nightmare and every English teacher's dream come true: Moments after making his much-hyped debut as the Jets QB, foot-flashing anti-vaxxer Aaron Rodgers sustained an injury that required him to be wheeled off the field like a dead fish in an Elizabethan-era cart—prompting the Kansas City Chiefs' QB Patrick Mahomes to share a mournful tweet that's since taught him (and the English-speaking world) the value of a freakin' comma.

"Hate that man," Mahomes posted on X, aka Twitter, at 8:32 p.m. ET. "Praying for the best." Read that once. Read it twice. I know when I first read it, as someone with only a rudimentary understanding of the friendships and dynamics of the NFL, I understood it as a slightly inappropriate, joke-y little ditty. Perhaps Mahomes and Shailene Woodley's ex are frenemies who share a little rivalry? Perhaps Mahomes was saying he "hates that man" but is "praying for the best" nonetheless? Others read it differently: that Mahomes hates that man and in "praying for the best" was praying for a season-ending Achilles injury. Much to think about!
But, no—Mahomes just neglected to add a comma after "that," which he corrected quickly enough: "Hate that, man. Praying for the best," his edited post read by 8:55 p.m. ET. Of course, 23 minutes is a long time on social media; if netizens caught Chris Evans' dick pic from the one millisecond it was visible in his camera roll on Instagram Live in 2020, surely you can imagine the field day everyone had with Mahomes' 23-minute hater gaffe. "Get his ass Pat," one user wrote. "A guy tears his knee up and the first thing you tweet is how much you hate him? Really disgusting Patrick. I thought you were better than this. #Unfollowed," wrote another. "Let the original version cook," an apparent Rodgers hater cheered. "Proud of this edit," Merriam-Webster chimed in.
There is, indeed, a big difference between "Let's eat grandma!" and "Let's eat, grandma!" And a big difference, too, between "Hate that man" and "Hate that, man." Mahomes took the matter in stride: "Knew i was going to need that edit button on here one of these days 🤣," he wrote later that evening.
Of course, while all that was going on, football was happening. And even as someone who exclusively, religiously follows the NBA for its shenanigans, I was sincerely hooked. Now, here was some absurdity. Here was some whimsy. Mind you, on the anniversary of September 11, Rodgers started the game by joyously dapping up shock jock YouTuber Jake Paul in the stands and gloriously running out onto the field waving the American flag. The vibes were off the chart; Jets fans insisted, based on that sequence alone, that "the Jets are winning the Super Bowl." Minutes later, the embattled franchise's long-awaited star QB was carted off the field with a possible Achilles injury; "carted" trended on Twitter.
The jokes poured in expeditiously, not unlike the torrential flood of red wine presently flowing through the streets of Levira, Portugal. "Vaxxed?" some asked, a reference to Rodgers' history of going on Joe Rogan's podcast to spew anti-vaccine takes after misleadingly claiming to be "immunized" in 2021. Others mused about whether he'd "do his own research" on the potential Achilles tear just as he'd ~done his own research~ on covid vaccines. "Nobody wants to work anymore," one user wrote, sharing a photo of Rodgers being wheeled off in The Cart. Another shared "Aaron Rodgers' full 2023 highlights," a 24-second video of him running onto the field with an American flag.
And there was more, much more:
The rest of the game itself was a legendary battle of mediocrity between Rodgers' understudy Zach Wilson (who comes with plenty of his own tabloid baggage) and the Buffalo Bills' perennially average QB Josh Allen, a showdown of fumbles and poor playmaking likened by some to the 2019 headline, "Drunk idiots with a bulletproof vest busted for shooting each other." The Jets managed to win 22-16 in overtime.
In sum, just as Mahomes learned the value of a comma, I learned the value of following football, instead of just following Cincinnati Bengals QB Joe Burrow's Instagram. What I love about sport is absurdity, the moments that break the brains of millions of adult men while the rest of us laugh. (Read: Burrow signing the biggest contract in the NFL only to go down 3-24 and get benched in his season opener on Sunday.) I am determined to see how much more ridiculous this can all get.