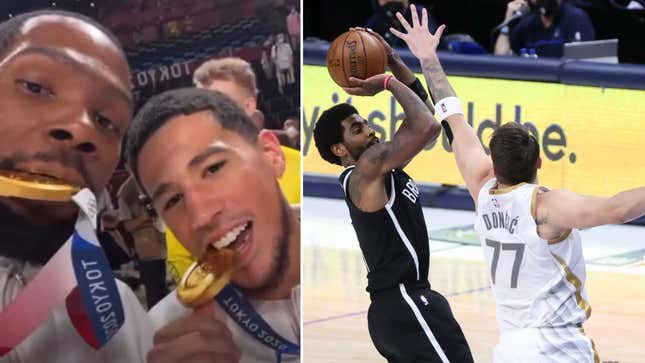 Reader, please check in on the straight men—and all NBA fans—in your life right now. In the final hours before the NBA's trade deadline, something happened: Kevin Durant, perhaps the best player in the league right now and until very recently the star of the Brooklyn Nets, was traded to the Phoenix Suns, where he'll join Devin Booker, the former Mr. Kendall Jenner who is also a very good basketball player. If you woke up to your cis male partner crying out in despair on Thursday morning, this is probably why.

So, why is this bad news? Aren't KD and Booker cute together? Given Durant's historical proclivity for Hooters ("Man hooters wing are the best," he tweeted in 2009) matches Booker's (see: the year 2011), weren't they cosmically destined to link someday??
Here's where it gets messy as hell: The backdoor midnight deal comes within days of Durant's ex-teammate and ex-friend Kyrie Irving requesting and successfully being traded to the Dallas Mavericks, where he joins Luka Doncic—arguably a top five player who's been Booker's biggest rival in the league ever since the events of May 2022. (You just had to be there.) Irving is known as the league "saboteur" for routinely switching teams and blowing shit up from the inside, while very performatively promising he'll stay with the franchise—only to request a trade within days.
Durant's trade to Phoenix, leaving the NBA's Eastern Conference and joining Irving in its Western Conference, feels like direct retaliation for Irving's betrayal. Mind you, just last summer, Irving told the media, "There's no way I'm leaving my man 7 [Durant's jersey number] in Brooklyn." Woof. As one NBA fan put it Wednesday night in a tweet, Durant "moving to one of the worst cities in America [Phoenix] to get revenge against Kyrie for wasting two years of his career is a feel-good plotline we can all get behind."
G/O Media may get a commission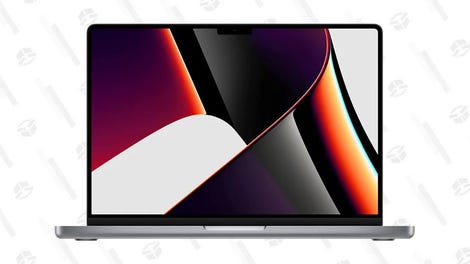 Save $300
2021 14" 1TB MacBook Pro
I've taken some questionable, self-sabotaging action to attempt to get back at men who have psychologically terrorized, cheated on, or just straight-up lied to me, as Irving did to Durant. But even I can't say I've packed my bags and moved to Phoenix to do so. It's just desperate, frankly! I fully expect the first Mavs-Suns line-up early next month—which will pit nemeses Doncic + Booker and Durant + Irving against each other—to be a generational cat-fight (and a very high-scoring one at that).
Allow me to further explain: Two years ago, in January 2021, Irving and Durant—known pals who left their respective teams to link up in Brooklyn in 2019—formed what's called a "super-team" with Durant's old OKC teammate, 10x-All Star James Harden. It was supposed to be the most dominant super-team in the history of super-teams—only to be blown up by poorly timed injuries and, above all, Irving's refusal to get vaccinated. Last February, incidentally, also within the final hours of the NBA's trade deadline, Harden ditched Irving's vaccine circus to join the Philadelphia 76ers, briefly splintering his decade-long bromance with Durant (until the two were spotted rekindling said bromance at a Travis Scott concert last summer), and sparking an ongoing, aggressively catty feud with Irving.
Proof of said catty feud: Mere days before requesting to be traded from the Nets, Irving took an unsubtle swing at Harden, claiming he believed in his team, because "we don't have anyone who's halfway in the locker room." Over the weekend, Harden gave the world's bitchiest five-word response to news of Irving's trade: "It's a trade that happened." God love him.
Harden and Irving are, of course, diametrically, fundamentally different people—where Irving appears addicted to YouTube conspiracy theory videos and internet rabbit holes that have converted him into an Alex Jones follower, Harden is famously rumored to not even have WiFi in his home.
I am, somehow, still not quite finished explaining why all of this is so distinctly messy. When Harden was traded from the Nets to the Sixers last year, the Nets received Ben Simmons, another Kendall Jenner ex. Once known as the "next LeBron" and the first round, first overall pick of his NBA draft class (a very big flex!), Simmons is now better known as a Call of Duty addict whose stage fright precludes him from shooting a basketball or attempting wide-open lay-ups when the lights are bright. He famously blew up the Sixers in the fall of 2021 by refusing to play, only to promise that on the Nets, the collab between himself, Irving, and Durant would be "scary." (That is, scary good.)
Instead, the Irving-Durant-Simmons era of the Nets floundered; Irving's antisemitic remarks last fall, Durant's recent injuries, Simmons' general basketball struggles, and perennially looming trade rumors sunk the team, even as they briefly pulled things together earlier in the season. Durant is now the second person, after Jenner, to leave Simmons specifically for Booker. Simmons, meanwhile, is effectively left to fend for himself, standing alone in an empty room a la Fresh Prince of Bel Air meme, in the ruins of all of the friendships, hopes, and dreams of the great Brooklyn Nets Experiment™. At the end of the day, that really is all the Durant-era Nets ever were: an experiment; a fever dream; promise, potential, and ever-elusive delivery, repeatedly marred by bad fortune and worse teamsmanship from Mr. Irving.
If I had to put this drama and the latest development of Durant joining the Suns in non-basketball terms, my best attempt would be a Bachelor nation alum from a former season showing up out-of-the-blue and joining this season, like Nick Viall on Kaitlyn Bristowe's season in 2015. Or two iconic Love Island couples breaking up and switching partners with each other. A Real Housewives of Beverly Hills star moving and joining the Real Housewives of Miami franchise? I don't know! The point is, this is all peak-levels of high school drama, YouTube influencer beef, and reality TV pettiness. Whether you enjoy watching basketball games or not, if you live for Mess, then watch this space—certainly watch NBA Twitter right now.