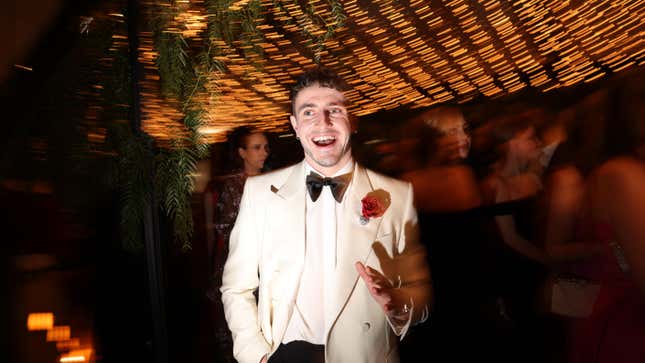 Ah, the Academy Awards. The glitz, the glamor, the exclusive after-parties that Elizabeth Banks all but confirmed are where things get a little bit freaky. "Are you trying to score right now?" she asked Cocaine Bear on stage Sunday night, scolding him as he made gestures at potential paramours in the audience. "You need to wait 'til the after-party like everybody else."

Taylor Swift's Rep Thinks You Need to Calm Down About Her Private Jet
Stars normally do a full outfit change for the followup events, going for something a bit bolder, sexier, and relaxed. In Paul Mescal's case, he swapped the crisp white button-down he was wearing underneath an off-white tuxedo jacket for his signature tank top. He's not a regular guy in a tuxedo, he's a cool guy in a tuxedo.
At an after-party at talent manager Guy Oseary's home that's been running for 15 years now and is simply referred to as "The Party" (un-evocative, elitist, on brand) photographer JR snapped portraits of celebs. I'm not entirely sure how to describe the "theme" or "inspiration" of the shoot, but basically the gist was that some celebs posed with humongous hands like they were being plucked up by God herself. Other photos were of folks bursting through ginormous, banner-sized photos of their own faces like they were on the homecoming football team. Well, except for Paul Mescal, Kaitlyn Devers, and Zoe Saldana. These three chose to sort of peek through the slits of their oversized portraits in a way that was frankly deeply disconcerting.
Look, I don't know how else to say it: This photo looks like Paul Mescal is peeping out of a Paul Mescal vagina. Kaitlyn Devers' sinister stare portends the birth of an antichrist. Zoe Saldana is birthing a more seductive version of herself. There is something unmistakably vaginal about these images. The slit is, well, a slit. And as is the case with all things tangentially vaginal, I fear that there is a 100 percent chance these photos are fulfilling someone's self-birth kink.

I know there are breeding kinks. I assume I'm only a few Google searches away from discovering a more niche grown-adult birthing kink. And if it didn't exist before, these photos have certainly ushered in some new discoveries for folks. Fetishes aside, they are sexual in a very biological sense. I hope that these banners weren't tossed out and instead can be repurposed in some high school sex-ed class looking to move on from the Miracle of Life educational video.