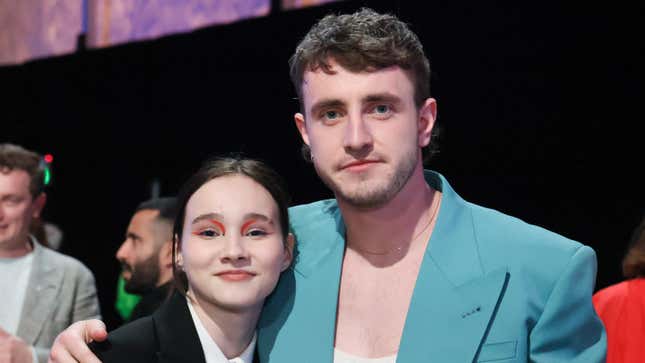 Paul Mescal could take home an Academy Award on Sunday, but one thing I know for certain is that he absolutely should win a silly little trophy for Co-worker of the Year.
Olivia Rodrigo's Gen-Z Fans Made Me One, Too
This week, the mother of Frankie Corio, who poignantly portrays Mescal's onscreen daughter in Aftersun, shared a video that sees the Best Actor nominee giving Corio the birthday gift of a tween girl's dreams—a recorded message from her favorite singer, Olivia Rodrigo—while the two were shooting Aftersun in Turkey. [Insert swoon here.] 
"I've got a surprise for you!" Mescal exclaims, as he [gulp] strokes Corio's hair. He then brings up the video on his phone as she excitedly peers over his arm to get a good look at the screen.
"Hey Frankie!" Rodrigo begins the message, "It's Olivia!"
"I heard that it's your birthday so wanted to come and say hello. I hope that you have the best day ever and eat lots of cake and open lots of presents and I hope that I get to meet you real soon," she continues. "I hope that this one's the best year yet, mwah."
The very teary Corio is simply beside herself. I mean, wouldn't you be if your co-worker had the wherewithal to arrange a present like this? (To my colleagues reading this: I now expect a birthday greeting from Pamela Anderson.)
"There you go! Good for you!" Mescal tells her, using a very respectable Rodrigo-specific pun. This, folks, is what the kids call "a potential father."
The film's producer, Amy Jackson, has been candid about Mescal and Corio's bond on and off screen. The two even went on vacation together prior to filming to get to know each other better.

'They spent a fortnight before shooting at a resort: in the swimming pool and eating ice creams, playing pool and getting to know each other," Jackson said last month. "It's a testament to Paul—he's such a warm person and he appreciated that this was Frankie's first acting role." Please. Put me down.
Aftersun has deservedly garnered its fair share of nominations and wins this award season, but even if Mescal doesn't beat out Austin Butler, Brendan Fraser, or Colin Farrell, well...he'll always be one sexy fake-father and a very considerate colleague.