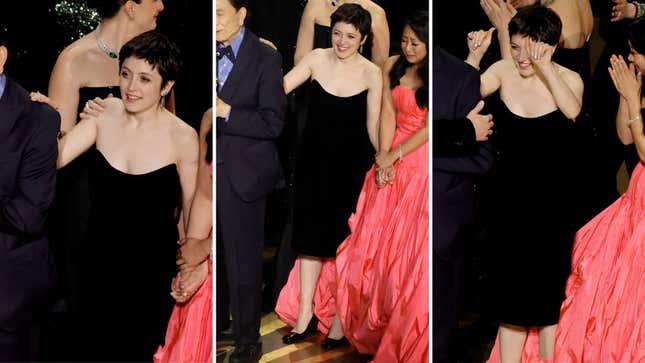 When a red carpet host asks "Who are you wearing?" what they're actually asking is, "What's your whole deal? What do you represent? Who even are you?" For actor Tallie Medel, they had two weeks—between when they learned they'd be attending the 95th Academy Awards and the actual ceremony—to figure out that answer. And while I suspect anyone in the biz has fantasized about such an interrogation, the reality of it is more daunting, especially when there isn't a full glam squad or designer contract to help cloak you in chiffon and jewels.

Oscars Biggest Snub in 2022? Behind The Scenes Crew Members
"I am going to the Oscars. I am seeking a look. You are a designer with just the thing. Talk to me," Medel wrote in an Instagram story two weeks ago, over an image of Bjork's famous swan dress from the 2001 Academy Awards. Full disclosure, Tallie is a good friend of mine. And if you've ever been excited about what your friend's going to wear to their wedding—or have ever sent a text in the group chat along the lines of "what's everyone wearing tonight, ladies?"—I can assure you that seeing your friend getting to pick out an outfit for "Hollywood's Biggest Night" feels like that on hyperdrive.
If you watched Everything Everywhere All At Once you've seen Medel on your screen. And if you watched the Oscars last night, you saw them on stage when EEAAO took home Best Picture. They play Becky, Joy Wang's (Stephanie Hsu) girlfriend in the film. Their lesbian relationship mounts tension in Joy and her mother Evelyn's (Michelle Yeoh) relationship, causing (among other things) Evelyn and Joy to spin out through multiple dimensions. Becky's supportive and warmhearted presence is one of the grounding factors in this timeline. The same can be said for Tallie, themself.
"I think it's important right now to push back against any gender assumption," Medel—who, as you've probably picked up, uses they/them pronouns—says. (They also use she/her when that feels right to them.) They described their queerness and gender fluidity as just that: "gender liquid." I was curious how this would translate to dressing for an evening that's as much about celebrating fashion as it is about celebrating films.
"Getting dressed up, putting on makeup, listening to music, smoking a little weed, drinking something while getting ready to go out is so often better than actually going out," Medel tells me over the phone. It was about six days before the Oscars and they were both relishing in and sorting out the emotions building up to the event.
They considered reaching out to the EEAAO makeup artist Michelle Chung or the film's hairstylist, Anissa Salazar, to maybe assist them. Though, as they were telling me this, they remembered that Chung and Salazar were attending the events themselves. So maybe Medel would get ready with co-star Stephanie Hsu, as they did at the SAG Awards. Bobby, their partner, would definitely be there. "They're really excited to help me get ready," Medel knew that for sure. In general, the open-ended-ness of their plans didn't seem to worry them too much. Instead, they looked at the evening like a constellation of possibilities, a choose-your-own-adventure.
Two days before we spoke, Medel spent the day with the owners of Spaghetti Strap Vintage, Addi and Joelle, as well as the owners of New York-based vintage archive Amarcord Vintage, Patti Bordoni and Marco Liotta. "Initially going in, I had said I'm looking for [something] gender-bending, [I was] referencing Madonna and Prince, my 80s ladies," they said. At Amarcord's archives, they tried on a number of vintage looks, including a flouncy, green velvet dress that reminded them of something the Italian actress Giulietta Masina might wear, which was surprising, since they didn't think they'd want something so feminine.
"I found that looking back through photos of times when I presented really feminine, the way that I got ready for it was like, almost like I was doing drag and always doing a sort of like, a vintage Hollywood glamour styling," they explained. Now that they were actually attending Hollywood's Biggest Night™, they wanted to sit with that desire to dress in hyper-feminine drag. Two weeks is a merciless turnaround time for figuring out what to wear to an event of this size, but working with the teams at Spaghetti Strap and Amarcord proved fruitful.
They were intrigued by the idea of a tailored suit, recalling an "unbelievable" one they'd seen Kristen Stewart wear years ago at Lincoln Center. But knowing the time crunch they were under, tailoring and fitting a suit to their petite frame wasn't a possibility. They tried on a 1950s halter dress with a full skirt that fit perfectly but was the "exact opposite" of what they thought they were going for. Liotta recognized that they were venturing down the wrong path. He'd "watch my face and say like nope, we're moving on," they said. I asked if it felt like a supportive environment, the kind that TV shopping montages whip up. "As good as it sounds, it was better."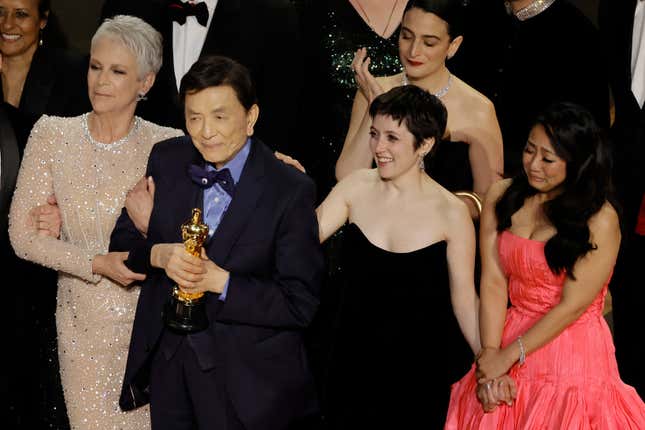 In trying on these outfits—which spanned the spectrum of feminine glamour to tailored masculinity—Tallie eventually reminded themselves to "honor [their] dysphoria." "Maybe don't lose yourself."

That internal bargaining, while certainly exaggerated for gender-creative folks, is familiar to anyone who's been through the honor and horror of figuring out what to wear. But Medel's choice to respect their dysphoria instead of push it aside or mask it with an easy answer to "who are you wearing" aka "what is your whole deal" definitely felt profound. If getting ready for the event is more fun than the event itself—a sentiment I wholeheartedly agree with—then the question "who are you wearing?" could be tweaked to "tell me why you chose this look tonight?" And if that answer is supposed to reflect someone's whole deal, then Medel made theirs very clear: dignifying a joyful fluidity in the face of an ever-fascist-leaning world.
In the end, Medel landed on a black vintage strapless sheath with no label that belongs to Addi, one of the Spaghetti Strap owners—a decision that even as of last Tuesday, they weren't fully sure of. They don't know who designed it, when it was designed, or anything about it other than that it was "just so beautiful and made me feel like a grown-up." On stage, they held Hsu's hand, rested the other on James Hong's shoulder, and radiated elation. Their dress juxtaposed nicely with Hsu's flowing pink Valentino gown. As the film that seemed as fun to make as it was to watch won Best Picture after sweeping the entire awards, my friend looked gorgeously like themself.