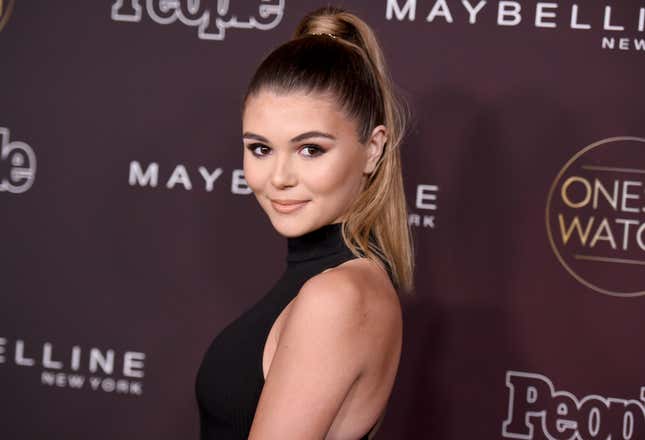 Part of the fun of the series premiere of the new Gossip Girl—at least for New Yorkers—was keeping up with the references: Did you recognize Cut editor-in-chief Lindsay Peoples Wagner at Julien's fashion show? Did you catch mention of beloved Brooklyn spot Fan-Fan Doughnuts?
Olivia Rodrigo's Gen-Z Fans Made Me One, Too
Olivia Jade didn't seem to particularly enjoy her shout-out on the series, which occurred about midway through the episode, when Julien (the reboot's Serena van der Woodsen) and her posse are contemplating a potential public relations crisis.
"...Everything will be fine so long as you win," Julien's friend Luna tells her as they approach the courtyard of their elite private school. "Olivia Jade gained followers when her mom went to jail."
Jade posted a TikTok on Saturday superimposing her reaction over a clip of the scene, smiling and shaking her head at the comment. "No I didn't," she says in the video.
This is what Us Weekly and other tabloids have termed a "clap back," which is undoubtedly an overstatement. Nonetheless, it's clear Jade wasn't too pleased with the call back to her mom's involvement in the college admissions scandal. Perhaps she might consider that getting name-dropped in the Gossip Girl reboot has already become a kind of status symbol. And as Luna rightfully points out in episode one, all press is good press.
---
Kourtney Kardashian and Travis Barker—noted Tattoo Boyfriend and Pretty Girlfriend couple—continue to be incorrigible with regards to PDA.
Can we even call this open-mouthed tongue-touching a proper kiss?
---
Ariana Grande is honeymooning in Amsterdam with her husband Dalton Gomez, and they posed together in a pair of large wooden clogs. [Instagram]
Adele took her rumored boyfriend Skepta shopping. [Page Six]
Addison Rae got "fired" from a job she never (technically) had? The plight of a 1099 freelancer! [E! Online]