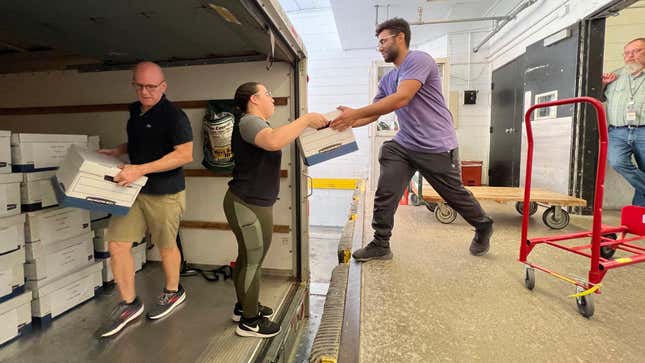 Ohioans United for Reproductive Rights filed more than 700,000 signatures to Ohio Secretary of State Frank LaRose's (R) office on Wednesday—nearly double the amount of signatures needed to put the pro-abortion constitutional amendment on the 2023 statewide ballot. "This is a historic day for Ohio and for reproductive freedom. We cannot thank our volunteers enough for this herculean grassroots effort to ensure patients and doctors, not government extremists, are in control of making private medical decisions," Lauren Blauvelt and Kellie Copeland of Ohioans for Reproductive Freedom said in a statement on Wednesday. "Fortunately, the Ohio Constitution gives us the ability to take this popular issue directly to the people."
Idaho Passed a Texas Copycat Abortion Ban
Cleveland.com reported that more than 59 percent of Ohio's registered voters support making abortion a protected right in the state. Among women, more than 63 percent support protecting their bodily autonomy at the state level, while nearly 55 percent of men support enshrining abortion.
There must be at least 413,446 valid signatures among the groups' 422 boxes of petitions submitted on Wednesday, which the Secretary of State's office must determine by July 25. If the office determines there are not enough valid signatures from at least half of the state's 88 counties, the group has another 10 days to file extra signatures.

The ballot measure will put "a fundamental right to reproductive freedom" in the state constitution. "We are poised to put abortion rights in the hands of the voters, and we're excited to announce this first victory on that," reproductive rights organizer Sri Thakkilapati said at a press conference on Wednesday.
The statewide election is Nov. 7.