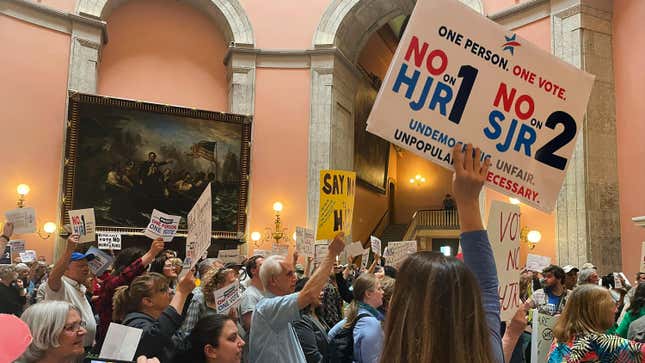 Abortion access is popular, even in red states: The pro-choice position won in all six states where it was on the ballot last year after the fall of Roe v. Wade. So now that an abortion rights ballot measure is going to a popular vote in Ohio in November, nervous Republicans are trying to make it harder for such statewide votes to pass. Now, it appears that desperate strategy is set to fail.
Uterus Weekly: 15-Week Abortion Bans
For context: The plan Ohio Republicans concocted to stop voters from enshrining abortion rights in the state constitution is to up the threshold for such amendments to pass from a simple majority (50 percent plus one) to a floor of 60 percent. But they need voters' approval to do that—so they're spending $20 million to hold a special election on August 8, and if the changes pass, it could kneecap the November effort to protect abortion. (The pro-choice position on Issue 1 is voting "no.") Every living ex-Ohio governor opposes the August special election, including the stridently anti-abortion John Kasich (R).
But new polling shows the brazen scheme is on its way to failure, according to a Washington Post analysis. Not only do Ohioans overwhelmingly oppose the effort to change the amendment process (57 percent to 26 percent), they also support the abortion amendment itself (58 percent to 32 percent). The latest data comes from Suffolk University, which found that 68 percent of Independents—and a staggering 85 percent of Independent women—support enshrining abortion rights. Even 32 percent of Republicans are in favor. Plus, just one-third of Republicans who oppose the abortion amendment support the GOP ploy to change the process this summer.
It seems unlikely that voters would pass Issue 1 to raise the amendment threshold, but if they somehow did, it appears that the abortion measure could also pass. While anything can happen on August 8, things look pretty dire for conservatives. As Aaron Blake wrote in the Post: "For now, it seems as if a strong majority of Ohioans support the [abortion] amendment—perhaps even enough to pass it if State Issue 1 were to somehow succeed. And many who oppose it don't like the idea of diluting direct democracy to the extent necessary to get what they want."
Still, Republicans know that restricting abortion is a political loser, and they'll do whatever they can to impose their views in spite of public opinion. Conservative groups in Ohio are despicably trying to stoke transphobia and create a nonexistent connection between the pro-choice amendment and the right to gender-affirming care. Only time will tell if people fall for it, but things are certainly looking up for the abortion rights side.